Do you travel with an entourage, arriving in a cavalcade of blacked-out windows? No? Well you'd have looked right out of place if you'd tried to stay at Celtic Manor during the recent Nato summit. Even its most ardent fans would admit this Welsh hotel is a little bit daunting, ugly even, when viewed from the M4 into Newport – its brooding location and brutalist architecture make it entirely suitable for a political powwow, but a pastoral getaway? Not so much.
But wait, tucked away on the far side of this vast 2,000-acre estate in the Usk Valley is something new, something less craggy and altogether more homely – the Hunter Lodges. This is self-catering in the most nominal sense, a folksy setting with a luxe atmosphere. The lodges are designed for get-togethers – such as our a family gathering of three generations.
The rooms
The lodges, stretched out along a road to nowhere beyond Celtic Manor's main hotel, club house, and three golf courses, have slightly naff names such as Kooky Kestrel and Hip Heron, but the prefab houses themselves are Scandi-chic simplicity – all wood and airy. A huge, double-height living space with an open fire dominates, while four slick double en-suite rooms mean there's plenty of space for eight people, and there's also a room upstairs that can be tailored for table football/gaming/spa treatments, depending on what your group fancies.
Tiddlers might struggle with the wide, open-step staircase but two of the rooms are on the ground floor and there's a cot and high chair if needed. Each room's door shuts with an ultra-efficient thud, keeping heat and sound where you want them, while light floods in from myriad windows and doors. Despite the wide-open spaces dogs are not allowed at the lodges.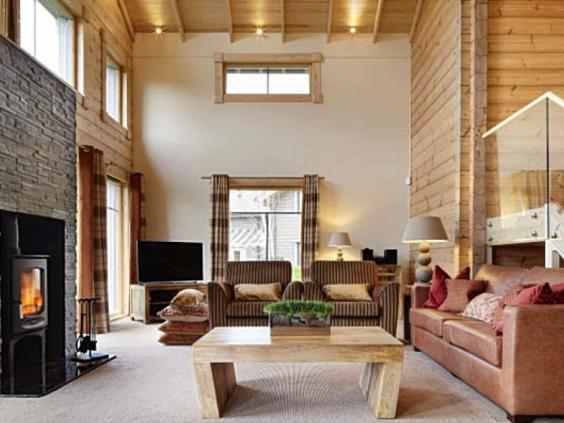 Out and about
Just two steps from the back door, each lodge has its own hot tub on the verandah, which is a real draw for big groups. We'd take it in turns to figure out the different jet combinations, and even when it was a bit crisp outside, it was enormous fun in the water, knowing a huge fluffy robe was hanging within arm's reach.
It seems peculiar to come here without being interested in teeing off but if, like us, the only golf you approve of is the crazy kind, there's an adventure course to mess about on, plus the pretty challenging Forest Jump high ropes, spa treatments, a swimming pool plus Segway tours and archery. And for that world-leader feeling, you can buzz the concierge to send over transport when you want to get around.
Away from the resort, but near enough, are some lovely walks (to the Newbridge by Usk pub for instance), the ruins of Raglan Castle are a short drive, and the Usk itself offers some fishing, if you fancy. No one's going to pretend that Newport is pretty, so you're best off either staying put and playing house, or driving north into lovely Welsh countryside.
The food and drink
This is a mini-break for the maxi-hungry. With a kitchen fully equipped with lovely shiny pots, pans and pretty speckled china, the idea of self-catering doesn't seem so arduous, and when ordered-in groceries come from Waitrose, that helps too (there's a £70 charge for the "enhanced welcome pack", which kept us going – and some – over a long weekend).
I'm not sure who decided the portion sizes for meals to be delivered to the lodges, but "generous" doesn't quite cover these "Gourmet to Go" hampers. Afternoon tea consists of enough finger sandwiches to span a small continent, and two trays of properly swish pastries and cakes – including creamy parfait in an eggshell, raspberry macaron and a banoffee slice.
It took us a couple of days to recover enough to embark on the roast hamper, with its vast rib of beef, and all the trimmings, ready to finish off in the oven at our lodge. This was top quality stuff, and the £240 price tag looked steep at first but worked out better value than a pub lunch for eight – and we had delicious roast beef sandwiches for the way home.
Can't be bothered to cook (or didn't order your hamper the requisite 72 hours in advance)? There are six restaurants. And if you find the food on offer at the Lodge clubhouse slightly lacklustre, it's worth venturing out to the resort's "sister", Newbridge on Usk, a really fantastic inn with hearty yet refined dishes such as a local fish platter or "celebration of Welsh lamb" with four preparations, all of which were world-leader class.
The Essentials
The Celtic Manor Resort, Coldra Woods, Usk Valley, Newport, South Wales, NP18 1HQ (celtic-manor.com; 01633 413 000). Three-night stay, Friday to Monday, from £73 (low season) or £94 (high season) per person per night, based on eight people sharing a lodge.