In the birthplace of Jules Verne, you can visit a museum dedicated to the founding father of the science-fiction novel. You can also stroll over to the Ile de Nantes, where a giant, mechanical elephant, along with other strange machines built in homage to the novelist's creations, parades passengers on its back. Come evening, you can even dine in the spot where a young Jules Verne once lived and drew inspiration from the 19th-century sailing ships drifting past his window during the city's maritime heyday.
Now, guests can also check in to an apartment themed around the author and adventurer's many works, which include Around the World in Eighty Days and Twenty Thousand Leagues Under the Sea. Known as Le Plateau Jules Verne, it's part of a collection of 12 themed apartments – which also include a converted barge on the River Erdre and an imagined hot-air balloon close to the cathedral – rented out by local company Surprenantes.
THE ROOMS
Le Plateau Jules Verne, on Quai de la Fosse, can be rented as one huge space, sleeping six adults and four children. Or it can be booked separately as three individual suites.
Most impressive is De la Terre à la Lune (From the Earth to the Moon). Sleeping two adults and two children, it has a spaceship-style bunk in a sitting room dotted with planes and globes. The double is downstairs in a stone cellar that's encircled by museum-like glass-cabinets with Jules Verne-inspired curiosities.
Next door is Le Voyage Extraordinaire (The Extraordinary Journey), which also sleeps a family of four, and has a fun bunk-style creation within an old shipping container, plus a snug double.
For couples, the best option is La Nuit. Sleeping two, it has a contemporary hotel-style bathroom, with views to a courtyard at the back, where imported products from India, China and the Caribbean were stored during the 18th century, when the house belonged to a wealthy ship owner. La Nuit is the only suite that does not have a little kitchenette.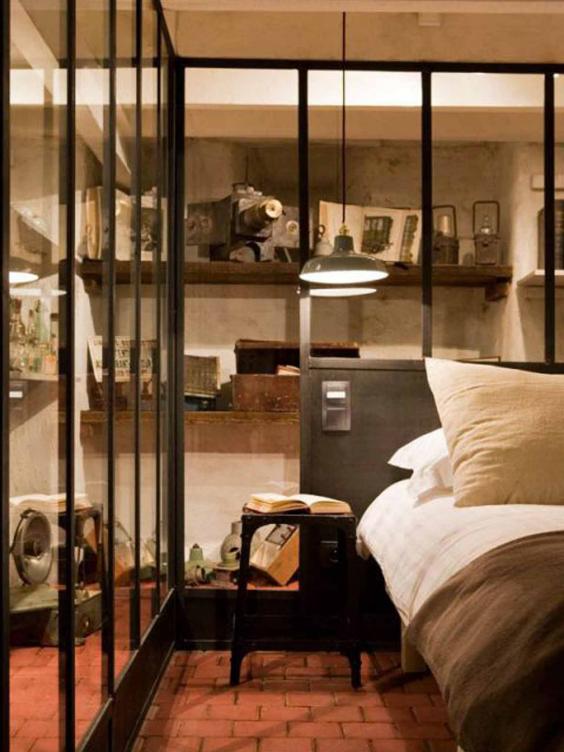 OUT AND ABOUT
Peer through your set of in-room binoculars from either of De la Terre à la Lune or Le Voyage Extraordinaire to spy the Ile de Nantes, where you'll find the Great Elephant and the rest of "Les Machines" (00 33 251 17 49 89; lesmachines-nantes.fr; from €8.50/£6.25). This island was once an abandoned industrial area, but has since been revived with new bars and restaurants, especially around Le Hangar à Bananes, an old banana warehouse on the waterfront (00 33 2 40 71 08 79; hangarabananes.com).
Don't miss the Jules Verne Museum on the river bank (00 33 2 40 69 72 52; nantes.fr/julesverne; admission €3/£2.20) or, in the warmer months, Le Voyage à Nantes (3 July to 30 August; 00 33 892 464 044; levoyageanantes.fr). This big cultural festival sees the city's top attractions marked with a green trail on the pavement.
If you want to get out of town for a day, hire a car or rent a bike to meander along the Estuaire trail (estuaire.info), a collection of 29 open-air artworks running from Nantes city centre along the Loire to the coastal commune of St-Nazaire. Favourites include La Maison dans la Loire, a partly submerged, full-sized house stranded in the river near Couëron, and The Settlers where you can spot sculpted bears, monkeys and even a puma suspended in the trees near Port Lavigne.
FOOD AND DRINK
Jules Verne fans should visit Restaurant La Nouveau Monde (00 33 3 40 48 03 04; restaurant-lenouveaumonde.com) at 4 Cours Olivier- de-Clisson, the house of Verne's grandmother and his birthplace.
There's free wine tasting at Maison des Vin in the Place du Commerce (00 33 2 40 89 75 98; vinsvaldeloire.fr), which showcases 50 appellations from the surrounding Loire Valley (open until 7pm daily).
Pick up supplies for self-catering at the tiny fishing-village-turned-artist-commune of Trentemoult, which has an organic market on Saturday mornings and is a ferry ride from the Gare Maritime (bit.ly/Trentemoult; tickets €2/£1.50; departures 11am-7.40pm).
Back in town, pay a visit to patisserie Gautier-Debotté (00 33 2 40 48 23 19; patisserie-debotte.com) which has been making chocolates in an ornate shop at 9 Rue de la Fosse since 1823. Jules Verne may have shopped here.
THE ESSENTIALS
Le Plateau Jules Verne, Quai de la Fosse, Nantes, France (00 33 6 38 44 49 98; surprenantes.com); whole apartment (sleeps six adults, four children) from €385 (£283) a night. Individual rental of De la Terre à la Lune from €139 (£102); La Nuit from €99 (£73); and Le Voyage Extraordinaire from €199 (£146).
Voyages-sncf.com (0844 848 5848; voyages-sncf.com) offers train tickets from London St Pancras to Nantes via Paris from £108 return.
Reuse content