Liberté, egalité, fraternité and luxury. The only reason the revolutionary proclamation did not in the first place include any reference to luxe is because the word did not scan. Still, the French conception of la vie de luxe has titillated and benefitted us all.
France is the civilisation that gave us the grand hotel and the notion of the restaurant-as-entertainment. And then it gave us, in Michelin, a system for categorisation of the degree of pleasure to be had in each. But the French conception of luxury is being re-evaluated, not least by the French themselves. Coco Chanel once said that luxury is not the opposite of poverty, it is the opposite of vulgarity. In food, there is something of a movement towards simplicity and away from the synchronised rising cloches and sommelier ballets of fine restaurant tradition. 
And the French are no longer quite so good as they thought they were at the novel, the cinema, fashion and the automobile, areas where in the past they had made significant innovations. There is a national mood of self-doubt, tipping almost into self-loathing. This was caught by Eric Zemmour's book La Suicide Francaise which describes the social and philosophical malaise of modern France which contributed to the murderous atrocities of the past year in Paris. 
Who but the boldest boulevardier or flâneur will now sit comfortably at a pavement café thinking Existential thoughts? Besides, Paris is also under attack from Airbnb, which has more rooms in this city than any other. This, it is whispered, has led to a depression in prices in the grand, luxury hotels. So, opportunistically, I wanted to investigate.
My own experience of Paris began as a backpacking student who, long ago, checked into a rue de Vaugirard flophouse at 50p a night. Ever since, it has been the Left Bank, still efficiently haunted by ghosts of Hemingway and Sartre and Barthes and Debord, that has been "my" city. But luxury Paris is emphatically on the Right Bank.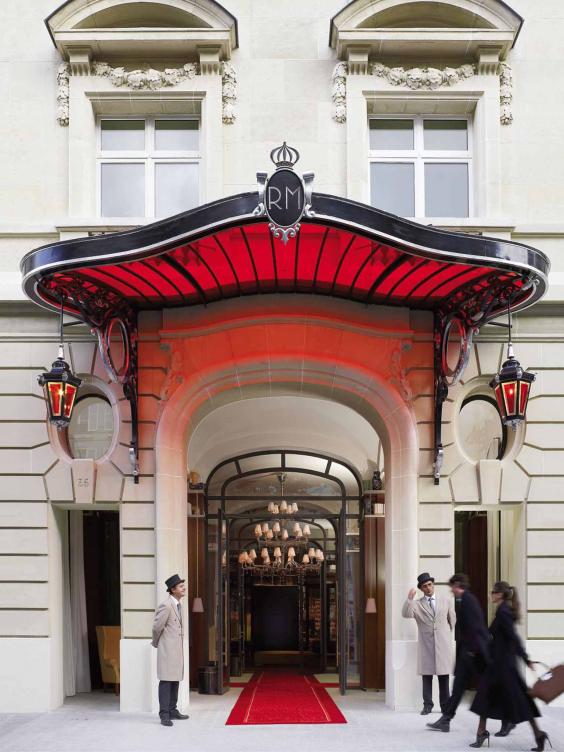 We travelled from London by the new Eurostar e320, itself a reminder of how the French are adapting to new realities. The original Eurostar was designed by Roger Tallon, France's pioneer industrial designer, and I for one had grown very fond of its vintage interiors which combined the vibe of the VIP suite in a louche nightclub with that of a battered eighties Renault saloon. But the new e320 is by Pininfarina, the automobile carrozzeria which gave unforgettable form to the Ferrari idea. It has gained a lot in efficiency, but lost a little in terms of Francophonic charm.
We went first to The Royal Monceau on Avenue Hoche. Turn left under its distinctive red glass Art Nouveau canopy and the frame of your vision is filled by the Arc de Triomphe. The Champs-Elysées is just around the corner. And here, if you like, is another symbol of French decline. No longer shopping's Elysian Fields, France's most famous avenue now apes the sewer that is the east end of Oxford Street.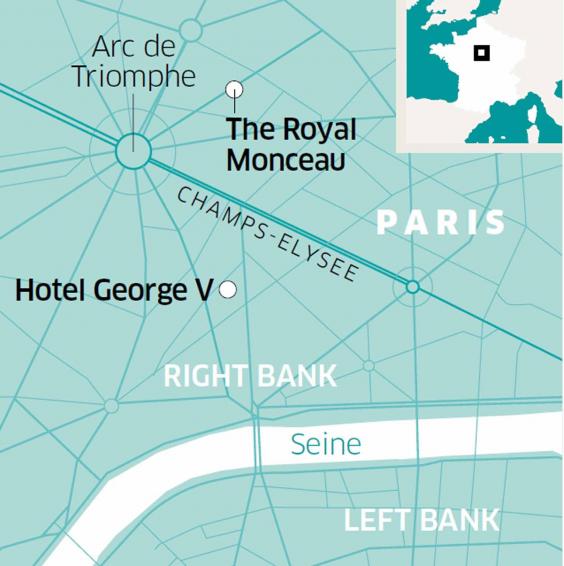 But the hotel's milieu is quieter and finer: confident and assured in the way that money brings, but friendly too. Nearby is the lovely Parc Monceau, an 18th-century creation in the Anglo-Chinese style with follies reminiscent of the glorious Desert de Retz. Here in 1797 a bold individual made the very first parachute jump from a Montgolfier hot-air balloon.
Monceau is managed by the Canada-based Raffles group, but is owned by Qataris and Saudis. Yet with its Philippe Starck spa and interiors, it remains distinctively French. Starck is normally too noisy for my taste, but here he has achieved subdued elegance. To advertise its ambitions, the Monceau has an art bookstore and its own fashion shop, Le Royal Eclaireur (The Royal Runway).
Upstairs, cleverly, if disturbingly, mirrors maximise space in a way you might find cleverly diverting or sick-making, depending on the severity of your hangover. We were spontaneously upgraded to a junior suite which, perhaps, tells you something about current occupancy rates. With its bed artfully placed in front of a seventh-floor window with a view of wet, grey Mansard roofs, it was a glorious place to loll. And so too were the bathroom and loo. The Japanese Toto lavatory was as highly specified as a top-of-the-range Lexus, with heated massage seat and air-conditioning. Mysteriously, it flushed itself at intervals throughout the night.
But in a good hotel the bar is always a reliable indicator of a city's mood. I ordered a kir with vin blanc, which cost €18 (£14) – a good indicator of a city's tolerance. I wondered who on earth pays these prices, and then my answer walked in: an elegant man with iron-coloured hair in a Bernard Henri-Levy flop, a fine-art curated beard and a cashmere throw draped around his tailored shoulders in a distinctively Parisian fashion. He sat down, alone except for a phone, and ordered a glass of vintage rosé champagne and an assortment of sliders. I suppose he spent more than €100 on a pre-dinner snack.
At dinner that night, the trans-national liaison of Pininfarina and Starck was confirmed at Carpaccio, the Monceau's Michelin-starred restaurant, billed as Paris' best Italian. Soon a Nobu will open here too: the Monceau has, significantly, decided not to do French food. But at Carpaccio, French kitchen dogma remains and is incompatible with the Italian approach to cooking. The former wants to glorify the chef while the latter glorifies God. Thus, good produce is maddeningly disguised by over-elaborate conception and fussy preparation. 
As we chewed Paccheri ai frutti di mare astice e calamaretti, lattuga di mare (Paccheri with seafood, lobster and sea lettuce), Olivier Lot, the chef de restauration, came to lean languidly on a pillar and explain that the business was down 30 per cent since November's murders.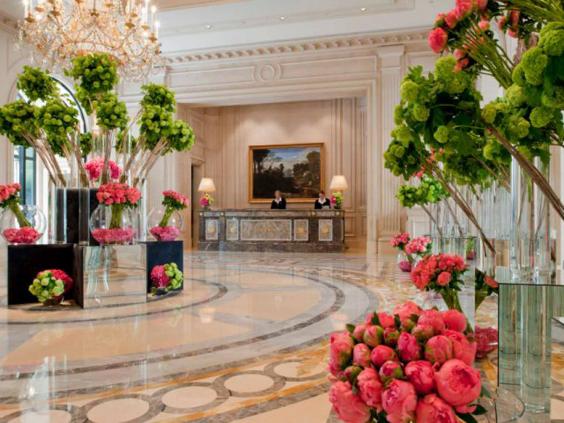 We then moved across the Champs Élysées to the George V, built in 1928 in that characteristic French style that combines Art Deco, Neo-Classical and Moderne. Sited in the temporarily deserted Triangle d'Or, where every big name in fashion has a presence but is not bothered much nowadays by actual customers, the magnificent Jazz Age George V is the sort of hotel where a gang of expectant paparazzi is always stationed outside.
Inside, dress codes prove le monde à l'envers. The bright and alert staff are immaculately suited and perfectly groomed while guests slouch and shuffle with backpacks, wearing "baskets", the derisive French term for trainers. In the lobby, a phantasmagoric flower sculpture ("arrangement" is too small a word), by creative director Jeffrey Leatham, was of a size and grandeur that would make Elton blush. The feeling here, even through the dazzling dentition of the charmingly helpful staff, is that you are continuously being assessed for your nuisance value since covert research has revealed that you are nowhere near as rich as you are pretending to be.
While rooms at The Royal Monceau are calmly modern, the George V prefers a more period opulence. Ours was overwhelmingly yellow and gilt, Madame de Pompadour on a sunshine and daffodil binge. The bath, despite early attention from an eager technicien, took 40 minutes to fill. But hurrying, is not, after all, a luxury activity.
At the George V they are very excited that this year chef Christian Le Squer earned his third Michelin star at the hotel's regal Le Cinq restaurant, but our experience was at the wrong end of the indifferent-to-bad scale. Gratinée d'oignons at €70? I grew up in smart hotels, but wondered how my late and generous father might have reacted to paying more than £50 for a bowl of soup. 
My wife declared a detestation of asparagus to the head waiter, but was twice served it as if to say the chef knows best. Which, if her dish of "Iodized Flavours" ("slightly marinated sea scallops, litchi [sic] and frosted sea urchin") was evidence, he certainly does not. She declared it to be indisputably the worst thing she has ever eaten. The turbot I ordered, having been prompted to do so, failed to appear and in its place a horrible dish of wagyu beef with mozzarella, a high-concept cheeseburger which proved an abominable combination. Promised something "really special" with the cheese, a plate of Carr's Water Biscuits arrived.
This experience would have been unsettling, had not two days later the same Monsieur Le Squer presided over a lunch at the hotel's cadet restaurant, Le George, which was precise, interesting, beautiful and a memorable delight to eat. 
In an interior by Pierre Yves-Rochon who has – even if only briefly – exchanged his bonkers excess for intelligent reticence, we sat in ambient grey in comfy armchairs around low tables eating octopus cooked on a wood fire, goat slow cooked for a day and a half, and tuna tartare on arancini (helpfully, if patronisingly, described as "fried risotto"). We drank a white Crozes-Hermitage waggishly called "On the Rhône Again" and sat in perfect comfort disturbed only by ripples of pleasure.
The Royal Monceau and George V were officially confirmed as "Palace" hotels in a Government audit five years ago. In that French way, hierarchies were established and criteria were set. "Palace" hotels "embody French standards of excellence ... enhancing the image of France". They provide services superior to a mere five stars. Controversially, the famous Ritz and the majestic Crillon were omitted from the list. They soon shut for refurbishment – $100m worth in the Crillon's case – and on re-opening will bring extra capacity to a troubled local market.
Did my palatial hotel experience make me feel worse about Paris today? Put it this way: it made me feel that, at their best, the French administer pleasure better than anyone. I would just add that very high levels of service do not always equal very high levels of psychological comfort. We ate both extremely well and dismayingly badly. I did not find a harrowed city, but one whose passing troubles may bring overdue changes. Who knows? Perhaps a revolution? Will I go back? Of course. Le jour du gloire est en retard, but will soon return.
Getting there
Stephen Bayley travelled with Eurostar (03448 224 777; eurostar.com), which operates up to 21 daily services from London St Pancras to Paris Gare du Nord, with one-way fares currently starting at £29 (book by tomorrow, 21 March for travel until 2 June). Eurostar's new entertainment system has just launched on e320 trains, allowing passengers to stream films, TV, news and games to their mobile devices, free of charge.
Staying there
Le Royal Monceau Raffles, 27 Avenue Hoche (leroyalmonceau.com). Doubles start at €TBC.
Hotel George V, 31 Avenue George V (fourseasons.com/paris). Doubles start at £900, room only.
More information
Reuse content