Meadowood has long set the standard for luxe wine country getaways in Napa Valley. Previously a private country club, the property – set in 250 acres of picturesquely gnarled oaks and pines – retains a pleasantly elitist pomp, with its croquet lawn, tennis courts and tastefully plush lodges scattered among the trees. 
But despite a three-Michelin-starred restaurant and a wine cellar stocked to the gills with the very finest Napa vintages, there has always been something missing from Meadowood – an appropriately five-star spa. Which is why at the end of 2015 it unveiled a brand new, purpose-built, 14,000 square-foot pamper palace to seal its reputation as the valley's fanciest, most covetable address for years to come. 
This being Meadowood, what we are not talking about here is a generic plinky-plonky music playlist and a few massage rooms. Set back on a hillside, it is an exquisitely soothing woodland retreat all its own. When guests arrive they are guided past roaring logfires and earthen jugs to a "relaxation garden", where the standard steam room/sauna/plunge pool set-up is made that bit more special for being outdoors (it is in fact a mineral soaking pool, and is warm rather than sadistically chilled).
There are signature teas and snacks to relax with under the Californian rays (I went back for seconds of the house-dried pear, pumpkin and persimmon), and ideally positioned outdoor heaters should it become cold – in the winter months, Napa can be frigid outside the peak sunshine hours of noon to 4pm. All treatments take place in private suites with their own steam room, shower and bathroom; kick off with a steam session using an aromatic oil of your choice.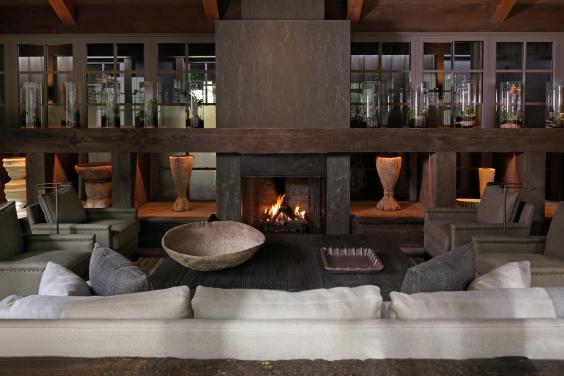 After my facial, I retired to the spa's "treehouse retreat", which lacks the majority of a fourth wall so you can feel at one with the trees (being massaged and moisturised for 90 minutes can really take it out of you, after all). As well as enjoying the woodfire, vast bathtub and bed, one can order in a healthy meal from the spa culinary menu; dishes are split between "Vine", "Earth", "Air" and "Field". My Ora King salmon, beets and purple carrots arrived with a wine menu, though I was won over enough by the wellness vibes to order an elixir instead – ginger with orange, Meadowood honey and cayenne. Stranger still, I didn't regret it.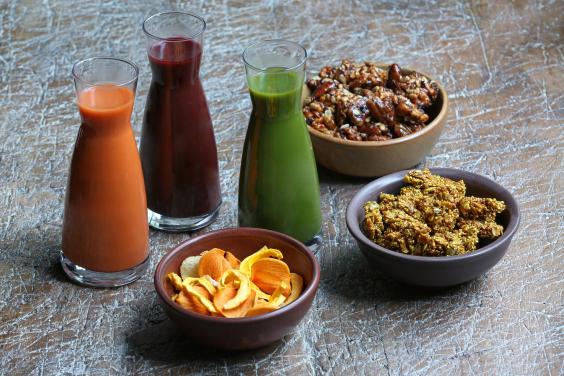 Comfort
Of course, there is only so much time you can spend in a spa and, while impressive (it has already won awards), this is just one part of a spectacular whole. Meadowood's rooms are more akin to self-contained log cabins, divided into bedroom, bathroom and living room, the décor leaning heavily on luxurious whites and creams rather than more rustic woods. They are also filled with thoughtful conveniences, such as readily romantic candles by the bath and a fire that flames into life at the flick of a switch. Each room also has its own decking with two rocking chairs overlooking the woods, perfect for playing at the American Dream.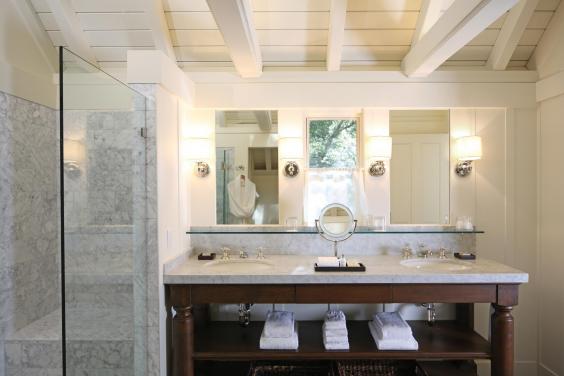 While there is serious dining to pursue with a 12-course tasting menu at Michelin-spangled The Restaurant, neighbouring The Grill offers a more casual option without dialling down quality – its wagyu with black truffle gnocchi and foraged fungi tasted just as thick with indulgence as it sounds. Another nice touch is that room service arrives in wicker hampers, in fitting country club style. The bill for room service is less nice, however, as it is eye-wateringly overpriced and even carries a delivery charge. 
Indeed, if there is one bone to pick with Meadowood, it is the unabashedly ramped-up prices, which jar a little with the liberally-minded embrace of local sourcing and back-to-nature philosophies. That said, it has never pretended to be anything other than an elite retreat, and the typical guest can well afford it.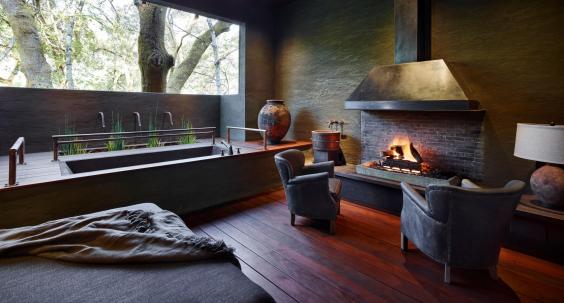 The area
It would be easy enough to spend an entire stay within Meadowood's grounds, particularly as it offers private hiking trails that wind up to various lookouts over the valley (with plenty of well-stocked water stations along the way). Not even the signs warning about rattlesnakes and mountain lions could put me off. 
The property is, however, situated a short drive from St Helena, a small town that puffs itself up with the moniker "Napa Valley's Main Street". It offers plentiful pottering opportunities, with many a tasting room, farm shop, fancy restaurant and luxurious homeware boutique. If you only do one thing here, make it visiting the Clif Family Winery's Bruschetteria food truck, which serves upscale bruschetta paired with Clif wines. 
Essentials
Meadowood Napa Valley, 900 Meadowood Lane, St. Helena, California, 94574, US (00 1 877 963 3646; meadowood.com). Rooms from $855, room only, including taxes. 
Norwegian Airlines flies from Gatwick to Oakland three times weekly in winter and five times weekly in summer. Return fares start from £315 (norwegian.com).
WiFi: Free
Access: Three wheelchair-accessible rooms
Rooms: *****
Service: *****
Value: ***​