If ever a place looked like it had been Photoshopped, it's Lake Pukaki. The water is an otherworldly icy turquoise, fringed by velvet greenery and overlooked, to the north, by Mount Cook, (aka Aoraki, or "Cloud Piercer"), New Zealand's highest peak, topped with box-fresh snow.
Peter Jackson filmed his last hobbit film here, and no wonder – it's a ready-made fantasy landscape. You just want to stare and stare at it, which you can do in great comfort at the Mt Cook Lakeside Retreat.
As one of only seven properties on the 50km road winding along the lake up to Mount Cook National Park, "retreat" is the word. Hidden in a pine forest, down a long, bumpy track, the views here are unspoilt and unforgettable.
The Bed
First came Pukaki Homestead, a luxury B&B in a wing of the owners' newly built home. Then, last November, they opened Ashley Mackenzie Villa, 400m down the track. It sleeps two or four (two can rent it for half the price) and is just far enough from the main lodge to feel entirely private, without seeming remote.
Both properties are designed in eco-farmhouse style, with Oregon wood ceilings, sandstone floors and floor-to-ceiling windows. The water comes from a well 100m deep, and the doors from a Christchurch pub condemned in the 2011 earthquake.
Inside, the decor is spare and chic – nothing to detract from that view. In the sitting room are leather sofas, a ready-laid fire and a wine rack with reasonably priced bottles from the nearby Kurow estate. The beautiful black-and-white tiled bathroom has a rainforest shower, claw-foot bath and Koha spa products. The villa also comes with exclusive access to a small gym, a spa offering massages by appointment, a sauna and – the gem – a cedar-wood hot tub perched on the edge of the lawn. Save this for night-time – the villa is in an International Dark Sky Reserve – one of the planet's best places to stargaze.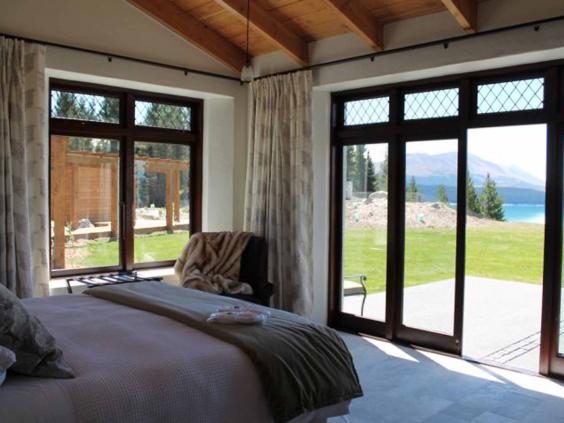 The Breakfast
There is no self-catering, which is a shame because the kitchen is gorgeous, but you can cook your own breakfast using ingredients supplied. Everything you need is in the fridge – sausages, thick bacon, eggs from the hens next door. You can eat as much as you like, at your own pace.
Alternatively, you can help yourself to the jars of home-made muesli, jams and honey lined up on the kitchen counter.
The Hosts
Luke and Kaye Paardekooper ran an events management company in Wellington before turning to tourism. After a year of wrangling over the protected site, they began building in 2011. For eight months they lived in a hut, cooking on a gas stove, and showering in the garden as they built their dream home. "We want people to feel the house. A lot of blood, sweat and tears went into it," Luke told me during a walk through the forest. He plans to build some simpler "Pioneer Cottages" next; an ice-rink for winter and a tennis court for summer are already under way.
Hosting is part of the Mt Cook experience and, for $85 (£41) each, you can join Luke and Kaye for dinner at the Homestead. Alternatively, they'll drop by with a lamb stockpot and a pan of freshly dug potatoes, fill the fridge with starters, wine and pudding, and leave you to dine in.
The Weekend
Mount Cook village is a stunning 45-minute drive along the lakeshore where you can sign up for kayaking around icebergs on Mueller Lake, skiing on Tasman Glacier or heli-hiking amid the ice caves (00 64 03435 1890; mtcook.com). Various hiking tracks also start there, including a three-hour route to Hooker Glacier.
The Alps to Ocean cycle trail is within 2.5km of the villa, with bikes to rent. Helicopter flights take off from Glentanner Park Centre, 20 minutes' drive from the villa (00 64 3 435 1855; glentanner.co.nz) and Lord of the Rings tours (00 64 34350 073; lordoftheringstour.com) start in nearby Twizel. An evening of stargazing at the Mount John Observatory is half an hour away (00 64 3680 6950; earthandskynz.com)
The Pit-stop
The Old Mountaineers Café in Mount Cook Village is the default stop-off for adventurers, and is priced accordingly. It serves cold beers, hot drinks, giant breakfasts and burgers. Try Sir Edmund Hillary's Sausages and Chips (00 64 03 435 1890; mtcook.com). Mt Cook Alpine Salmon (00 64 03 435 0427; mtcookalpinesalmon.com), the highest salmon farm in the world, sells fresh fish and sashimi to take away.
The Essentials
Mt Cook Lakeside Retreat, 86 Mount Cook Road, Twizel, New Zealand (00 64 800 263 836; mtcookretreat.co.nz). A night for two in the Ashley Mackenzie Villa is NZ$595 (£291); at the Pukaki Homestead it's NZ$495 (£241). Seven days' car hire from Auckland Airport with Car Rentals (carrentals.co.uk) costs from £21 per day.