Expect to be laughed at if you get into a taxi in Richmond, North Yorkshire, and ask for the New York Public Library. Clearly not everyone in the Dales is familiar with artist and curator Grenville Worthington's holiday home yet, and how it got the name is a bit of a story.
Luckily Worthington, sporting a cravat and wellies and proffering a bottle of Badoit, pops round on our first night to tell us about it. He lives close by in a neo-Gothic copy of the famous library at York Minster, you see. And as his home is the York public library, the holiday let is, in effect, the New York Public Library. "It gives the whole thing an air of mystery, no?" says Worthington.
While not quite as grand as its forebear, The (new) New York Public Library is certainly hard to miss. The black, charred-timber-clad house stands out impressively against the green hills and unassuming sheep of Brough Park, with its huge balcony and wraparound floor-to-ceiling windows. It's hard to believe that this was once an "ugly" 1960s cottage, which has taken Worthington two years to renovate, complete with stone pizza oven, hot tub, lookout tower, table tennis outhouse and an installation by architect Amanda Levete. And that's just the garden.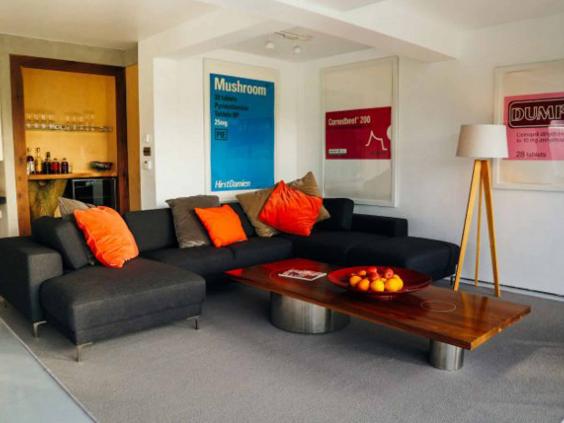 Being in the house is like staying in your own private gallery. As you'd expect from Worthington – the recently appointed chairman of the Yorkshire Sculpture Park and a former Turner Prize judge – the walls are curated in the best possible taste. Damien Hirst's Last Supper prints (the ones that look like medicine labels) are the show-stoppers, but there are interesting things to look at all over the place, such as a chandelier made from twigs or paintings of kebabs by Keith Coventry on the landing. Eating freshly baked pizza and sipping a cocktail in a wood-fired hot tub under the cloudless (yes, really) Yorkshire night skies is the moment this holiday home becomes a masterpiece.
The rooms
Indoors, the design is minimalist and modern (think hip bachelor pad) with poured-concrete floors, flat-screen television, table football and colour-pop furniture. Every detail has been thought about. Just as you're about to say "I wonder if there's a wine fridge/wood-burning stove/espresso machine ..." one appears before your eyes. There's even a basket of slippers to wear down to the hot tub. A ridiculously well-appointed, stainless steel kitchen makes you want to do a Nigella and caress the copper pans, and the large, open-plan dining area is made for entertaining.
Upstairs are three bedrooms, all on the small side (one has two singles that are really only suitable for children or very un-claustrophobic adults), and a spacious wet room. One bedroom has a roll-top bath squeezed into it, and it's a real joy to have a soak while waving at the sheep (be warned – the balcony stretches all around the house so you might want to draw the curtains if not intimately acquainted with those in the room next door). The recycled rubber on the decking is great for bare feet or accident-prone children, and the young at heart will love the look-out tower in a treehouse, which has daybeds for kids.
Out and about
The grounds of Brough Park make for a nice stroll, with babbling brooks and more than 100 different types of bamboo, planted by Worthington (when he's not making his own charcoal, that is). You can't miss the 15th-century mansion, Brough Hall, and you might spot William Hague (he lives in one of the converted flats here).
It's a 10-minute drive (or an hour's hike) to Richmond, one of those quintessential market towns with a cobbled square and Norman castle which has panoramic views of the Dales.
A memorable three-mile walk is the trail of "The Little Drummer Boy", an 18th-century child soldier who discovered an opening to a tunnel under the castle. You can follow the path of his drum beats, on a route that takes you beside the River Swale and towards Easby Wood, until you get to the ruins of Easby Abbey, where his drumming "mysteriously" ceased – a stone now marks the spot.
The food and drink
There's a welcome hamper but given the standard of the rest of the house it's a little underwhelming (more Tesco than locally sourced goodies). Richmond is full of solid gastro pubs and restaurants, but for something a bit special head to The Coach House, the restaurant of the boutique hotel Middleton Lodge (01325 377 977; middletonlodge.co.uk), which does a three-course "Market Menu" for £25.
The essentials
New York Public Library, Brough Park, Richmond, North Yorkshire DL10 7PJ (01748 850 333; holidayathome.co.uk). Prices start from £479 for a three-night weekend break in low season, rising to £770 high season. Up to two dogs allowed.
Reuse content