The leading lady of northern Spain's Basque Country, Bilbao has over the past 20 years transformed herself from a dirty, industrial port to a thriving cultural city. Despite taking great strides towards modernity, spearheaded by Frank Gehry's spectacular Guggenheim Museum in the city's former shipyards, the Casco Viejo (Old Town) is still the most atmospheric place to stay. Amid the medieval streets, you'll find innovation too, particularly in the characterful pensións. One of the newest, Caravan Cinema, launched a little more than six months ago – not itself a cinema, but a film-themed guesthouse.
THE BED
Caravan Cinema is tucked away on the main street of the Old Town – known as Posta Kalea (Basque) or Calle Correo (Castilian). Although at first glance the entrance is rather unatmospheric – next to a mobile phone shop – the drama is revealed as you pass through the pensión's heavyweight door.
A warehouse-style lounge greets you, dressed with  furniture from the Sixties, Seventies and Eighties. Worn leather sofas, wooden sideboards and industrial-style lights fill the space. Five rooms fan off the main hall, themed on different Spanish-language film-makers. Choose from multi award-winning auteur Pedro Almodóvar, Bilbao-born Alex de la Iglesia, Chilean Alejandro Amenábar, Madrileño Fernando Trueba, or San Sebastián's Julio Medem. All rooms showcase their chosen director with colourful, cinematic prints and smart televisions loaded with free-to-use filmographies.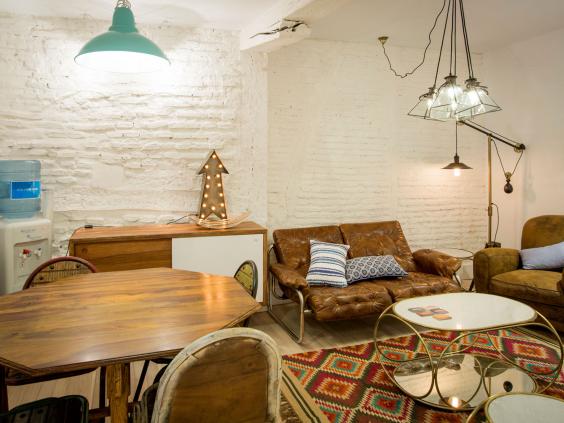 I was in the Almodóvar room which, despite being street facing, was quiet thanks to double-glazed windows. Other clues that the owners have spent their money wisely include the thick, indulgent  curtains, which kept the morning light at bay, and super-comfortable Nimbus mattresses that ensured a good night's sleep.
They've also drafted in toiletries from Balearic-based cosmetic company Hierbas de Ibiza and fitted the bathrooms with decent monsoon showers. Add to that, exposed-stone walls from the original 19th-century building and contemporary whitewashed floors and you have a base that blends Bilbao's history with its modern aspirations.
THE BREAKFAST
More guesthouse than traditional B&B, Caravan Cinema serves breakfast at a café down the road. Head to Bertiz at 16 Calle Correo for coffee, orange juice and a tostada (toasted baguette) – served with either olive oil and tomato, or butter and marmalade – for €3 (£2.20). In the pensión itself, there's filtered water and a free Nespresso machine.
THE HOSTS
The owners are two Bilbao natives. With his background in tourism, Jonan Armendariz handles all the guests. His behind-the-scenes cohort, Gorka Ruiperez, is responsible for Caravan Cinema's stunning interiors.
THE WEEKEND
The preposterous but utterly beautiful Museo Guggenheim, with its undulating, titanium-clad exterior, (00 34 944 35 90 80; guggenheim-bilbao.es; open 10am-8pm daily except Monday; entry €10/£7.40), is a must for art lovers. But equally alluring is the Museo Bellas Artes (00 34 94 439 60 60; museobilbao.com; open 10am-8pm daily except Tuesday; €7/£5.20), with Spanish and Basque painters, including works by Francisco Goya, Alberto Arrúe and Juan de Echevarría.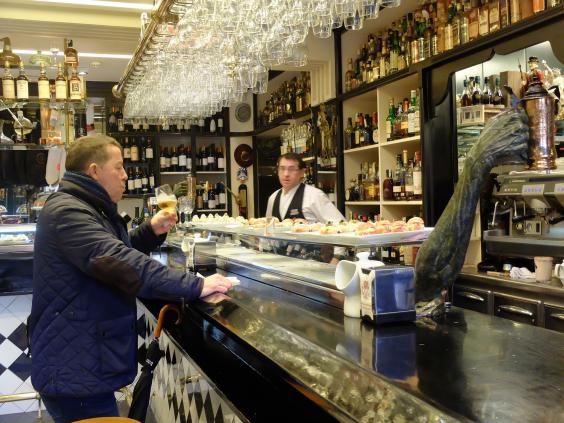 In the Old Town, the beauty lies in wandering. Like the rest of Bilbao, it's not big enough to lose your way, so roam the cobbled streets, refuelling on pintxos (the Basque version of tapas) and glasses of chilled, local txakoli wine at one of the numerous bars.
THE PIT-STOP
Around the corner from Caravan Cinema is Plaza Nueva, the main square of the Old Town and site of numerous pintxos bars. This is the place to soak up a lively atmosphere, especially on weekend evenings, and Sundays when a flea market is held in the square.
Among the choices for a drink and a bite to eat are modern Zuga (00 34 944 15 03 21), old-hand Casa Pedro  (00 34 944 151 671; bilbao-cafebar.com) and classy Victor Montes (00 34 944 157 067; victormontes.com), where smartly dressed waiters serve you amid an interior that's lined with bottles; two pintxos with a glass of wine cost from €3.90 (£2.90).
THE ESSENTIALS
Caravan Cinema, Posta Kalea/Calle Correo 11, Bilbao, Spain (00 34 688 860 907; caravan-cinema.com).  Doubles start at €60 (£44.25); breakfast €3. For more information go to:  bilbaoturismo.net; spain.info.
Reuse content