With the charming, once sleepy, Siem Reap now bulging at the seams, the timing could not be better for a hotel to open outside town, in the tranquil Cambodian countryside, yet still within easy reach of the temples that draw the crowds.
This 45-villa Phum Baitang was designed by the Paris-based AW₂ (also responsible for the Nam Hai and Six Senses Con Dao in neighbouring Vietnam) to mimic a typical Cambodian village. Wooden thatched houses on stilts are dotted across the swaths of lemongrass and verdant paddy fields that aptly reflect its name, which translates as "Green Village". 
All the villas have terraces from which you can admire the lush jungle feel – a buffalo and its calf will soon be added to the landscape – and 20 of them have private pools. 
Two restaurants lie within the resort: Bay Phsar, which concentrates on bringing local flavours to the table, and Hang Bay, which draws from across the globe to deliver international favourites. The quality of food is outstanding, from the sparklingly fresh sushi to the perfectly crisp, wafer-thin pizza, straight from the wood-fired oven in the garden. But don't miss the deliciously aromatic Khmer noodle dish – nom banh chok, or the chance to try Quinta do Pessegueiro white wine from the Douro Valley vineyard of Roger Zannier, father of Zannier Hotels' founder, Arnaud Zannier.
Those who favour spirits will love the setting of the cigar and cocktail lounge. It is housed on the first floor of an original, century-old wooden farmhouse, with colonial-style rattan furniture, little pots of emerald green rice as decoration, and groaning shelves of vintage liqueurs, gin and whisky. The Pool Bar, which is larger, has views on to the 50m infinity pool and the surrounding frangipani and date palm trees. An extensive organic garden supplies the many herbs used in the kitchen, and the rice fields and lemongrass are also harvested for the table – an experience guests are welcome to try.
There is a kids' club (open from 10am to 9pm), which provides complimentary baby-sitting any time up to its closing time, and an impressive spa. Called the Spa Temple, it is carved in stone and houses five single and two double treatment rooms as well as a sauna, steam room, fitness room, yoga pavilion and relaxation area. Treatments draw on indigenous ingredients.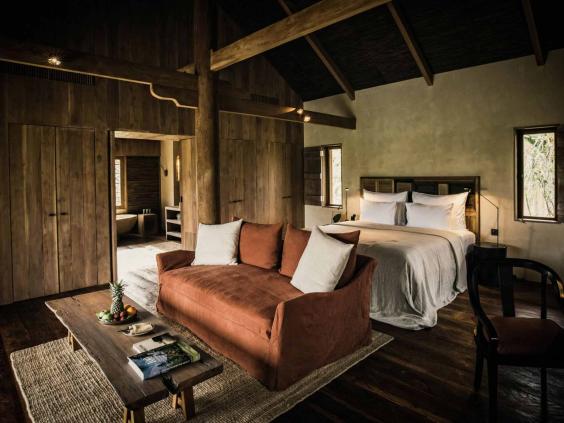 Location
Phum Baitang lies in bucolic surroundings down unpaved tracks just 15 minutes from the town centre, with its colonial French Quarter and Old Market selling everything from souvenirs to street food. The main attraction is the Angkor temple complex, a Unesco World Heritage Site that dates back, in part at least, to the ninth century. The hotel is also a short drive from the airport, with free transfers available to guests.
Comfort
There are two categories of accommodation: Terrace Villas, and the larger Pool Villas, with their own outdoor plunge pools. Decor is similar in both, with wood used extensively, from furniture to wall panels. There are bare floorboards with woven mats, vases of lotus flowers and a leaf from one of the garden's trees, pressed freshly each day between glass, placed by the bed. 
The bedrooms spill out on to huge terraces complete with low sofas and cushions. Bathrooms are spacious, with egg-shaped baths carved from local stone. Nespresso machines and a variety of tea are complimentary, as is wi-fi; the minibar is well stocked with local beer and fresh juices. 
Overall, the interiors are perfectly in tune with the rustic exteriors; the stilted huts have shutters made with woven bamboo leaves, thatched sections of roof, and lush greenery all around. 
Travel essentials
Phum Baitang, Phum Svaydangkum, Sangkat Svaydangkum, Siem Reap, Cambodia (00 855 63 961 111; phumbaitang.com).
Rooms µµµµ
Value µµµµ
Service µµµµµ
Terrace villas from US$270 (£193) room only. Cazenove + Loyd (020 7384 2332; cazloyd.com) offers seven nights' half-board in a Terrace Villa at Phum Baitang from £2,100pp, including flights from Heathrow to Ho Chi Minh City on Vietnam Airlines (vietnamairlines.com) and private transfers.
Reuse content