There are plenty of brand new hotels that have been enhanced with spas and pools, but perhaps none where the hotel has arrived secondary to the pool. That's until Molitor Paris by MGallery, which recently opened in the French capital.
The Piscine Molitor complex, replete with outdoor and indoor pools, was first unveiled on this sliver of the city's chic 16th arrondissement in 1929 by swimmer Johnny Weissmuller, who at the time held five Olympic gold medals.
The future Tarzan icon was employed as a lifeguard and swimming instructor during the pool's first season. For most of its first 49 winters, the outdoor pool was converted into a seasonal ice rink, while numerous summer events included the launch of the modern bikini in 1946. The purity of its waters was referenced in Yann Martel's Life of Pi: the protagonist's father wished for a child with an untainted soul and named his son Piscine Molitor "Pi" Patel.
Closure came in 1989, followed by 25 years of abandonment during which time Paris's street artists used the complex's walls as their canvas.
After decades of uncertainty, an €80m reconstruction project was completed in May, the new incarnation including outdoor and indoor pools, restaurant, bar, Clarins spa and a 124-room hotel. Eighty-five years after the pool first opened, the new development conveys both its heritage and its future. Great care has been taken to either reproduce original Art Deco styling – such as the pools and their changing rooms – or incorporate original features such as the front entrance, pool barriers and intricate stained-glass windows.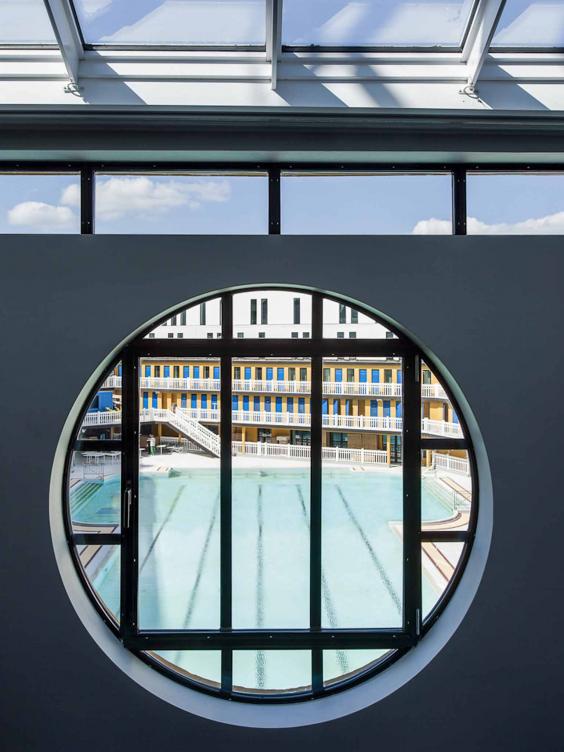 The new Molitor takes "Pool, Art, Life" as its themes. To stay at the hotel without swimming is like visiting the Louvre without seeing the Mona Lisa. The outdoor pool's water temperature remains a comfortable 28C year-round – so there'll be no more ice skating in winter.
There is playful representation of Piscine Molitor's role in Paris's spray-paint culture too, with a Rolls Royce formerly owned by Eric Cantona, tagged by Harlem graffiti artist JonOne, parked in the hotel's lobby. Visiting rock stars tempted to relocate it to the pool will find an image of Jim Morrison looking on from the petrol tank of a customised Harley Davidson across the entrance. The Lizard King is buried at Paris's Père Lachaise Cemetery and this is a neat touch for any Doors fans seeking their own version of Morrison Hotel.
The restaurant, a creation of three-Michelin-starred chef Yannick Alléno, features original mosaics and light fixtures while floor-to-ceiling windows on two sides mean that passers-by get a glimpse of the pool and its surroundings, as well as diners tucking into lobster gratin or entrecôte (which cost around €25).
Hotel guests enjoy complimentary admission to the pools, and taking into account the exorbitant price of day membership for non-guests – from €150 – adding a night at the hotel to a splash in the pool is almost a bargain.
That said, the ambience is welcoming. In fact, a sense of fun prevailed during my visit, three nights after opening – the emptied indoor pool staged a tennis match pitting Serena Williams against Rafael Nadal, while the outdoor pool featured a submerged solid bench with backrest rising to surface level. "Rafa wants to walk on water!" I was informed. Given Molitor's dazzling renaissance from graffiti- ravaged wreck to sleek neo-Art Deco landmark, such miracles might just be possible.
Location
Molitor's reopening adds to the sporting attractions in Paris's south-western corner, flanked as it is by tennis's Roland Garros, the rebuilt Stade Jean-Bouin and Parc des Princes, home of the resurgent Paris Saint-Germain.
A trail of Molitor logos leads along the pavement, in a charming Hansel and Gretel style, to Michel-Ange Molitor metro station, five minutes' walk away. The Bois de Boulogne, home of Longchamp and October's "Arc", is also nearby.
Comfort
Molitor's pools and their surrounding tiers are accurate reproductions of the Art Deco originals and the guestrooms rising above the outdoor pool complement it neatly. An addition to the 1929 complex, they feature Fifties-meets-contemporary interiors and a chocolate-and-cream colour scheme. In my "classic" room, an oversize porthole was a fitting frame for a view of the pool. Other rooms feature picture windows, some suites come with terraces. All rooms have free Wi-Fi, a coffee machine and Clarins products in their bathrooms. However, better than any sound system was opening my porthole to let in the tranquil sound of the pool's water being aerated below.
Travel essentials
2 Avenue de la Porte Molitor (00 33 1 56 07 08 50; mgallery.com).
Rooms ***
Value ****
Service ****
Doubles start at €210, room only.
Reuse content