It wasn't so long ago that a pub was a pub. A bar, velveteen-upholstered stools clustered around small tables, swirly carpet, a juke box if you were lucky. Sustenance? Pork scratchings would do nicely, thank you.
But Britain's pubs are in crisis – on average, 16 are closing every week. Many of those that are not already boarded up and converted to valuable housing stock or supermarket outlets are surviving by shifting their focus from pint to fork. They're lightening and brightening, welcoming children and getting serious about food. In many ways, it's a throwback to the staging post of old, where food and lodging shared equal billing with what was on tap.
Such is the case at The Winning Post. Bought by relatively new Hampshire-based Upham brewery in 2009, The Cottage Inn – as it was then – had been suffering the curse of the new owner: staff changes had seen locals giving up on a once well-favoured watering hole. But after the 18th-century building was sold to Upham, a substantial renovation followed.
The tired, country-inn decor was thrown out and a flashy, horse-racing theme brought in via check-tweed upholstered sofas and curtains, vintage Vanity Fair jockey prints and stylish equine photography. There's also a marble-floored Winner's Enclosure for private dining, wrapped up with monochrome photographic wallpaper of Ascot, which is just a short trot down the road.
"It's where all the race crowd comes at the end of the day," I was promised, but perhaps the chilly weather had persuaded them elsewhere. Instead, the local butcher who supplies the Winning Post's venison, steaks, pheasant and more was reassuringly perched at the bar, while a dog snoozed behind him under a row of copper pans by the open log fire.
Chef Simon Lawrence was previously with Marco Pierre White – also no stranger to the gastro-inn reinvention – and he champions local products. By now, it's fair to say that's an irksome concept, which should be the norm rather than the shouted-about, but Lawrence executes it well. The restaurant was packed throughout two sittings and the food was good.
I enjoyed crab with celeriac remoulade, slivers of Granny Smith and fennel served in a mini Kilner jar, then a decent rib-eye and gastropub- favourite, triple-cooked chips that filled me up nicely until breakfast. The morning offering was just as satisfying, although adding £4 to the complimentary continental should you desire a full English is a little mean.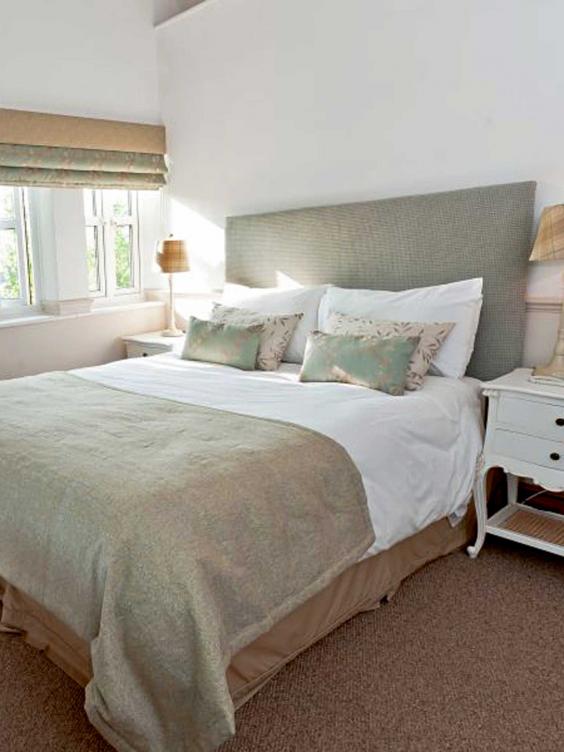 Location
While the Winning Post pins its hopes on Ascot, it's a good 10 minutes from the racecourse, although that may be a boon on meeting days when the village swells with race goers – not least for Royal Ascot which takes place next week (17-21 June; ascot.co.uk). Its location, in the village of Winkfield, is sandwiched between the M3 and M4 and is equally convenient for day trips to Windsor or boat trips on the Thames (bit.ly/BerkshireBoats).
While green and serene, this isn't ramblers' territory – the landscape is swallowed up by big, suburban houses and quickly dissipates as it reaches nearby commuter towns such as Bracknell, Staines and Maidenhead.
Comfort
There are 10 bedrooms in a purpose-built extension at the back of the pub, where less care and attention has been spent on the renovation than in the main building. Some have views of a paddock; ours looked on to a hedge.
The design aims for French country house but lands somewhere closer to motorway hotel, with tired pine fittings and perfunctory tea- and coffee-making facilities in the rooms which drag down the stylish putty-coloured paintwork and dove-grey furniture. The bathroom was basic, but perfectly clean. And while free Wi-Fi might score highly with the Winning Post's weekday business guests, post-Ascot punters may feel disappointed by a relatively lacklustre end to a day packed with thrills and spills.
A winning finish would have been achieved by pushing on with the equestrian theme, using the country tweed and leather that's successfully transformed the pub at the front. For now, the rooms feel like they've been left at the starting gate while the rest of the inn has charged ahead for success.
Travel essentials
The Winning Post, Maidens Green, Winkfield, Berkshire SL4 4SW (01344 882242; winningpostwinkfield.co.uk).
Rooms ***
Value ***
Service ****
Doubles start at £120, including continental breakfast.
Reuse content