Just try saying Rum Doodle without smiling. Roll it around your mouth. It's an inspired name for a B&B – unforgettable, intriguing and cheerily nonsensical. A place called Rum Doodle, you'd be right in thinking, couldn't possibly be bland or the owners dull. It's not, and they're not.
It is also an inspired name for a book. The Ascent of Rum Doodle has a whimsical, Alice in Wonderland quality to it. The cult classic is a spoof mountaineering romp by W E Bowman, first published in 1956 and set in the Himalayas. Bowman never set foot in the Himalayas, however, his hapless adventurers' shambolic exploits were based on his travels in the Alps – and the Lake District.
It's one of Rum Doodle's owners' favourite books. When the well-travelled documentary makers, took over the staid and stately Braemount House in 2010 they wanted to put their own stamp on it. The Ascent of Rum Doodle was a flash of inspiration and gave them their quirky USP.
The Rum Doodle is not, they want to stress, a boutique B&B, but "a quintessentially English, vintage-styled haven". The word boutique is bandied about so freely nowadays it's lost a lot of its cachet. It can be a byword for boring and beige. This quirky B&B is anything but. It's a breath of fresh air, somehow managing to feel off-the-beaten track despite being in Windermere, one of the Lake District's busiest hub villages.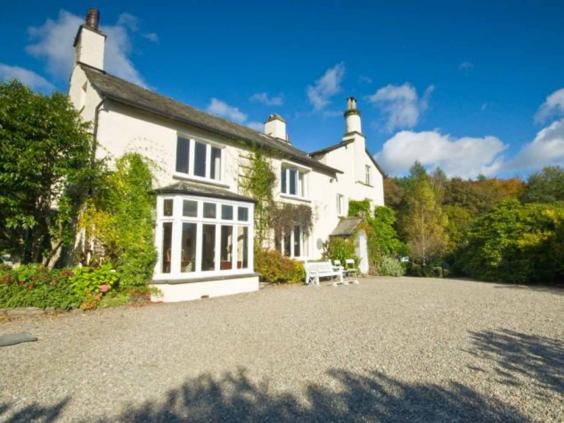 The Bed
The nine rooms – all named after characters from the book – have been decorated with an eclectic mix of antiques, eBay bargains and retro finds. In Shute (the inept expedition photographer) there are old cameras dotted around, a contemporary four-poster and mirrored Art Deco-style furniture. Jungle – the route finder who is always getting lost – has vintage map wallpaper. The top-floor suite is, unsurprisingly, The Summit. I was in Burley next door, in the eaves.
The Breakfast
The light, sunny breakfast room is strung with bunting, the weather forecast scrawled on a blackboard. Cereals, a jug of fresh orange juice, yoghurt, and fruit is laid out on a shabby chic painted dresser. The cooked options include smoked salmon and scrambled egg, smoked haddock and a poached egg, blueberry pancakes, and porridge with bananas and honey, along with the usual full fry-up.
The hosts
When Emma Hawley and Gregor Stewart decided on a lifestyle change for their family they considered various locations, including Cornwall to satisfy their love of sailing. But in Cornwall, Emma explained, tourists expect sunshine and get depressed when it rains; in the Lake District everyone expects rain and when the sun shines it's an bonus. Emma juggles family life and running a buzzing B&B while Gregor still works in television.
The Weekend
Bowness-on-Windermere is just a short walk downhill. From here you can take a pleasure cruise (015394 43360; windermere-lakecruises.co.uk) on the lake and mooch around the shops and cafés of this picturesque little village. There are stacks of guidebooks and maps in the breakfast room if you fancy tackling a fell or two in less shambolic style than that of the Rum Doodle climbers. Or if you're a literary tourist, it's just a short drive to Grasmere where you can notch up a couple of Wordsworth sites: Dove Cottage (015394 35544; wordsworth.org.uk) and Rydal Mount (015394 33002; rydalmount.co.uk), before heading around the lake to Hawkshead to tick off Beatrix Potter's Gallery (015394 36355; nationaltrust.org.uk) and her home Hill Top (015394 36269; nationaltrust.org.uk) in Near Sawrey.
The Pitstop
Emma and Gregor are self-proclaimed gourmets and provide a helpful list of recommended restaurants both within walking distance (Bowness and Windermere) and further afield. At Michelin-starred Holbeck Ghyll (01539 432375; holbeckghyll.com) two miles away and Linthwaite House (015394 88600; linthwaite.com) which I could see from my window, Rum Doodle guests receive a complimentary glass of champagne.
There's also a handful of gourmet gastropubs a short drive away. I ate at the award-winning Wild Boar Inn (015394 45225; englishlakes.co.uk), just five minutes away, with its own smokehouse and microbrewery. On the second night I strolled down to Bowness and ate outside the newly opened Caffe Riva (015394 23232; cafferiva.co.uk), a cheerful Italian.
The essentials
Rum Doodle B&B, Sunny Bank Road, Windermere, Cumbria, LA23 2EN (015394 45967; rumdoodlewindermere.com) Doubles start at £90, including breakfast.
Reuse content