The purple front door on Safestay's grand Georgian exterior offers a hint of what to expect inside. Occupying Grade I-listed Micklegate House, built for prominent York gentleman John Bouchier in 1752, this is York's newest boutique-style hostel (or "poshtel", as it's called in travel PR parlance).
It's just two minutes' walk from Micklegate Bar (the city's main entrance since the 12th century) and superbly located for exploring the world class Roman, Viking, medieval and Georgian sights.
The 21st century has, however, muscled in. Beyond the purple door, the hallway's age-old flagstones are adorned with a bright stripy rug, and the wooden beams and original fireplaces are surrounded by pink or lime-green walls hung with irreverent caricatures of old master portraits. The cellar is now the IT room, complete with four computers (£1.50/hr) and a Pacman arcade machine. The bar offers free wi-fi and, on presentation of the Monopoly £500 note received on arrival, a free drink.
The hostel sits on Micklegate, Norse for Main Street – in York, streets are called gates, gates are called bars and bars ... well, they're pubs. The road leads over the oldest bridge in the city to the Shambles and York's many other medieval ginnels and snickets (alleyways), now a browser's haven of little shops, cafés and restaurants.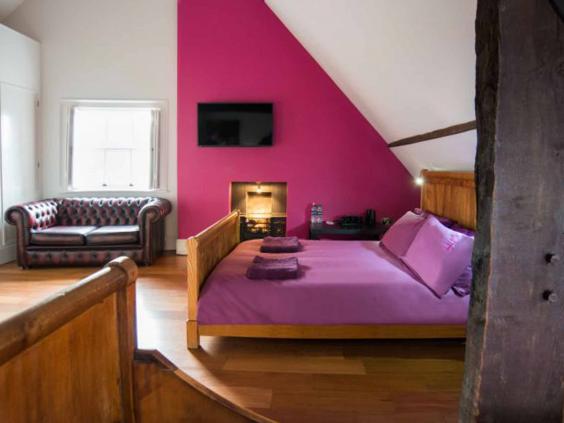 The bed
Up the sweeping main stairway with its white stucco ceiling (there is no lift), Safestay's 23 rooms range from 12-bed dorms to private doubles, most with en-suite shower rooms. You can stay in the Bourchiers' master bedroom, Lady Mildred's parlour, or the servants' closet, and each has a plaque with a bit of history. My private double attic room – decorated in traditional wood plus purple towels and linen, of course – apparently once housed Caroline the cook, who, discovering she had syphilis, hanged herself on the landing by my door. Possibly not my ideal bedtime story, but at least I'm not in the room haunted by the dead baby of the "wicked" butler and the 14-year-old maid ....
The breakfast
In the original Georgian kitchen, communal wooden tables and benches are overlooked by a stag's head, a TV, and lights made of cutlery. Until the end of May, croissants, cereals, hot drinks and apples are provided free. From 1 June there'll instead be a full cold buffet costing £4.
The hosts
This hostel opened in January as Safestay's second branch, following a launch in London's Elephant & Castle. Another hostel opens in the capital this summer, in Holland Park.
The weekend
From Safestay, take the steps at Micklegate Bar to walk the medieval City Walls, 97 per cent of which are still standing. Dip back into town to see Clifford's Tower, the last remnant of York's Norman Castle (bit.ly/CliffordsTower) and visit the restored Georgian Fairfax House (01904 655543; fairfaxhouse.co.uk) – a vision of what Micklegate House once was.
Travel back in time at the Jorvik Viking Centre (01904 653511; jorvik-viking-centre.co.uk), a museum that includes a reconstruction of a street 1,000 years ago, with aminatronic residents.
Wander through the Shambles to York Minster (01904 557200; yorkminster.org), Northern Europe's largest Gothic cathedral with more than half of England's medieval stained glass. Don't miss the undercroft with remains of the Roman HQ that once stood here, and the tower climb (275 narrow stone steps) to the best views over York. Hop back up on to the walls for a scenic route back.
If you are leaving by train, call into the National Railway Museum (0844 815-3139; nrm.org.uk) next to the station. It is full of glistening trains, from steam to bullet, as well as genteel afternoon teas in a refurbished Pullman carriage.
The pit-stops
Two of York's best-preserved Georgian houses are now restaurants with historic ambience and food that punches well above their prices. For lunch, head to The Lamb and Lion (01904 654112; lambandlionyork.com) right next to Bootham Bar. It has a beer garden tucked beneath the ancient city walls and a view of York Minster, as well as a warren of cosy mid-18th-century rooms. Try the refreshing three-beetroot salad with blue cheese and figs (£5.50) or the hearty signature Clifford's Tower steak and ale pie (£13.95).
In the evening, The Judge's Lodging (as it was in the 19th and 20th centuries) – also with Minster views – offers newly renovated calm, candlelit interiors. It's a combination of clubby traditional and stylish contemporary – as is the food. The tender and tasty calamari and squid starter is a snip at £7. Mains around £10-12.
The essentials
Safestay York, 88-90 Micklegate, YO1 6LX (01904 627720; safestayyork.co.uk). Private twin/double rooms from £80, dorm beds from £16. For more information, go to visityork.org.
Reuse content