Being welcomed aboard a super yacht is an experience usually reserved for those with bank balances as dazzling as those vessels' maple and teak fittings (or at least with friends in that elevated social echelon). However, Finnish firm Sunborn's fixed-location yacht hotels are part of a relatively new concept that seeks to make the experience more attainable, while still an exclusive affair. The company opened in two locations this year: a five-star vessel in Gibraltar and a four-star version parked just outside the ExCel centre in London's Docklands (a third is planned for Barcelona). Both are well-positioned to attract a corporate clientele, but the Gibraltar offering is fixing its sights on sunseekers too.
Despite a booming economy, Gibraltar's hospitality industry has fallen behind; before Sunborn Gibraltar moored in the glossy Ocean Village Marina earlier this year, the territory had no five-star hotels. The €150m, seven-deck yacht was purpose built in Malaysia and meets nearly all the classifications of a sea-faring vessel. It has a captain and a first mate, but there's no fuel tank (it was moved from Malaysia aboard a transport ship). The yacht is secured by six hydraulic arms which allow no more than a one degree tilt each way, so there's no need to worry about developing sea legs.
Gibraltar itself is small with 30,000 native residents and 2.3sq miles of territory, much of which is taken up by the sheer cliffs including the Rock, which remains the undeveloped home to around 300 wild monkeys. Limited space means it's difficult to modernise Gibraltar's hospitality industry but with its theoretically portable approach, Sunborn is a novel solution.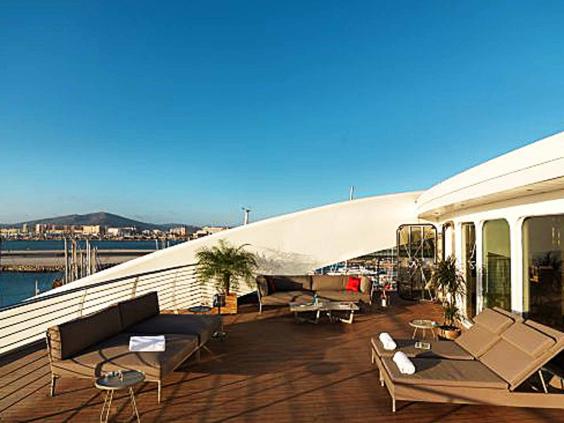 There are two restaurants onboard, the most grand of which is the Sky restaurant on the top deck that can seat 400. This is where the impressive breakfast buffet is served. An extensive gin menu comes into its own for sundowners to be taken on the aft of the top deck where a small, refreshing pool provides a chance to cool off after sunbathing.
Should the boat stay moored here, Gibraltar has a rather glamorous reason to pay a visit.
Location
Gibraltar is mainly geared to business travellers, but nature lovers will enjoy the charms of the barbary macaque colony that lives in the wilds of the Rock – the top of which can be reached by cable car – while the subterranean amphitheatre of St Michael's Cave is astonishing in scale, as are the tunnels constructed by the British Army over the course of 200 years.
Everything is easily accessible, and a half-day tour should satisfy most sightseers. The currency, and shops such as M&S, Morrison's and Clark's, may be British but there's a distinctly Mediterranean feel to socialising – popular marina bars only come to life after midnight.
Comfort
The yacht's interiors are contemporary but suitably imposing, not least thanks to the vast orb-like Swarovski crystal chandelier in the marble entrance hall. Every room is equipped with a panel through which lights, curtains, air conditioning and even housekeeping can be controlled – a nifty idea, if a tad confusing.
Rooms are somewhat masculine but of a good size, with a king-size bed, large-screen TV, Lavazza coffee machine and Wi-Fi. All have floor-to-ceiling sliding picture windows to welcome in a cool breeze and many have a compact private balcony. Bathrooms are marble and showers come with a choice of a normal high-pressure shower and a more luxurious rain shower. The wardrobe can be accessed from either the bedroom or the doorless bathroom, although thankfully the loo is behind its own etched glass door. Suites come with a lovely, deep bath, but hot water is not plentiful and the Lilliputian toiletries are practically single serve.
Floors are wooden and desks are moulded and fixed to the wall. Modular bed frames have in-built side tables, with a choice of plug sockets and are lined in leather – a design accent on wall panels and wardrobes too. However, while it might be naff to make an origami animal out of a guest's pyjamas, it's surely better than finding them as I did, strewn on top of the bed frame?
Travel Essentials
'Sunborn Gibraltar', Ocean Marina Village, Gibraltar (00 350 2001 6100; sunborngibraltar.com).
Rooms ****
Value ***
Service ***
Doubles on 'Sunborn Gibraltar' start at £350 with breakfast. Doubles on 'Sunborn London' at £180, B&B.
Rebecca Gonsalves flew to Gibraltar with Monarch, which offers returns from Luton starting at £147 (monarch.co.uk).