Stepping into the lobby of The Marlton, it takes a while for your eyes to adjust. The walls are panelled in rich oak, the furniture is dark and distressed, the lighting so low, it is hard to pick out the reception desk. It feels like stepping back in time, or into somewhere a bit illicit, which is kind of the point.
Marlton House was built in 1900 and is soaked in New York history. If its walls could talk, they would probably recite Beat poetry. By the middle of the century the original hotel had become an affordable home-from-home for Greenwich Village's counter-cultural heroes.
It was here that Jack Kerouac worked on his novellas The Subterraneans and Tristessa in the 1950s. Lenny Bruce holed up here for the duration of his obscenity trial in 1964. Valerie Solanas was living in Room 214 when she walked into Chelsea one day and shot Andy Warhol.
In 1987, the building became a dorm for students at The New School of Design. But a couple of years ago BD Hotels and Sean MacPherson bought it up. MacPherson is the co-owner of hot New York hotels The Bowery, The Jane and The Maritime, plus the ever-fashionable Waverley Inn restaurant – just a few of his many pies.
MacPherson has a knack for making his hotels, often styled around a knowingly ersatz theme, not just places where tourists want to sleep but where people want to hang out, drifting from espresso bar to martini bar.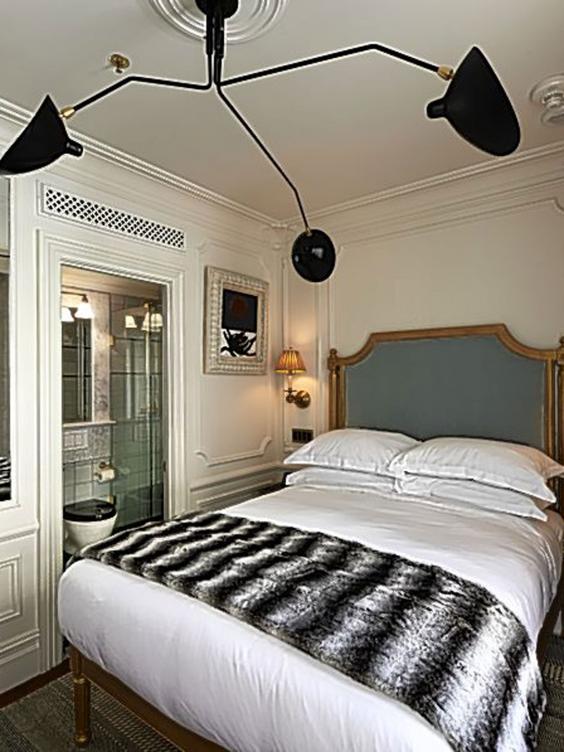 For The Marlton, he has eschewed any obvious beatnik stylings in favour of what he calls "baby grand", inspired by the Paris Ritz and the desperate decadence of F Scott Fitzgerald's Tender is the Night. The "baby", apparently, refers to both its size and prices. It is luxurious but louche, boutique for bohos.
The lobby is a shadowy space of shabby leather armchairs, fireplaces, velvet banquettes and mismatched tables. Bracingly strong Ferndell coffee is served from a hatch next to reception. A bar with covetable red booths serves $13 cocktails with names like Eeyore's Tail and The Bearcat Sour.
An airy 98-seat restaurant, Margaux, offering a French-Mediterranean menu, is the latest addition to the ensemble. It serves breakfast – organic scrambled eggs with kale, avocado and chilli on toast – and dinner: rotisserie chicken, home-made pasta and rustic vegetable dishes.
Location
The Marlton is in Greenwich Village, one block from Washington Park. As such it is the perfect spot for those who want the buzz of Manhattan but are not too worried about being near the tourist hotspots.
West 8th Street itself is a jumble of cheap shoe boutiques and frozen yoghurt shops but there are already signs of the MacPherson effect. Stumptown Coffee has just opened opposite the hotel; craft beer and artisan popcorn shops are on the way. The shops and nightlife of Bleecker Street and bijou restaurants of Greenwich Avenue are within walking distance, as are cultural spots like the Comedy Cellar and the Players Theatre. The nearest subway is West 4th Street, five minutes' walk from the hotel, which takes you straight to Midtown in four stops.
Comfort
There are 107 rooms, which range from penthouses with terraces to small doubles. The hotel calls its rooms "chic petite" and they are certainly both of those things. They range from 100 to 120sq ft and, crammed in on top of each other dorm-style, there is some noise from the stairwell and the street. But this is The Village; if you want leafy peace, stay on the Upper East Side. My mid-sized Queen room felt roomy enough, thanks to a giant mirror, a wall of lofty windows and minimal furnishing. There's a wardrobe, a plump bed, a flat-screen television, and that's it. The stylish detail is in the odd design flourish here and there – a brass hand holds a bedside lamp, a silvery faux-fur throw on an all-white bed, a ceiling light that looks like a Caro sculpture.
Bathrooms are where the squeeze really hits but once you manage to shut the door, they are very chic with black-and-white tiled floors, marble sinks and antique taps.
There is free Wi-Fi and a mini-bar stocked with all manner of hipster treats, from chocolate figs to moonshine. The only thing missing was a chair. New York may be the city that never sleeps, but sometimes it is nice to have a sit down.
The Marlton, 5 West 8th Street, New York, US (001 212 321 0100; marltonhotel.com)
Rooms ***
Value ****
Service ****
Doubles start at $200 (£133), room only.