The Edinburgh building that houses The Raeburn has been a hotel before: it's been eight years since the closure of an establishment with shared bathrooms and limited appeal in an age when such terms as "boutique" and "locally sourced" have become ubiquitous.
The current owners bought the site in 2011, and now it's opened again as a rather different sort of place. Today, the Raeburn has 10 rooms, a 70-seat brasserie, a bustling bar that's packed out on weekend evenings – and ambitions to draw in the growing number of luxury travellers heading to the Scottish capital.
As you approach the hotel on its eponymous road in the Stockbridge area, it's an imposing sight: a Georgian family home set back from the road with grand slabs of oak serving as tables and benches for guests having a drink in the forecourt. Inside, it's been decorated with a corresponding sense of luxury. The rooms aren't characterful, exactly, but they're composed with the sort of blandly contemporary good taste that can be reassuring when you're on holiday. This is not a place, you feel, where things are going to go wrong.
By and large, they don't. By their own admission, the hotel staff have, so far, been mostly focused on making a go of the bar and restaurant, but the small team is attentive and friendly, if a little chaotic. A missing hairdryer isn't replaced quickly, but the apologies are so warm you don't really mind.
The hotel side of the business seems like a bit of an afterthought, at least for now. In the circumstances, the Raeburn probably isn't the place to come if you're looking for complete tranquillity. You could retreat to the nice little library, but that's often in use for events, and in four months the bar has justly become a hugely popular destination. It's nice to have such good cocktails just downstairs; the food in the restaurant is pretty unremarkable, but that seems to be doing well, too. Even if you don't get the most brilliant meal of your life, you will feel the way the Raeburn wants you to feel: like you've left the tourist track and stumbled across a hopping part of local life, and you are lucky to be a part of it.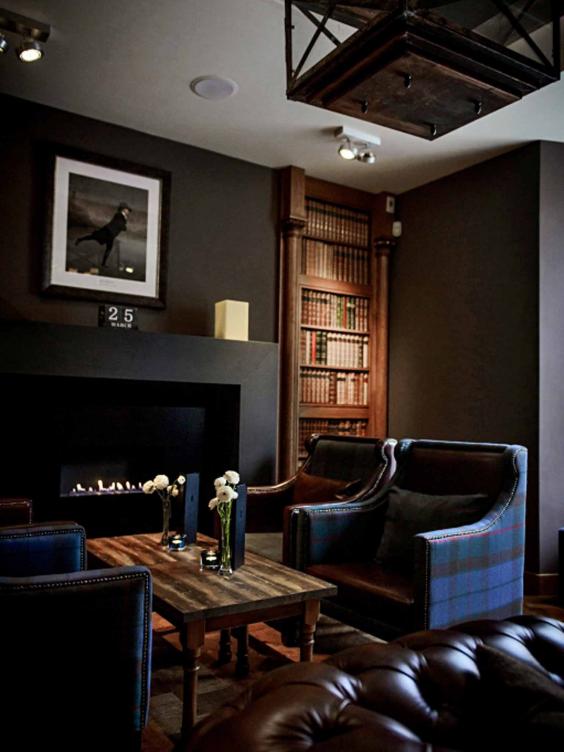 Location
Key to the Raeburn's appeal is its location in Stockbridge, a genuinely stylish, charming neighbourhood that occasionally shades into chi-chi pretension or self-conscious imitations of cool – Edinburgh's answer to Notting Hill.
If, like me, you feel that city breaks are mostly about getting to pretend that you live somewhere, rather than dutifully following the tourist trail, you will greatly enjoy visiting Stockbridge, appreciating the neighbourhood buzz around the hotel and Tom Kitchin's excellent gastropub, the Scran & Scallie, which is directly opposite.Raeburn Place itself is a curious hotchpotch of charity shops, restaurants, and finicky cafés – and features a nice market on Sundays and seriously delicious macaroons at Patisserie Madeleine. Gritty it isn't. In any case, Edinburgh's more familiar cultural treats are within easy reach, with Princes Street at the other end of a pleasant 15-minute walk. (The main station, Waverley, is, likewise, a short taxi ride away.) You might also take advantage of the city's wonderful botanical gardens, only a few minutes' walk in the opposite direction.
Comfort
We stayed in a deluxe room and retreated to it with gratitude after quite a lot of trudging about town. The bed was luxurious, the telly enormous, the sounds of the bar below only slightly louder than we would have liked. The limits on the brilliance of the design might be best symbolised by the presence of one of those weird Dyson fans without blades – whizzy, certainly, but also oddly alienating, and not lovingly matched to the location.
There was nothing to make you smile in delight or surprise, but lots to make you feel extremely comfy. The best feature was the enormous bathroom, with a correspondingly enormous bath. I have never had the luxury of brushing my teeth while my girlfriend brushes hers at a separate sink before, but let me tell you – I could get used to it.
The specifications of the rooms vary: another deluxe features a smaller bathroom but a huge walk-in dressing room; all of that category that I saw merited the designation, and were pretty good value, starting at £160, which includes an excellent breakfast. For £140, though, standard might be an even better bet, if you can live without the huge bathtub – really the only significant difference between the two.
At those prices, The Raeburn is pretty competitive in Edinburgh's boutique hotel market, and when things are fully up to speed, it's hard to see a reason not to recommend it. You won't quite be surrounded by opulence, but you will have a jolly nice time.
Travel essentials
The Raeburn, 112 Raeburn Place, Stockbridge, Edinburgh EH4 1HG (0131 332 7000; theraeburn.com)
Rooms ****
Value ****
Service ***
Double rooms start at £135, including breakfast.
More information: visitscotland.com
Reuse content