A former bank in Istanbul's financial district is one of a new breed of hip-but-historic affordable-luxury hotels. It's also the latest addition to the House Hotel Group's portfolio. Situated on the European side of the city, and overlooking the Bosphorus on the northern shore of the Golden Horn, The Vault Hotel is just a few minutes' walk from Galata Bridge and a great launch pad from which to explore this densely packed, often traffic-laden city.
With its grandiose façade and imposing Neoclassical architecture, it is something of a departure for the boutique mini-chain. Its fascinating history plays an important role in its new look. Built as a bank for Credit General Ottoman in 1863, it was owned by several financial institutions before it eventually became derelict. Luckily, when the House Hotel Group took over the lease, the original marble surfaces, stone and tiled floors, wood panelled walls and a gloriously creaky lift were all in pretty good nick. Even the cast-iron bank vaults (hence the name) and the old counting machines were still intact. All of these have been restored and sympathetically incorporated into a hotel that oozes discreet, clubby luxury with a modern twist.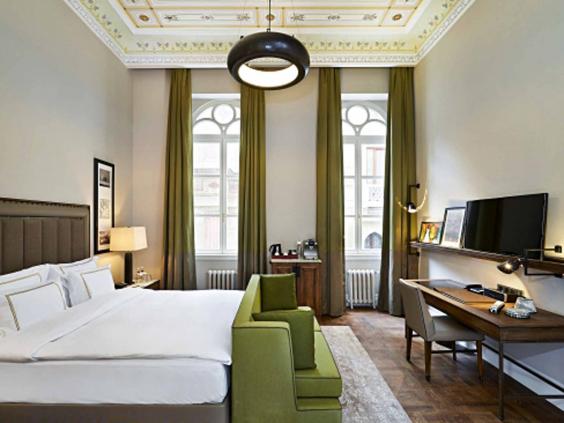 Location
Just minutes away from Galata Port – which is itself currently undergoing a major redevelopment – Vault Karakoy is located in one of the most up-and-coming districts in Istanbul, straddling bohemian Beyoglu and historic Sultanahmet. The former banking district is becoming a cultural hub as gentrification spreads. As one more bank or hardware shop shuts its doors for the last time, so a new gallery or design store opens, breathing vital life into an area that's been neglected for years. It's conveniently central, within walking distance of top sights such as Istanbul Modern Art Museum, the now-fashionable area behind Galata Tower and the Museum of Innocence, Orhan Pamuk's wonderful cabinet of curiosities, based on his book of the same name. It's also just a stone's throw from the Kilic Ali Pasa Hammam, which dates back to the 16th century and has just been beautifully restored and reopened.
Comfort
Designer Sinan Kafadar did all the hotel's interior refurbishments, skilfully retaining the archaic corporate charm of the bank, while softening the hard surfaces with plenty of luxe furnishings. Shelves with old books and antiques give the place an at-home feel and there are clever details too. One of the vaults, with its cast-iron doors, opens out into the appositely named Gold Bar, serving cocktails. Two further vaults in the basement function as a wine cellar and a meeting room. Cast-iron chandeliers hang from high ceilings, huge metal-grilled windows are swathed in heavy curtains and the ground-floor Kasa Lokanta restaurant is all plush upholstered chairs and brass inlaid tables against a backdrop of warm greys and beiges. The restaurant serves food from 7am, including buffet breakfast and à la carte modern Turkish food for lunch and dinner. There are plans for a rooftop restaurant, but in the meantime the focus is underground where there's a spa, a hammam and treatment rooms. However, the real USP is the profusion of modern art. The hotel employs its own curator, Zeynep Berik, who commissions paintings and sculptures from talented young local artists to exhibit in a series of changing exhibitions.
The theme of discreet luxury continues in the 63 bedrooms, some of which overlook the Topkapi Palace and the spice market across the Golden Horn. There is a terraced penthouse suite on the top floor, with what is said to be the "sexiest bathroom in town", overlooking Aya Sofia and the Blue Mosque. Super comfy beds, marble-clad bathrooms, a superfast internet connection, remote-controlled black-out blinds and fresh fruit, bottled water and chocolates on the house all create a feeling of being cocooned.
Apparently, there's an old Turkish saying: "If you can't get rich in Karakoy, you can't make money anywhere." And, with this gem in their hands, it's hard to imagine that anything has changed for the owners.
Travel Essentials
The Vault Karakoy, Bankalar Caddesi 5, Beyoglu, Istanbul, Turkey (00 90 21 2244 6434; thehousehotel.com)
Rooms ****
Value ****
Service ***
Doubles from €148, including breakfast.