A sucker for a little kitsch, I was already sold on Urban Cowboy when I caught a glimpse of the elk-antler chandelier, Navajo blankets, and steamer trunks on its website. These four rooms in New York transport you not merely to the eastern reaches of Williamsburg, but seemingly the Catskills – particularly if, like me, you book the Kanoono Cabin.
A house in a residential neighbourhood has been reimagined as a homely guesthouse, with a dark-pine-slatted front and a warm glow from the open-plan living space. Double doors bookend the sociable ground floor, and are opened wide in summer months, but when I visited, piles of firewood for the woodburning stove were more of a necessity.
The bed
My sister and I commandeered the stand-alone cabin at the back of the plot, with its rough pine floors, Edison bulbs and feathery dreamcatchers. Add to that a vintage kitchen stove, freestanding tub, and props including a salvaged wash board and clothes mangle.
I can only gush about the ridiculous comfort of the huge, branch-headboarded, feather-topped bed. So enticing was it that after only a couple of cocktails, we skulked back at an embarrassingly respectable hour, without even considering a quick dip in the hot tub before the 11pm curfew.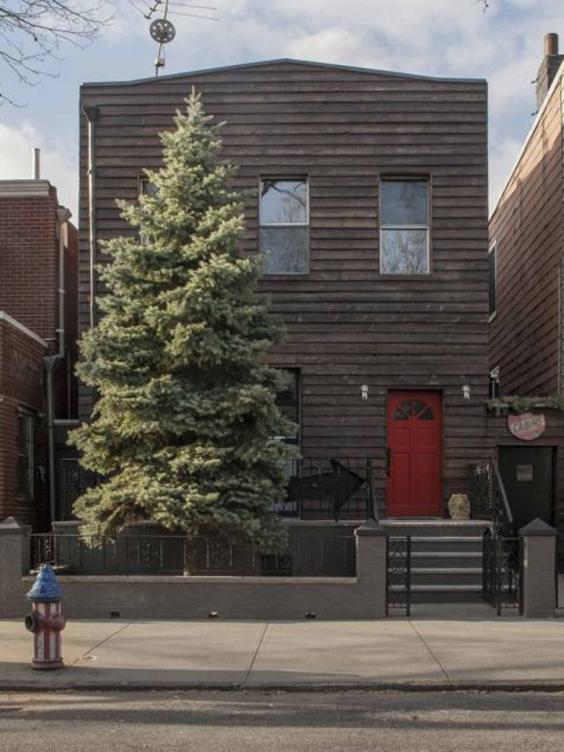 The breakfast
The common space is decked out in wide pine planks and exposed beams, with an all-white subway-tiled kitchen on one side, and a little industrial-chic furniture thrown in.
If you like your breakfast lovingly piled high on a plate and hand served, this isn't quite that scenario. There's a help-yourself jar of oatmeal sachets, plus a big pile of pretty pastries and macarons ("We sort of share any extras we have left over from what ever we had on the night before").
A toaster needed to be retrieved from a cupboard when we inquired; later some bacon was put on the grill; delicious and most welcome, but it was only rustled up because it happened to be in the fridge. To be honest I'd have happily exchanged the stylish surrounds for a chatty host squeezing me a fresh orange juice or whipping up a poached egg.
The hosts
We didn't meet Lyon Porter, the ex-hockey player behind Urban Cowboy, but it came as no surprise to find out he is also an estate agent and property developer. Jersey Banks, an ex-model/dancer, was our welcoming innkeeper. I can imagine their supper clubs are fantastically fun. Well, maybe not if you're a neighbour – although word is, they're fine with it.
The weekend
If hipsters have a spiritual home, it's Williamsburg. For those who've done shiny Manhattan to death and want to get stuck into Brooklyn, this is the district to pore over reworked homewares, vintage clothes and artisanal tucker. Take a bow, Brooklyn Flea (brooklynflea.com). Folks flock to Fort Greene for its weird and wonderful treasures such as vinyl fashioned into jewellery, as well as award-winning lobster rolls and kimchi hotdogs. Over on the Williamsburg Waterside there is a food-focused offshoot, Smorgasburg.
Grand Street Bakery (001 718 387 2390; grandstbakery.com) is a former bagel shop selling top vintage picks like Levi's and Wrangler denim, Pendleton bags and Woolrich sweaters. Danish mid-century furniture often appears in the storefront windows – and disappears soon after, as the pieces are priced at a song.
Beautiful Dreamers (00 1 718 388 4884; beautifuldreamers.com) is one of a crop of bohemian boutiques around Bedford Avenue, in the west side of Williamsburg. Browse hippie-chic clothes, locally made accessories, homewares and Native American artefacts.
The pit-stops
The Drink (001 718 782 8463; thedrinkbrooklyn.com) will service your dive-bar cravings, while the pulled pork and zingy baked beans at barbecue joint Fette Sau (001 718 963 3404; fettesaubbq.com) are also worth seeking out. Muskrat and raccoon are on offer for braver diners.
Mast Brothers Chocolate (001 718 388 2625; mastbrotherschocolate.com) is more than just craftmaster cacao, it's practically a movement; you can visit the bearded duo's mothership in Williamsburg.
Sunday Suppers (001 718 388 2510; sunday-suppers.com) is a cool communal cooking centre. Look out for its latest activity; the pop-up shop during my visit was all natural linens and gourmet sea salts.
The essentials
Urban Cowboy, 111 Powers Street, Brooklyn, New York, USA (001 347 840 0525; urbancowboybnb.com). Doubles from $150 (£99), including breakfast; Kanoono Cabin $400 (£263).
Reuse content