In Rio, there are many good views. Take the cable car up to Sugarloaf or the funicular up to Corcovado and you'll see this dramatically beautiful city in all her glory: a series of lush, green hills, dipping down to one of the world's most spectacular coastlines. No less ravishing is the view that awaits behind the door of Villa No 174 – an art-crammed B&B, at the top of Rio's bohemian Santa Teresa neighbourhood. It's just one of many treats that awaits guests – the others being a private pool and a pet macaw named Nino, who even has his own Instagram account.
The bed
The minute you walk through the green, ivy-clad gate of Villa No 174 into the plush marble lounge, you feel rooted in Rio. Tropical plants and vibrant fabrics fill the space; antique armchairs and unusual pieces of furniture abound. Many items were found in flea markets across the city and re-upholstered using fabrics from Italian design house Dedar. Custom-made artworks by Bosnian painter Radmila Djapic Jovandic also distract the eye.
Everything feels palatial, especially on the balcony. Day or night, the views from here – of Guanabara Bay and the rising bluff of Sugarloaf mountain – are exceptional. Peer down and you'll spy the pool, encircled by terracotta tiles and wrapped in tropical foliage amid which exotic birds fly.
On the next floor down, there are three rooms, all with a long, bougainvillea-draped balcony and hammocks. The style inside the suites is similarly chic and individual, with hotel-standard bathrooms and a small minibar.
Head down another floor and you'll find Nino, who lives beside the pool, in a snug-style chill-out room stacked with books, magazines and floor cushions. There's also another suite down here, which has easy access to the pool, but no view or balcony.
The breakfast ...
… is served at the main glass table in the lounge, with light flooding in from the balcony. Plates filled with different tropical fruits, hams, cheeses, cereals, breads, and cakes appear before each guest. There's also a jug of fresh juice – mango one morning, papaya the next – which combine to make the whole experience feel very Brazilian, and very healthy.
The host
Owner and interior designer Srdjan Prodanovic is Bosnian by birth. He spent much of his childhood living in Morocco, whose intimate riads influenced the design of Villa No 174 – homely, but exotic. He now divides his time between Rio, Ibiza, Paris and Luxembourg. As well as Villa No 174, he's also created the interiors for the newly-opened Casa la Concha, in Marbella.
Srdjan employs a housekeeper – a Brazilian lady named Cissa who, though a real character, speaks absolutely no English, which can prove tricky. A simple way to get around this would be to provide an information pack, which was noticebly absent during my stay.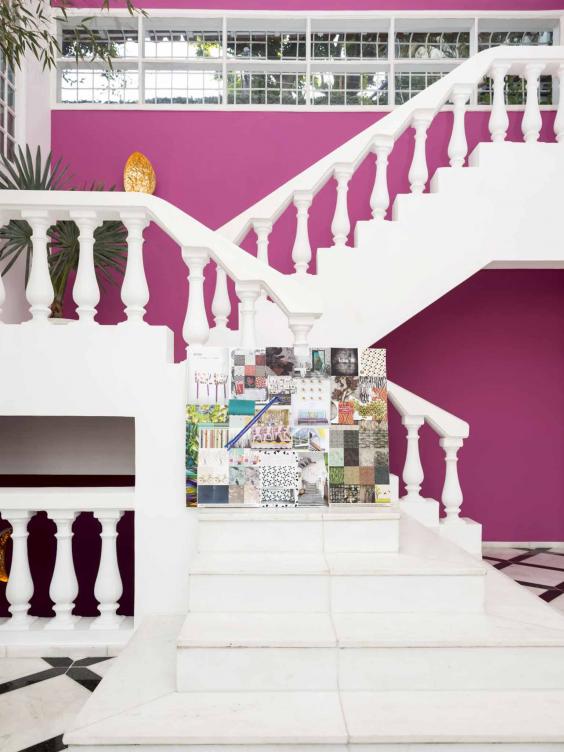 The weekend
Santa Teresa is one of Rio's most atmospheric neighbourhoods, dotted with 19th- and 20th-century mansions that once housed Rio's elite. After a period of decline, the enclave has recently been reclaimed by artists, authors, and bohemians, who have transformed these buildings into private homes or chic B&Bs. Although Villa No 174 is a later addition – built in the 21st century and opened as a guesthouse last year – it's a great base for touring the area's steep, tangled streets.
Key sights include the Museu Chacara do Ceu and its surrounding Parque das Ruinas – former home to the wealthy Castro Maya family (museuscastromaya.com.br; museum R$2/£0.40p; park free).
Close by, is the Escadaria Selaron – a lavishly tiled staircase of 215 steps, created by Chilean artist Jorge Selaron. It leads from Santa Teresa down to Lapa, putting you in reach of the city's best nightlife and samba bars. Rio Scenarium (00 55 21 3147 9000; rioscenarium.com.br) is one of the most popular: spread over three floors and packed with antiques.
The pit-stop
Most of the restaurants are clustered around Largo do Guimaraes, where Espirito Santa (00 55 21 2507 4840; espiritosanta.com.br) serves up Amazonian dishes such as filet mignon served with buttered manioc and tea-infused farofa – two types of cassava (R$68.20/£14).
At the top of Santa Teresa is Aprazivel (00 55 21 2508 9174; aprazivel.com.br), a romantic restaurant and bar with al-fresco tables scattered up the hillside. It's especially inviting at night, when the city glows as you sip caipirinhas – the classic Brazilian cocktail (R$29/£6).
The essentials
Villa No 174, Dotor Julio Otoni 174, Rio de Janeiro, Brazil (00 33 6 2263 4484; villa174.com). Doubles start at €300 (£215), including breakfast. British Airways (0844 4930 787; ba.com) flies daily to Rio from Heathrow from £815 return.
Reuse content