First holiday memory?
Abersoch in Wales. We went there when I was very young. I remember watching older boys jumping off the beach huts on to the sand and being very impressed.
Best holiday?
Probably a tie. I went with my girlfriend – now wife [actress Alexandra Maria Lara] – to the Maldives, which is incredible. I'd never swum in a sea when I could see fish before. And then the last holiday we went on was the first with our son, who was six months old, to Croatia, staying near Zadar. The hotel was just next to the sea, which wasn't dissimilar in temperature or clarity to the Maldives.
Favourite place in the British Isles?
Filey on the east coast of Yorkshire, just south of Scarborough. It's the traditional holiday destination for people from Leeds. We went every summer for two weeks as our yearly family holiday. It's not particularly remarkable, it's just a very charming and beautiful six miles of beach.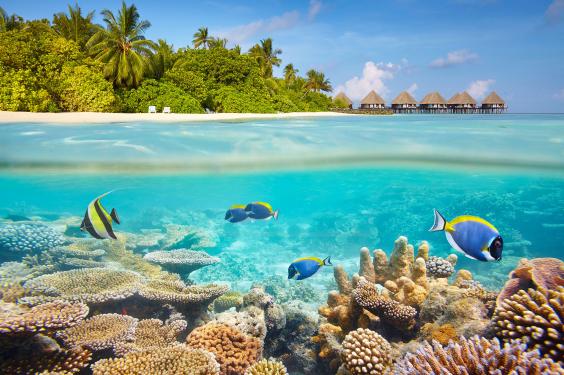 What have you learnt from your travels?
Before doing my first film, which is where I met my wife, I'd never flown anywhere on my own. The first time I flew anywhere on my own was to meet her after we'd finished shooting. Since then I've flown on my own all over the world – and it's amazing how quickly one gets used to it. 
Ideal travelling companion?
My wife. Most other people would find the way that I spend a holiday very boring. I like to do as little as possible. I can be easily entertained from breakfast to the pool, to lying in the sun, to waiting until it's socially acceptable to start drinking.
Beach bum, culture vulture or adrenalin junkie?
Beach bum. My job is always bursts of activity in between periods of inactivity. There's no real reason why I should want to do absolutely nothing, I've just always been very good at it.
Greatest travel luxury?
My iPod. I like listening to audio books while I'm doing nothing. I'm that lazy that I can't even be bothered to turn pages or use my eyes!
Holiday reading?
Recently, I've been really enjoying a series of novels by Philip Kerr about Bernie Gunther, a sort of German Marlowe character, set in pre-war Berlin and during the war. I'm on the seventh book now – they're a lot of fun.
Where has seduced you?
Romania, where my wife comes from. She was born in Bucharest and her parents fled the Ceausescu regime [to West Germany] when she was four. Since we've been together, I've been to the film festival in Transylvania and visited Bucharest many times. I find it an incredibly charming country – it's sort of wild as well.
Better to travel or arrive?
I flew to LA three weeks ago, and having a young baby at home, I spent the whole flight from Frankfurt asleep. The weird thing is, since being a father. I found myself saying a little prayer before take-off. I have more reason to be alive now.
Worst hotel?
When I was filming On the Road, we were working in New Mexico and the room I was in had no window. Even most prison cells have a window. It's incredible how quickly you can reach a deep depression sleeping in a room like that.
Best hotel?
The Falkensteiner Hotel & Spa Iadera in Croatia. It doesn't look like a classic holiday hotel, but it's by the sea and has a gorgeous fish restaurant near the beach. It almost looks like a cruise ship when you're inside.
Favourite walk?
On the beach in Filey. It's the most comforting experience because I've been doing it for so long.
Dream trip?
I'd love to go back to the Maldives one day, but now that we have a child I think our ideas of dream holidays are probably over for the forseeable future. Maybe one day we can go back there and slob out again.
Favourite city?
Berlin. I've been living there on and off for five years. We thought at one stage about living somewhere else together, but you can't take a girl from Berlin to Bradford really, much as I love Bradford. We thought about London, but as a northerner it's never really appealed to me. Berlin's got a great atmosphere and is a tolerant place. My wife is quite a well-recognised person in Germany, but you are still left alone.
Where next?
I'm probably going to Belfast for my next job. I've never been there before, but a friend highly recommends it. Fingers crossed I'll be there for a couple of months.
Sam Riley is an ambassador for The Leading Hotels of the World (lhw.com)