Cassie Utt is about to spend an entire year travelling the globe, a trip that will include month-long stops in 12 locations, including Dubrovnik, Croatia, and Ko Tao, Thailand. To get ready for her world tour, the 24-year-old American has given away her bed and put the rest of her stuff in storage. She's worked on her logistics, figured out a mobile-phone plan that will let her stay in touch worldwide and tried to reassure her somewhat nervous parents.
But one thing she hasn't done is say goodbye to her job.
For the next 12 months, Utt, a project manager in the hydraulics division Eaton, will continue working for the big manufacturing company through a new outside programme called Remote Year. "Quite a few of my friends are going through this right now, where they're taking a year off to travel," she says. "To have me come along and say I'm going to travel the world and keep my job? It's hard for them to believe."
The brainchild of 26-year-old entrepreneur and former Groupon employee Greg Caplan, Remote Year is something of a tour operator for professionals with wanderlust. The programme, which just kicked off its inaugural trip on 1 June in Prague, is evidence of the evolving landscape of work. Increasingly, professionals with dreams of travelling the world have options beyond applying to a huge global company with offices everywhere or quitting their jobs for a gap year. As working remotely has become not only more technically viable but more professionally accepted, a growing crop of travel operators have tapped into this new market opportunity.
Remote Year, for example, costs participants around £18,000 for the year – £2,000 paid upfront, and then £1,300 each month. In exchange, it books and covers the cost of housing in each city, as well as travel insurance and travel logistics between the year's 12 stops (though participants buy their flights to and from the first and last cities). The programme also secures work hubs with wi-fi in each locale, and plans events and meals to foster a sense of community among the 75 participants.
Utt and her fellow "remotes", as Caplan calls them, include entrepreneurs, software developers and designers, freelancers, and corporate employees who received blessings from the likes of Microsoft, HP, Polycom and Google to take their jobs on the road. Perhaps helping their case, unlike traditional travel companies, programmes such as Remote Year have a strong element of professional selectivity.
 Caplan says that the early pool included some 25,000 interested people, who went through an initial screening. Roughly 1,500 turned in formal essay applications, and Caplan and his small team interviewed nearly 300 to pick the final 75. They looked for people who would add diversity to the team and would have a high likelihood of success working remotely from all corners of the globe, since full-time work was a prerequisite.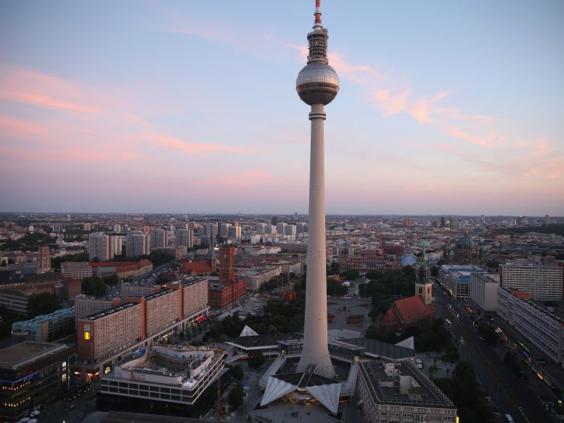 "We didn't want to take people who just wanted a vacation," Caplan said. "We were looking for people who wanted to advance their careers with new experiences. That's a really important difference. They are all committed to growing professionally."
There are, of course, plenty of digital nomads living "location-independent lifestyles" who have found their own way to work while travelling the world. Jay Meistrich, for example, left a job at Microsoft and then built his own start-up while jumping from one global outpost to the next, taking walking tours and lunching near castles in between software development sessions.
Hacker Paradise, which just started its third "batch" of trips less than a week ago in Tallinn, Estonia, provides co-working spaces and optional accommodation logistics for the roughly 30 tech workers, freelancers and entrepreneurs who compose its month-long trips. Others are planned this summer for Barcelona and Berlin, and participants pay a programme fee of £500 for a month in one location, which does not include housing or travel costs.
While some employers were surprisingly keen on the idea, others remain a harder sell. Both Hacker Paradise and Remote Year have seen a few candidates bow out because they ultimately couldn't get corporate approval, whether from their own bosses or from HR and accounting.
Knowing Utt wasn't going to be the one responsible for details such as finding reliable wi-fi service or a quiet place to work, however, was reassuring to Bonnie Smith, a senior vice president at Eaton, who supervises Utt's boss. The clear professional orientation of Remote Year, as well as the structured access to work environments, Smith says, "offered comfort to me. She's not going to be using work time to figure it out herself."
Smith also likes the idea of Utt being exposed to tech workers from other fields. "She's going to be working with people who surely will broaden her horizons," Smith says. "I expect her to come back with observations of how other countries do things."
For all the planning, there is still the unexpected. What happens if the wi-fi goes down? (Caplan says that they have back-up hotspots.) Or if someone loses their job in the middle of the trip? (Remote Year has a £1,600 early exit fee, but hopes the group would rally to help the person find work for the remainder of the trip.) Or a laptop breaks in the middle of Vietnam? (Caplan doesn't offer tech support.)
Of course, another big question is what happens when Utt's colleagues get the same idea. Smith says that she was comfortable with Utt going because she knew she was a high-performing employee, and she trusted her to work the late-night and early-morning hours Utt will need to put in when she's on the other side of the globe. But "can I have 80 per cent of my employees doing this?" she says. "No."
©The Washington Post