Getting on a healthier path and going on holiday are not mutually exclusive. Many travellers increasingly want more out of their holiday than spending a fortnight on a sun lounger. Those precious few weeks are a chance to recharge and – for some – get a helping hand to attain those long-held goals to finally get fit, address a niggling health concern or de-stress. It's not all about coming home with a six pack, but rather seeking a more transformative element to the time away.
Needless to say, the industry is taking notice of this shift. This month, the luxurious, beachside Mandarin Oriental (00 90 252 311 1888; mandarinoriental.com) hotel in Bodrum, Turkey, launched a new collaboration with the US's prestigious Mayo Clinic. From now until 30 April, on-site specialists will offer tailor-made wellness programmes to help guests attain a more balanced lifestyle through exercise, and holistic classes such as yoga, pilates, meditation and healthy eating. Prices start from €950 per person, per night. 
Kathryn Brierley, co-founder of The Healthy Holiday Company, says: "Retreats that tackle mental wellbeing are a hot topic, with more spas introducing meditation into their programmes, as well as different ways to help guests switch off from the world." 
In response to demand, this year The Healthy Holiday Company (0208 968 0501; thehealthyholidaycompany.co.uk) is launching a Fierce Fitness programme, where guests can push themselves physically with biathlons, trail running, open-water swimming, and unusual activities such as volcano trekking in Bali. 
Drawing from the ancients is another favoured theme in the world of wellbeing holidays. The health-centric Vana Retreat (00 91 135 391 1114; vanaretreats.com) in Dehradun, in the Indian state of Uttarakhand, has just unveiled a new Tibetan Healing Centre offering treatments and programmes administered by therapists who are trained at the Tibetan Institute of Medicine and Astrology in Dharamsala.
Yoga breaks were at the forefront of the healthy holiday revolution, but even they are changing with the times. Now, the likes of yoga or meditation are often being combined with more active sports. 
The new SEAcotherapy (07780 680 607; seacotherapy.co.uk) retreat, opening in the coastal Welsh village of Aberdovey in spring, combines ocean-based activities such as stand-up paddle boarding, swimming and rock pooling, with mindfulness classes, pilates and yoga. Guests can choose to camp in a bell tent or stay in luxury accommodation during its three- and five-day retreats. These start from £350 per person; the first scheduled dates are 27 May and 1 June.
Digital detoxes, where guests are encouraged to turn their backs on technology and switch off, both literally and mentally, are increasingly popular. The new Santani (00 94 11 722 3230; santani.lk) holistic retreat due to open in central Sri Lanka later this year will only supply wi-fi in guestrooms if specifically requested.
Similarly, the Villa Stephanie health retreat at the Brenners Park Hotel & Spa (00 49 7221 9000; brenners.com) in the German resort of Baden Baden has three special copper-lined bedrooms where mobile signals can be blocked at the flick of a switch. Instagramming your route to wellbeing will have to wait.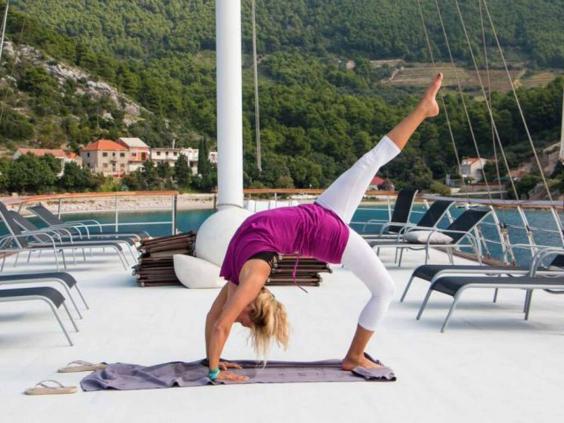 Sail away 
The hidden beaches and azure waters of Croatia's magical Adriatic coast prove the ideal backdrop for morning yoga sessions on a seven-night Yoga Cruise with Prestige Holidays (01425 480 400; prestigeholidays.co.uk). The 15-cabin MV Adriatic Queen sets sail on 20 August, stopping at some of the coast's most captivating islands, including Brac, Korcula, Vis, Hvar and Bol. Morning hatha-style yoga sessions are led by Renta Reiner, the only certified TriYoga teacher practising in Croatia. The price of £1,143pp includes flights from London, half-board accommodation on board Adriatic Queen, yoga, guided sightseeing and transfers. 
Similarly, Unison Turkey (00 90 212 256 4192; unisonturkey.com) has a seven-night gulet cruise which takes you along Turkey's Turquoise Coast, with twice-daily yoga classes on board. The price, from £725pp, includes full board and yoga with departures in May, June, September and October. 
Reboot and recharge
The recent refurbishment of the SHA Wellness Clinic, which perches on a hillside overlooking Spain's Costa Blanca, has also heralded a new programme of specifically targeted retreats. 
These include the new Cognitive Boot Camp, a treatment plan that includes personalised neuro-training classes to aid memory and concentration, mindfulness, gym sessions and a special macrobiotic menu to have your grey matter in peak condition on departure. The Healthy Holiday Company (020 8968 0501; thehealthyholiday company.co.uk) has a seven-night stay from £3,095pp, including flights from London, transfers, consultations, classes and full-board accommodation. 
De-stressing is also the theme of Inkaterra's new Strip Back & Rebuild Wellness retreat in Peru, which launches this month (0808 101 2224; inkaterra.com). There's a strong back-to-nature theme during the seven-night trip that includes staying at four of its properties, including the Amazonian Canopy Treehouse. There are traditional Peruvian treatments, hiking, biking and a visit to the Unesco World Heritage Site of Machu Picchu. From $4,804pp, with full board, transfers and all activities, but flights are not included.
Strike a pose 
Sisters Andrea and Christina Curry team up throughout the year to offer yoga retreats in a host of exotic destinations such as Bali and Bhutan (andreacurryyoga.com). The duo's newest retreat takes place on 19-25 June at Domaine Saint Jacques, a 900-year-old bastide just outside Avignon. The holiday includes twice-daily classes of vinyasa, hatha and restorative yoga as well as gourmet meals, treatments and time to explore. Single occupancy costs $5,490pp full-board with most activities and all meals, including drinks and wine, included.
The South of France is also the setting for in:spa's new trip for 2016 (020 3235 0120; inspa-retreats.com), at the medieval Château Puyssentut. The team includes a yoga teacher, nutritionist, personal trainer and chef, who take up residence for a week-long health retreat. The first starts on 13 July and costs £1,995pp all-inclusive; flights extra. 
Doctor doctor
The majority of people who subject themselves to the Mayr method return to evangelise about the transformative effects. Opened last year, Viva Mayr Altaussee (00 43 36 22 714 50; vivamayr-altaussee.com) has a spectacular lake setting on Altaussee near Salzburg in Austria. It is overseen by Dr Sepp B Fegerl, and the resort promotes the Modern Mayr approach which is based on the original Mayr "cure", developed over a century ago by Dr Franz Xaver Mayr in Austria. 
Detoxification is at the core of all of its individually tailored programmes, with an emphasis on rest and digestive cleansing. Doubles start at €175 per night, full-board, with week-long medical programmes costing around €3,000pp, also full-board. 
A medical approach is also taken at Adler Balance (pictured above; 00 39 0471 775 002; adler-balance.com) in Val Gardena in the Italian Dolomites. Its new anti- ageing packages, aimed at women, include a full blood analysis – detailing liver, kidney and thyroid function – by the spa's team of in-house doctors, after which a treatment plan is devised. There's a thermal spa, wellbeing centre, guided walks and the opportunity to follow a Mayr FX diet. The price for the anti-ageing package is €299pp, with seven nights starting at €1,100pp, half board.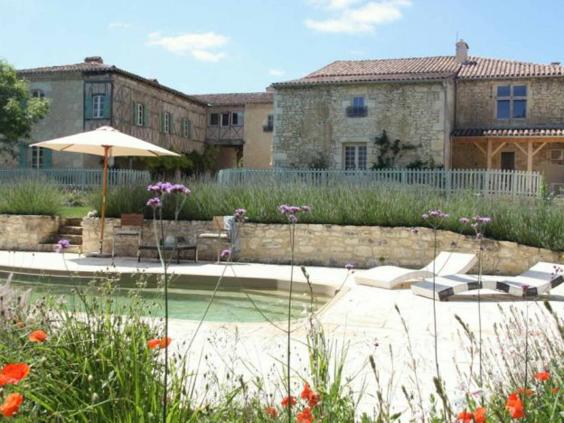 Sleep on it
One of the modern world's obsessions is the amount of sleep we are, or are not, getting. With sleeplessness on the rise, more and more hotels and resorts are offering therapies to improve the quality of our shut-eye. 
Essential Escapes (0207 788 4242; essentialescapes.com) has a new Sleep Enhancement holiday, staying at the Kamalaya wellness resort on the Thai island of Koh Samui. During your stay, better sleep is promoted through a combination of treatments using naturopathy, Chinese medicine, massage and meditation. The price for an all-inclusive five-night stay starts at £3,295pp, including flights from London and transfers. 
The Ti Sana Detox Retreat, set in a sprawling 18th-century nobleman's house near Bergamo in northern Italy, also has a four-night insomnia programme. With Health & Fitness Travel (020 3397 8891; healthandfitnesstravel.com) it costs from £2,635pp, including flights from a choice of UK airports, transfers, full-board accommodation and the programme.
Beachside bliss
Never underestimate the healing powers of turquoise water and talcum powder beaches. Windjammer Landing Villa Beach Resort, on St Lucia, has recently unveiled a new spa and wellbeing centre, where you can be as active, or indeed inactive, as you like. Activities include candlelit restorative yoga sessions, paddleboard yoga at sunset, and tai chi on the beach in the company of its 81-year-old resident expert, Jimmy James. Caribtours (020 7751 0660, caribtours.co.uk) has seven nights' all-inclusive from £1,545pp, which includes flights from London, but fitness sessions are extra.
If you'd prefer to sweat a bit more, the White Sands Resort on the island of Zanzibar is the new location for Wildfitness (07415 884 312; wildfitness.com). This challenging fitness holiday includes swimming along coral reefs and barefoot running. The week-long retreat, which takes place from 17 January, costs from £3,100pp, all-inclusive. Flights extra. 
Reuse content