Chris Ramsey's stand-up show "Chris Ramsey: The Most Dangerous Man on Saturday Morning Television" is currently touring, and he will be appearing at the Brighton Comedy Festival on 25 October.
First holiday memory?
Being on holiday with my mam and dad when I was younger. They used to make us go on massive walks on the promenade all the time. I remember telling my mam that my shoes were hurting. She kept saying "you'll be fine, you'll be fine" and so we'd walk for another 20 minutes, even though I'd be crying. Eventually she'd stop and take my shoe off and there'd be a bit of tree or bark in my shoe and my foot would be covered in blood. I still bring it up now, she hates it. Now I avoid walking at all costs.
Favourite place in the British Isles?
I really love Edinburgh. There's something awesome about Scotland. The countryside is so beautiful. I used to go to Edinburgh for Christmas when I was younger; it has a magical feel to it. I love going at non-festival time, it's like a ghost town.
Best holiday?
The holiday that I've just been on actually. I got married in July and we went to Santorini on our honeymoon. It was unbelievable, just amazing. It's basically a volcano on a cliff in the sea, so weird. And you know how you have infinity pools and it looks like they drop off into nothing? Well, this hotel had one which dropped off to a 400ft drop into the sea. You could just sit on the edge and watch the sun go down. It was so amazing.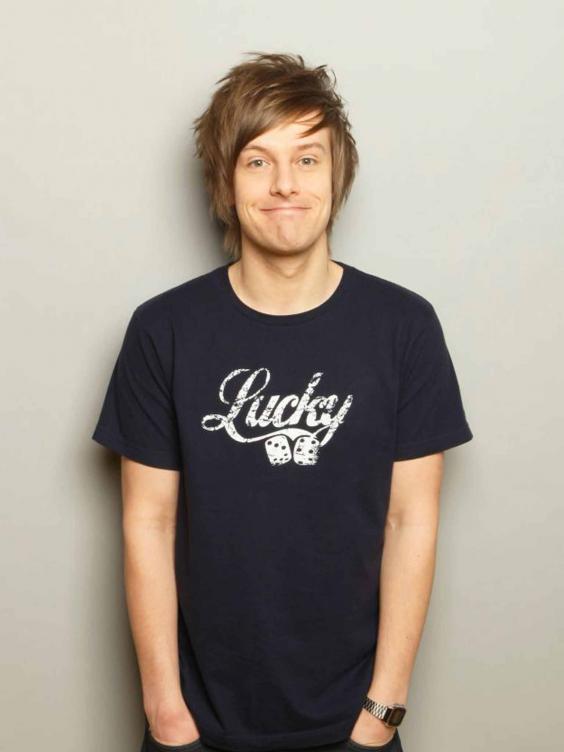 What have you learnt from your travels?
I've learnt that you should always take some baby wipes with you wherever go. You don't always get a hot towel on planes any more; I think hot towels were a Nineties thing. I always carry baby wipes with me just in case. It's just like having a shower in your plane seat.
Ideal travelling companion?
My ideal travelling companion is my wife because she calms me down. I get quite stressed when I travel and I'm slightly scared of flying but she always levels me out a bit.
Beach bum, culture vulture or adrenalin junkie?
Beach bum, without a doubt. And not even a beach bum, a pool bum. I won't even go to the beach, I'll stay by the pool.
I'm so, so pathetic. Because I travel so much for my job, and so the last thing I want to do is trek around. On holiday, I just want to be really lazy and do nothing.
Greatest travel luxury?
Well obviously a private jet would be great, but if I'm going as far as a private jet I might just as well add in a personal teleportation device so I don't have to do any travelling at all.
Holiday reading?
I like reading Bill Bryson round the pool but I also really enjoy the Jack Reacher action thrillers by Lee Child. I like a good narrative. My wife likes any book about children, like a lost child or something – really depressing, awful books. I go more for old-school James Bond-style stories.
Where has seduced you?
I did a gig over in Dubai a few years ago. I liked it just for how ridiculously lavish and over the top everything was. It has the tallest building in the world, massive water parks, the mall has an enormous aquarium in it, the hotels are just crazy with amazing restaurants, and the food is like nothing I have ever eaten. It was unbelievable luxury.
Best hotel?
The one we stayed in on Santorini, a hotel called the Homeric Poems. If I was making a film and the film was set in heaven, it would be there. It was absolutely incredible. Best place ever.
Favourite walk, swim, ride, drive?
I'm a bit of a home bird; I like the walk around the cliffs in South Shields, along the sea front. I've recently moved back home; I lived in Manchester for a while, and now and then I go for a walk with my wife. At least five times along the way we say to each other: "Can you believe how lovely this is, right on our doorstep?" It's lush.
Best meal abroad?
There's a steak restaurant in Dubai in the Atlantis hotel called Seafire. I usually pick pasta or something over steak, but it was the greatest meal I've ever had. I'm a massive fan of garlic and they give you half a roasted garlic bulb.
Favourite city?
New York was amazing, I went when I first started stand-up and I want to go again because I was only there for five days and you can't experience it in five days. I don't know if I have a favourite city but New York is a hot contender.
Where next?
I'm touring, so everywhere. Whoever booked my tour dates must think I have a helicopter: I've got Kendal, Swindon and Aberdeen three days in a row. I don't know who booked that. That's mental.