Lisbon 
by Sarah Barrell
I was talking corsetry with one of Lisbon's leading fashion designers. Studying a tailor's dummy, we were discussing rivets and ribbons and the sort of fetishist fashion fastenings I didn't know there were names for. This was not something I'd expect of a regular high street outing but, set on the wild Atlantic edge of Europe, Lisbon has always felt like a city that's danced to its own tune.
Certainly Lisbon's streets are refreshingly free of uniform chains. The elegant boulevards of its Chiado district, for one, are flanked by Art Deco shops, jewel-like confections of mirrored glass and glossy wood pannelling where, often, the same family have been plying their trade since the gilded doors were first opened at the turn of the 19th century.
A new tour from Lisbon's Inspira Santa Marta Hotel guides guests on two-hour excursions around these consumer treasures, with the chance to meet some of their artisans and owners. In the case of Story Tailors (storytailors.pt), where I was learning about fastenings that allow "modular" outfits to clip together like Lego, these artisans are celebrities. Designers João Branco and Luis Sanchez may count Madonna among the patrons of their fairytale-like frocks, yet they are anything but starry. 
João showed me around the atelier, a converted 17th-century spice warehouse, with the same boyish excitement he displays for his clothing. "Lisbon's waterfront used to come up to here," he said, indicating a vaulted bay window over a now landlocked street. "And these thick brick walls and criss-cross wooden beams? Meant to withstand earthquakes, like the one that devastated Lisbon in 1755. We love this building because it tells a story, like our clothes."
If you're shy of shopping, this could easily been seen as a history and architecture tour that just happens to take place around commercial premises, unearthing products and places that are uniquely Portuguese. My tour guide, a youthful 40-something called Marina shares João's infectious enthusiasm; literally at some points, like a kid in a candy shop. "Ooh, these are so yummy!" she exclaimed at some little umbrella-shaped chocolates, in Chiado's A Vida Portugesa (avidaportuguesa.com).
Credited with reviving such heritage brands as these Chocolates Regina, A Vida Portugesa occupies the former warehouse of 19th-century fabric and perfume merchant, David & David. Its towering walls are lined with dense wooden shelving displaying everything from jasmine soap to a design-classic spatula named after Portuguese dictator Salazar. I find myself coveting what is the local equivalent of Brasso: Coração furniture polish from the Twenties, complete with a fashionable heart and arrow motif.
Kitsch-cool also defines Tous (tous.com), the Spanish accessories brand that's set up shop in Lisbon's old Aliança jeweller's premises on nearby Rua Garrett, restoring its cherubim frescos, flowery plaster mouldings, bronze, brass and baby blue splendour. Aliança was once frequented by Franco but looks more like Marie Antoinette's powder room, complete with ornate mirrored alcoves that let shoppers admire themselves from myriad angles.
It's a heavy-handed if faithful restoration, which isn't always the case. "You should see what Benetton did up the road," said Albeato Sampaio, at nearby Joalharia do Carmo, a family silversmith trading from same beautifully wood panelled premises for 91 years. "Barely an original pillar remains."
It's amazing anything remains. Chiado's emporiums, created to cater to Lisbon's 17th- and 18th-century nobility, were near razed to the ground by a fire in 1988. Fortified by floors, ceilings and staircases made of hardwood, a few dozen survived, including the wonderful Paris em Lisboa (parisemlisboa.pt) whose ornate linens were favoured by Portugal's last queen, Amelia. 
We concluded where any blue-blooded lady should, at Luvaria Ulisses (luvariaulisses.com). Named for the classical hero said to have founded the city, this hand-made glove shop is no bigger than a downstairs loo but has gilding enough for a throne room. Manager Mr Carvalho guessed my size in a second's glance, fitting a satin-soft leather glove to my hand, which awaited attention on a heavily embroidered cushion, only after puffing air and perfumed powder into each of its fingers. I left with a beribboned pair that fit as gloves should: they are definitely not one-size-fits-all. Which is exactly what could be said of Lisbon's shops. 
Inspira Santa Marta Hotel (00 351 210 440 900; inspirahotels.com) offers the Shop Tour package for €432 for two people sharing a superior double room, including two nights' B&B and one guided shop tour (the second guest can book the tour for €74/£52). Sarah Barrell travelled to Lisbon courtesy of Visit Lisbon (visitlisboa.com) and TAP Portugal (flytap.com).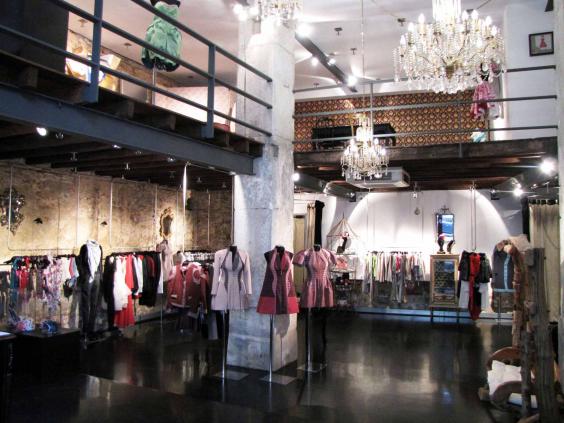 Boston 
by Chloë Hamilton
The best thing about jet lag is that you get to watch a city wake up. By the time I arrived in Boston at 7.30pm I was shattered. I climbed into bed for a quick power nap and before I knew it, it was 6am. I made myself a strong coffee, watching the light outside turn from black, to grey, to dusty blue. Then, as the first rays of sunlight inched across the carpet, I set off into the crisp, autumn morning. 
I've always taken a methodical approach to Christmas shopping; venturing out alone armed with a list, a map, and a strategy. This was no different; I had my two days fully planned out, aiming to travel from one end of the city to the other in search of bargains. My first stop was Newbury Street (newbury-st.com), in the fashionable Back Bay neighborhood, sandwiched between the Charles River and Fenway Park, home of the Boston Red Sox. The street is home to eight blocks of trendy boutiques, upmarket second-hand stores, and comic book and record shops. The streets are leafy and the shops are often easy to miss, tucked away as they are in the basements of elegant brownstones. 
Massachusetts levies no sales tax on clothes priced below $175 (£117) (by comparison, it's $110/£73 in New York), which means Boston is a great place to pick up new threads. I hit Second Time Around (2ndtimearound.com) first, which has rails of carefully selected, pre-loved designer goodies. As I flicked determinedly through the clothes, labels such as Ralph Lauren, Gucci, and Dolce & Gabbana caught my eye. The dresses, cardigans, heavy winter coats and more were all in excellent condition. I was tempted by a Calvin Klein dress before alighting upon a pair of cut-price leopard-print Manolo Blahnik ankle boots. My inner Carrie Bradshaw bristled with pleasure before I registered the too-small size and remembered that I was supposed to be shopping for gifts, rather than for myself. 
Newbury Street is also home to several women's boutiques where the sales assistants are friendly and the dresses are sparkly. Any one of these shops would be a good place to pick up an outfit for a Christmas or New Year's Eve party. My favourites were Lure (for its liberal use of sequins) and Crush (upmarket Christmas jumpers). 
If high street stores are more your (shopping) bag, visit The Shops at Prudential Center (prudentialcenter.com), my next stop. Situated on Boylston Street, also in Back Bay, The Shops is located at the bottom of the second-tallest building in Boston. Stores include Saks Fifth Avenue, Pandora, Gucci, Kate Spade, and Free People. You won't find anything especially unique, but you might sniff out some bargains. While you're there, head up to the Top of the Hub – a restaurant and bar on the 52nd floor – for an unbeatable bird's-eye view of the city. Sip a coffee, or a cocktail, while you admire everything from the North End (the oldest residential community in the city, known for its Italian American population), to the densly-packed Financial District, and even all the way over the Charles River to Cambridge, home of Harvard University.
My hunt for original gifts led me to Charles Street on Beacon Hill, celebrated for its narrow, cobbled streets, federal-style houses, and treasure-trove antique stores. In recent years, the affluent neighbourhood has seen more chains and boutiques pop up but antiques still rule for the time being. Upstairs Downstairs (upstairsdownstairsboston.com) is almost a block long; with five uniquely-decorated rooms spanning three centuries and an ever-changing selection of home accessories, china, stemware, jewellery, furniture, artwork, and knick-knacks, you could easily lose an hour in here. 
I resisted and hopped on the Red Line to Harvard (across the Longfellow Bridge), in search of geekier gifts. Ward Maps (wardmaps.com) on Massachusetts Avenue is ideal if you're looking for a present for a globetrotter. The shop offers a range of original, antique, and reproduction maps, as well as transit memorabilia. 
I ended my day at Faneuil Hall Market Place (faneuilhallmarketplace.com), which is festively decked out at this time of year. Here, you'll find independent stalls selling everything from jewellery to cupcakes. 
An ideal refueling stop is the Union Oyster House (unionoysterhouse.com) nearby, which claims to be one of the oldest restaurants in the United States. As well as creamy clam chowder and lobster rolls, the restaurant also peddles keepsakes, selling themed recipe books, fridge magnets, and salt-water taffy. 
Flight Centre (0800 188 4593; flightcentre.co.uk) offers four nights in a premier queen room at the Nine Zero Hotel Boston from £769 per person. The price includes return flights from Heathrow with Virgin Atlantic. Valid for travel until 12 December. To book quote reference: SKU 3429953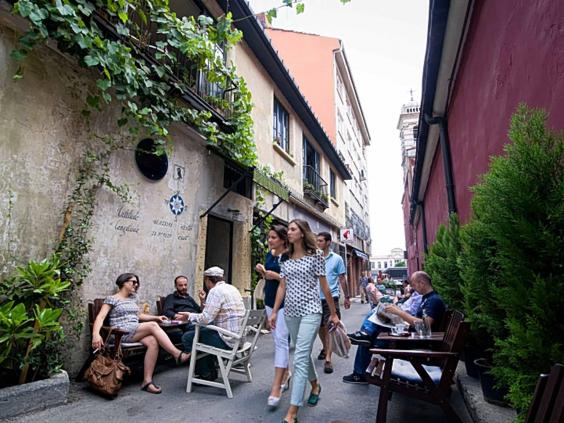 Istanbul 
by Aoife O'Riordain
Searching for Christmas presents can be a chore. However, not so in Istanbul with its burgeoning scene of local designers and shops championing Turkish-made goods among the centuries-old lanes of the Grand Bazaar and fashionable streets of Beyoglu. Barely three minutes' walk down Mesrutiyet Street from the new Soho House in Beyoglu, I was drawn into Misela (miselaistanbul.com), the small boutique of local designer Serra Turker, one of Istanbul's new generation of shopkeepers. Inside, her covetable range of handbags and clutches come in a range of patterns, textures and colours, all handmade in Turkey. 
Further down the hill, in the shadow of the Galata Tower – built by the Genoese in 1348 – there are more shops clustered on Serdari-Ekrem Caddesi. Lunapark (lunapark.com.tr) sells clothes and homewares cherry-picked from contemporary Turkish designers, while Archive also champions Turkish talent with copper candle sticks and pretty, gold-rimmed raki glasses. Nyks (nyks.com.tr) is another tiny gem, with fragranced candles presented in Turkish-made cut crystal glasses. 
In nearby Tophane, Bogazkesen Caddesi is lined with design shops, while waiting at the bottom of a calf-straining walk down the hill is one of the city's newly-hip neighbourhoods, Karakoy. This grid of streets behind the Bosphourus waterfront has become the byword for boho-chic Istanbul – although many of its small merchants are being pushed out by rising rents. However, my first stop was for a sweet treat at Karakoy Gulluoglu (karakoygulluoglu.com), which has been serving up to 10,000 customers a day since 1947 – this is where it all begins and ends for baklava lovers. Then, I wandered around the slightly shabby, vine-draped streets of Rihtim, Mumhane and Necatibey, home to a mish-mash of old shops, trendy boutiques such as Nice to Have (nicetohave.me) and Mae Zae (maezae.com), cafés and traditional merchants' restaurants. 
The pot-holed alleyway off Mumhane Street didn't seem promising, but I pressed on for one of the district's most exciting retail spaces, Souq (souqkarakoy.com). It was originally a pop-up conceived by ex-Turkish Vogue editor Yapras Aras. Vintage and new clothes, mid-century antiques, jewellery and artisan chocolate are all artfully displayed in this former ice cream cone factory.
As enticing as these new-generation shops and designers are, no shopping trip to Istanbul is complete without experiencing the retail onslaught of the centuries-old Grand Bazaar in the heart of Sulthanamet. For this I enlisted the expertise of Erk Erkaya, who with his business partner Umut Aggul runs Locally Istanbul. They specialise in giving visitors the inside track on the city's vibrant fashion, art, design, restaurant and bar scenes; Erk's rule of thumb is that if he doesn't hang out or spend his money there, he won't take you. 
Before we hit the Bazaar, Erk took me to the lesser-known Arasta Bazaar, near the Blue Mosque. Here we visited Jennifer's Hamam (jennifershamam.com), whose shelves are stacked with neatly folded hamam towels, or pestemel, in rainbow hues, all handwoven in Turkey. 
When we arrived at the Grand Bazaar our first stop was for a doner kebab from the tiny Gul Ebru Kantin, just inside Gate 16 one of the 20 entrances to the Bazaar's thronging 61 lanes of over 3,000 retailers. Banish any thoughts of drunken late night fast food – the beef is prepared fresh every day to a secret recipe and cooked over charcoal. We washed it down with ayran, a salted yoghurt drink. 
Erk explained that most locals come to the Bazaar to buy jewellery, gold and silver or to change money. The alleyways are roughly grouped by guilds; leather, jewellery, rugs, ceramics and so on. But Erk took me to stalls offering a more updated interpretation of traditional goods, such as the cave-like Sivasli Istabul Yazmacisi, the city's oldest drapery. With delicate silks, dyed wool, embroidery, velvets and antique kaftans, it attracts many well-known international fashion and interior designers. Close by, Dhoku sells handwoven rugs given a modern twist with subtle, simple patterns and muted tones. Its owner, Ibrahim, showed me his other outlet, Yazzma (yazzma.com), a few doors down, with silk and velvet cushion covers in an endless array of patterns and colours that are used in all the Soho House Istanbul bedrooms. 
Leaving the bazaar behind I headed towards the Golden Horn and the wooden storefront of Haci Bekir (hacibekir.com.tr), open since 1777 and the acknowledged ground zero of Turkish delight. A short walk along the street are the fragrant aisles of the Egyptian Spice Bazaar, which opened in 1660s, where I stocked up on spices and dried fruits for Ottolenghi-obsessed friends. 
The next morning, I had just enough time for a hamam at the Kilic Ali Pasa Hamami (kilicalipasahamami.com), constructed in 1583 to serve the forces of the Ottoman navy, but refurbished three years ago. Its steamy, 17m high, domed chamber proved the perfect antidote to the hectic streets of the city and an element of Istanbul life that will hopefully always be in fashion.
Doubles at Soho House Istanbul (00 90 212 377 71 00; sohohouseistanbul.com) start at €195, room only. Locally Istanbul (00 90 5 38 064 9400; locallyistanbul.com) offers tours from €190 for up to three guests.