A perennial question from long-suffering economy-class air passengers: what's the best way to get a business-class seat? They may seek an upgrade, but the only realistic answer these days is: "Buy a business-class ticket." The UK has two of the best long-haul airlines in the world, in the shape of British Airways and Virgin Atlantic, offering formidable comfort in Club World and Upper Class respectively. Yet typically these business-class tickets cost 10 times as much as the cheapest economy fare. However, The Independent Traveller can reveal how to make spectacular savings on normal fares – without surrendering the flexibility to change dates that comes with the most expensive tickets.
The secret is "cross-border ticketing": taking advantage of the airlines' complex pricing structures to obtain lower fares. To save thousands of pounds on a long-haul trip, you need to do some advance planning. But you may find the "catch" appealing: it requires you to visit an alluring European city twice in the course of a year.
How does cross-border ticketing work?
Airlines command a premium for non-stop flights, with particularly high fares in the posh seats. BA charges £7,405 for a flexible return on its business-class-only flight from London City to New York, and £9,827 from Heathrow to Los Angeles and back in Club World.
In an ideal world, BA and Virgin would fill their planes entirely with people starting or ending their journeys in the UK. But most of the time this is impossible. Therefore the airlines sell some seats in other markets – where they offer a different proposition. They can offer only a connecting flight, with the palaver that comes with changing planes, and they are in competition not just with each other but against a wide range of rival airlines, all anxious for the business. So, fares fall – often, dramatically.
Suppose you know you will be flying to southern California at some time in the next 12 months, but need to be flexible about dates. One answer is to buy that LHR-LAX ticket, with hardly any change from £10,000. But here's a slightly different proposition. Find a cheap one-way ticket to Prague, for example from Gatwick on easyJet (available in April for £48). For the return leg from the Czech capital, you will be flying rather more comfortably. For £3,481 – that is, 65 per cent off the fare from London – you can fly BA's Club Europe from Prague to Heathrow; stay at home in the UK for days, weeks or months; fly to Los Angeles and back in Club World whenever suits you; and, at a time of your choosing, within the ticket's one-year validity, take a final Club Europe flight to Prague. You'll need to find another cheap ticket back to Britain, but even with the price of this, and a few nights in a decent hotel in the Czech capital, you have saved £6,000.
The "cross-border" trick works for a wide range of long-haul journeys, and different European cities. Bolt on Lisbon-Heathrow and Heathrow-Lisbon legs to that New York ticket (in Club Europe, naturally) and the fare falls to just £3,419 – almost £4,000 less than the fare from London. Again, you retain complete flexibility – so that you could spend a week on the Portuguese capital's beach in Estoril in the summer, and return to Lisbon for a winter city break early next year.
You can save even more if you directly connect in London, because if you spend less than 24 hours in the UK you avoid Air Passenger Duty.
The savings offered by cross-border ticketing fluctuate with market conditions and exchange rates. You should check a number of possible departure points to get the best deals. When I bought a flexible US flight, Vienna was cheapest; right now, Prague and Lisbon are currently promising; next month, it may be somewhere else.
Can't I just get on and off in the UK?
No. You must begin the journey at the airport named on the ticket. If you fail to make the first leg of the journey as booked, the rest of your itinerary will be cancelled. On that Prague-to-California extravaganza, if you show up at Heathrow without having visited the Czech capital, the airline will invite you to pay the full London-LA fare before you travel transatlantic.
Coming back, it's a bit murkier. Some travellers have abused the system by being a "no-show" for the final leg to Europe. But anyone who fails to make the entire, ticketed journey is liable to the airline to make good the difference between what they paid for the original ticket and the fare for the trip they actually made. In the case of that Prague-Heathrow-LA ticket, you'd face a bill from the airline for £4,990.
Yet you may be able to make savings within the UK, by crossing the Anglo-Scottish border. Virgin Atlantic's cheapest economy return in early April between Heathrow and Cape Town is £1,051, but add a flight from Edinburgh and back and the fare falls by £13. Travellers living in northern England could do well to head north before they fly south.
Do I qualify for frequent-flyer points?
Yes, and if you are making a long journey in business class you will be richly rewarded for your "loyalty". On that Club World return flight from Prague to Los Angeles, you earn around 18,000 Avios points (BA's loyalty currency) – that's enough for two round trips to Western Europe, though you will have to pay tax and other charges.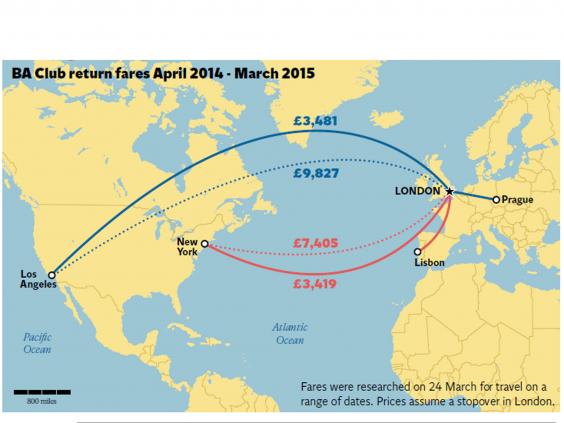 Does it work in economy class, too?
Yes, though the savings are not so substantial. A good case study is Dublin to Chicago. Aer Lingus and American Airlines offer non-stop services from the Irish capital to the Midwestern hub. The only way that Virgin can persuade some passengers to make the much longer journey via Heathrow is to offer low prices. So, while passengers who begin their journey from London on a summer Saturday pay more than £1,000, the passenger in the next seat will have spent only £827 – and got more for less, with an Aer Lingus flight in each direction.
Book Istanbul-London-Mexico City return on BA in economy, and you typically save £125 – enough to get you to Turkey's biggest city for a short break before the long haul. Flying in July from Heathrow to Tokyo on Virgin, you will pay £843. Start and end in Paris, and you save £103– more than enough for a Eurostar return to the French capital. You will even be flown between Paris and Heathrow by BA, Virgin's arch rival.
Note that these discount economy fares do not allow flexibility, and you may have to pay significantly more for a stopover in the UK. Yet sometimes simply starting your journey in Europe is sufficient; for a recent trip to South America, my journey started in Geneva and ended, eventually, at London City – with sufficient savings on the fare originating in the UK to pay for a short break in Switzerland.
It's not only the UK airlines that are playing that game: a non-stop KLM flight from Amsterdam to Rio de Janeiro next week costs €757, but if you add a Manchester-Amsterdam return to the very same flight you save £88. KLM has a monopoly on the non-stop route from the Dutch capital to Rio, but many airlines can offer a one-stop from Manchester through hubs ranging from Lisbon to Washington DC.
Why do you keep talking about Heathrow – what about other UK airports?
That's because the vast majority of long-haul aviation to and from British airports uses Heathrow, so there are many more opportunities. Gatwick also has some – particularly to Florida and the Caribbean. Travellers from other UK airports already have access to a wide range of connecting services through other hubs. For example, Birmingham, Edinburgh, Manchester or Newcastle to Kuala Lumpur on KLM costs as little as £479 return this month – £20 less than Heathrow.
How do I find out more?
Either ask a good travel agent who is prepared to put in some work on your behalf, or go online. At ba.com you can find quotes from any country which is served by British Airways, via London, to any other destination. Use the "Multi-city/stopovers" button to construct your journey, and BA's own currency converter. For other airlines, try online agencies such as Expedia and Opodo.