Cruise ship basements conjure up thoughts of buffets, sequin-clad cover singers and people hiding from seasickness. French cruise company Ponant is aiming to change that by installing the world's first underwater passenger lounge in the hull of its new Le Lapérouse liner.
Surprisingly no one has exploited the opportunity for a live on-board aquarium before. The Bond like Blue Eye lounge is described by the company as a "multi-sensory space" and will be located beneath the water line on the first of Ponant's new fleet, due to set sail in 2018.
The architect Jacques Rougerie plans to create a futuristic feel in the 75m2 space, which can accommodate up to 40 people. The interior will feature white curves of shaped resin sweeping down from the stairs and around the seating, surrounded by mirrored panels and a distinctive ridged ceiling. Murals of jellyfish, dolphins and whales have been commissioned but the focus of the room will be on two huge 1.6m x 3.4m curved portholes for visitors to watch the sub-aquatic world.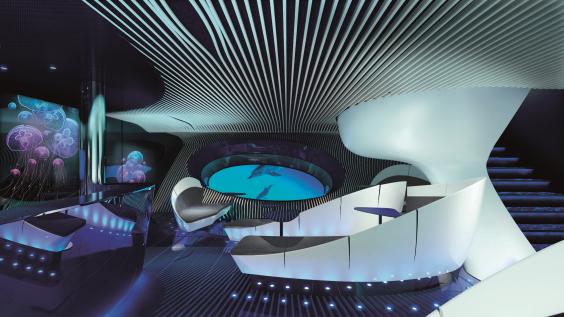 Non-intrusive underwater lights will be installed outside the portholes to allow observation of the seabed and of photo-luminescent fish and plant-life. The lights are specially designed to ensure the marine biosphere is not harmed.
Bringing the outside in is a priority for Rougerie. High resolution digital screens will dot the lounge, displaying live aquatic images filmed by underwater cameras placed at the front, back and centre of the ship's hull. The feed will also be available on cabin televisions if guests would prefer to watch from their rooms.
Guests will be able to experience the sound of the sea thanks to hydrophones – microphones which detect sound waves under water. These have been developed in consultation with specialists from the French Research Institute for the Exploitation of the Sea (IFREMER) and will be integrated beneath the keel. Deep sea sounds are captured across a five-kilometre radius and will be streamed out over a 3D sound system.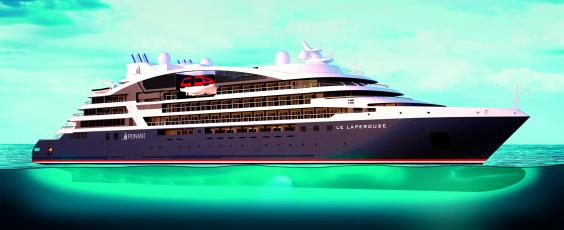 For those who want to go for the full sensory experience, high tech "body listening" sofas are available to relax on. These pieces of furniture vibrate in response to the sea sounds and allow you to be at one with your fishy friends on the ocean floor.
Architect Jacques Rougerie says: "The state-of-the-art technology lets guests become modern-day explorers. They will be able to observe the fauna and flora of this sub-aquatic universe and discover its sonorities.
"The sound system in the Blue Eye lounge will reveal to the guests the amazing listening capabilities of their bodies. For the first time in the world, the public, during a cruise, will be able to 'feel' and be at the heart of an underwater world. They will need to use all of their senses."
Reuse content