Party leaders keen to return to Westminster after last night's televised debate felt the frustration facing millions of prospective travellers this weekend. The last direct train from Manchester to London for five days left Piccadilly station at 9.15pm.
The first option after the programme ended at 10pm that was proposed by National Rail Enquiries involved a journey of over eight hours: starting with the 10.28pm from Manchester to Nottingham, where a four-hour wait was required before the 4.56am to Loughborough. With one more change, the politicians could arrive just before 7am at London St Pancras - because Euston, the terminus for the West Coast main line, is closed for the whole Easter weekend.
The gap in normal service is caused by Network Rail carrying out work in the Watford Junction area: replacing a bridge south of the station and repairing a tunnel north of it.
Passengers to Birmingham, Manchester, Liverpool and Glasgow are being offered a range of alternative routes, some of which take twice as long as the normal travel time. On Saturday, Liverpool supporters travelling to London for the match with Arsenal face a journey of over four hours, including a change of stations in Birmingham.
The main line west from London Paddington to Bristol, South Wales, Devon and Cornwall is also closed for engineering work. Passengers to Bath, Bristol and Cardiff will be diverted via Banbury, while services to the south-west will run from London Waterloo.
Passengers on CrossCountry trains that normally pass through Reading will be carried on bus replacement services, typically adding an hour to journey times.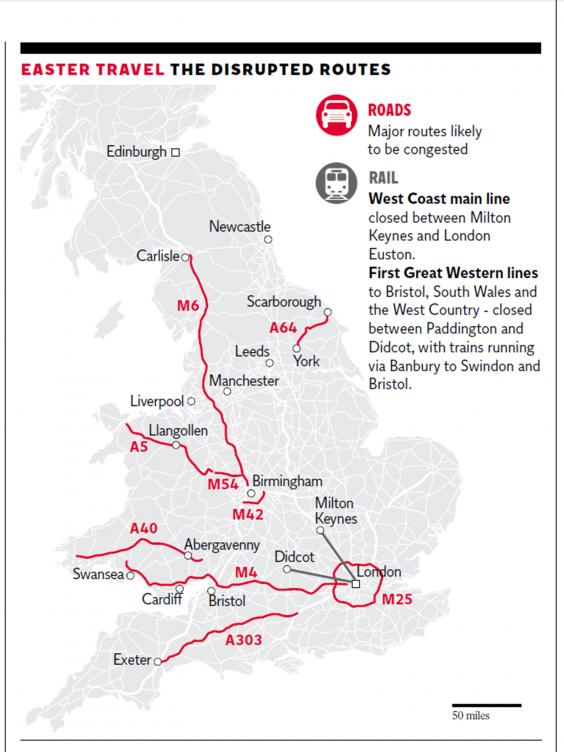 Network Rail has contingency plans in place to try to avoid a repeat of the chaos after Christmas. On 27 December, when the system was due to re-open after the traditional shutdown, two sets of engineering works west and north of London overran, leading to dozens of cancellations of inter-city trains to and from King's Cross and Paddington.
One aspect fiercely criticised was the lack of replacement buses; this time, hundreds of coaches are on standby in case work overruns.
The disruption on the railways is likely to increase the number of car users, with 16 million vehicles predicted to take to the roads. While Highways England lifted 550 miles of traffic restrictions yesterday, the sheer volume of traffic is likely to cause hold-ups in many parts of the country.
The M25 around London is predicted to be slow in the north-west section between the M40 and Watford, and also around the Dartford Crossing. The M6 will be stressed along several stretches, with the M58-M62 and M54-M5 segments particularly bad today.
Two popular A-roads are also likely to be crowded: the A303 through Wiltshire on either side of Stonehenge, and the A64 between York and Scarborough.
In Wales, road works on the A40 at Abergavenny and the A5 at Llangollen will slow motorists heading for the hills.
Scottish roads are predicted to be fairly quiet, but trips to the island of Arran are so popular that the ferry operator, Caledonian MacBrayne, has had to lay on extra sailings.
For drivers heading for the Continent, today will be the busiest day; P&O, the biggest ferry operator between Dover and Calais, expects to carry more than 30,000 passengers, with the highest pressure during the morning.
Gatwick and Stansted airports are expecting their busiest days for departure today, but Heathrow will be relatively quiet - yesterday, passengers were departing at an average of two per second during normal operating hours.
Eurostar experienced some delays on trains from London to Paris and Brussels yesterday, but hopes to run a normal service today.
Reuse content