Crossrail is to be named the Elizabeth Line in a tribute to the monarch.
The new name was unveiled as the Queen visited Bond Street Station, the London Evening Standard revealed.
She was accompanied by Mayor Boris Johnson and Transport Secretary Patrick McLoughlin.
When plans for the new route were first revealed, Mr Johnson said that it would honour the monarch in some way but the precise name had yet to be decided.
It has also been revealed that the Elizabeth Line will have a royal purple colour theme in honour of the monarch.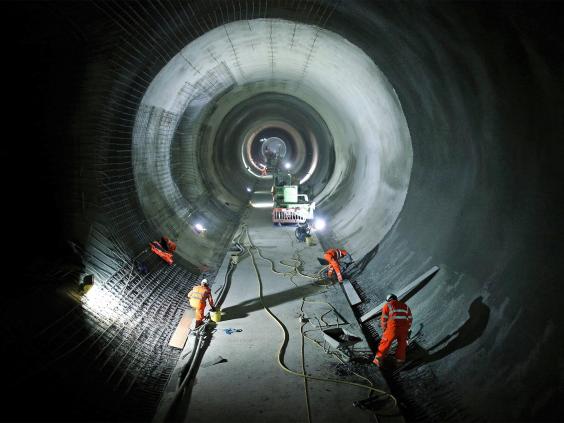 Speaking at today's launch, Mr Johnson said: "Queen Elizabeth has given extraordinary service to this country over an unprecedented period and it is entirely right that she should be honoured with a living tribute that will last." 
News of the new name has divided public opinion.
We're gonna call it the Lizzy Line though right?

— Duke Of Havoc (@DukeOfHavoc) February 23, 2016
TFL should've called it the Hot Line, and then sold a lot of overpriced bejewelled merchandise. Missed commercial opportunity #elizabethline

— Tom King (@tallgeekychap) February 23, 2016
Crossrail being called the Elizabeth Line after the Queen. Does that mean we all have to pay and only one family gets to use it? #Monarchy

— Toby Peacock (@tobyjpeacock) February 23, 2016
ELIZABETH LINE. AAAAAAAGGGGGGHHHHHHHHHH.

— Adrian Stirrup (@adrianstirrup) February 23, 2016
I, for one, am just pleased that more women are being represented on our tube line names #LizzyLine

— Simon Neville (@SimonNeville) February 23, 2016
Once running, it is expected that the Elizabeth Line will carry around 200 million passengers per year.
It is understood that the first section will open next May between Liverpool Street and Shenfield in Essex and be known as Crossrail. Once trains start running through central London in December 2018, the route will officially take the name The Elizabeth Line.

Her Majesty became the first reigning monarch to ride the London Underground when she opened the Victoria line in 1969.
The Jubilee line was opened in 1977 by Prince Charles to march his mother's 25 year reign.
Reuse content