Cork, Ireland
When? 6-15 November.
Why go? It would be a cliché to say "go for the craic" but you know any festival in Ireland is going to be fun, and this one – 2015 will be its 60th year – attracts more than 20,000 people who would hope to agree. There are more than 200 events, including screenings, music and seminars. It prides itself on discovering new talent, and being family friendly, with films for children.
Essentials: corkfilmfest.org; Ryan- air (0871 246 0000; ryanair.com) and Aer Lingus (0333 004 5000; aerlingus.com) fly to Cork from numerous UK airports.
Kendal, Cumbria
When? 19-22 November.
Why go? The annual Mountain Film Festival attracts outdoor enthusiasts from all over Britain and beyond, but it's not all about jagged peaks and sweeping alpine vistas: there are also wildlife and environmental documentaries, plus dramas. Last year, a film-making summit attracted more than 200 industry professionals, and there are specialist sessions for cavers, snowboarders and white-water enthusiasts, as well as a 10km trail run around the town.
Essentials: mountainfest.co.uk; Oxenholme railway station, on the West Coast main line, is on the edge of Kendal and is served by First Transpennine Express and Virgin Trains from a wide range of English and Scottish stations.
Sydney, Australia
When? 6 December.
Why go? Well, aside from being in Sydney in December – hello summer! – Tropfest, held in Centennial Park and attended by thousands, is the world's biggest short-film festival. It started out as a screening for just 200 people in a café 22 years ago. Now its user-generated content (no longer than seven minutes) has to include a "Tropfest Signature Item", which this year is simply "card". The winner gets A$10,000 (£4,600) and a week of meetings with film industry executives in Los Angeles.
Essentials: tropfest.com.au; early December flights from Heathrow to Sydney are currently around £600 with Air China (via Beijing) or China Southern (via Guangzhou).
Cauterets, France
When? 8-10 December.
Why go? You just need to know one thing: this snowboard and ski-themed festival in the Pyrenees shows movies on a giant screen at the side of an open-air thermal pool, while you bubble away nicely in the heated water. Other films are shown indoors if you feel the cold. Fingers crossed for some early season powder, as you're on the doorstep of 21 pistes and three freestyle zones.
Essentials: festival-freeride.com; Ryanair flies from Stansted to Lourdes. A direct bus from the airport to Cauterets takes about half an hour.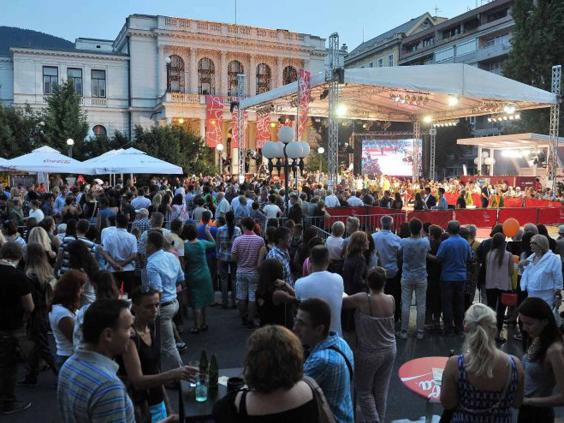 Palm Springs, California
When? 1-11 January 2016.
Why go? The Mid Century Modern homes of Palm Springs were a getaway for Hollywood stars: Frank Sinatra had a house, Elvis Presley honeymooned here, and Elizabeth Taylor's former home is now available as a holiday let (bit.ly/CelebrityRental). Palm Springs International Film Festival was founded by the late Sonny Bono, and next year will feature more than 200 movies as well as on-stage interviews. Reese Witherspoon, Julianne Moore and Eddie Redmayne have been recent guests.
Essentials: psfilmfest.org; American Airlines (020 7660 2300; aa.com) flies from Heathrow and Manchester to Palm Springs via Chicago.
Whitehorse, Canada
When? 6-14 February 2016.
Why go? Well, you certainly won't bump into too many tourists as the mercury plummets to minus 40C but the Available Light Film Festival has been a Yukon fixture now for more than a decade, so pack your thermal undies. As well as award-winning Canadian films, there are cinematic workshops and of course the chance to step outside, look up and hopefully see the Aurora Borealis, the best show in the north.
Essentials: yukonfilmsociety.com/alff; Air Canada (0871 220 1111; aircanada.com) flies from Heathrow to Whitehorse via Vancouver from £810.
The Hague, Netherlands
When? 18-26 March 2016.
Why Go? The Movies That Matter festival shows around 70 human-rights themed films and documentaries: most are followed by in-depth discussions with panels that might incorporate film-makers, activists, journalists and politicians. This year, topics ranged from gay rights in Russia to drone strikes in Pakistan, police corruption in Brazil and cartoon Palestinian cows.
Essentials: moviesthatmatter.nl; easyJet (0330 365 5000; easyjet.com), BA (0844 493 0787; ba.com), KLM (020 7660 0293; klm.com) and Jet2 (0800 408 1350; jet2.com) fly from the UK to Amsterdam, from where there are direct trains (ns.nl) to the Hague that take around 30 minutes.
Ischia, Italy
When? June 2016.
Why go? The whole island looks like a film set anyway, so Capri's less stuffy neighbour is an ideal choice for celebration of the silver screen. It includes feature films, short films and documentaries as well as talks with editors and producers. Away from the screenings, catching a bus is the easiest way to get round the volcanic island (approximately 8km long and 6km wide), which is famous for its thermal spas.
Essentials: ischiafilmfestival.it; British Airways, easyJet and Monarch fly from a range of UK airports to Naples, from where you can catch a ferry to the island.
Sarajevo, Bosnia and Herzegovina
When? August 2016.
Why go? The first film festival took place when Sarajevo was still under siege and this year marked its 21st anniversary. It's pleasantly intimate, allowing attendees to get close to luminaries such as Danny Glover, Gael Garcia Bernal, Kevin Spacey, Angelina Jolie and Bono. Some of the most atmospheric screenings are outdoors and there are chats with actors and directors in the "Coffee With ..." programme.
Essentials: sff.ba; Austrian Airlines has frequent connections from Heathrow and Manchester via Vienna to Sarajevo.
Lima, Peru
When? August 2016.
Why go? South America's biggest annual film fest is a perfect add-on if you're here to trek to Machu Picchu or take a trip into the Amazon rainforest. Over the week-long gathering, there are hundreds of events with screenings in parks, squares and schools. It's a great opportunity to see some of the continent's emerging stars.
Essentials: festivaldelima.com; British Airways (ba.com) will fly from Gatwick to Lima from May 2016; August returns from £990. Real World Travel (realworldholidays.co.uk) can package tickets for 20 screenings, B&B and private tours from £895pp (based on two sharing, excluding flights).
Reuse content