Travelling around the US made me decide to write a novel.
It was in 1991, I was figuring out whether I was going to do a PhD or write a novel. I came back home and decided I was going to write the novel. I went all over on that trip: California, Chicago and Illinois , New York and New England. It was having all this lovely time to myself, far away from everyone I knew, that made me decide to do it. They were asleep when I was awake; I found it incredibly liberating. It freed me up a lot and also gave me a sense of confidence in my ability to make decisions even if they were decisions that were unexpected. While I was in New England I remember thinking to myself: "I could set a novel around here."
As a single mum it's a bit awkward to just get up and go away somewhere.
One of the main characters in my latest novel [The Turning Point] is Canadian. I know other authors who are completely adept at doing their research from books and Google, but I wouldn't dare assume I could write a book about British Columbia without going there. So, I asked Mum and Dad to look after the kids and organised the trip in four days. It was character forming. I am not intrepid at all, I don't even like camping that much. I like to feel safe and secure at night and have nice sheets ... so, this pushed my boundaries; it's the furthest I'd been from my children and the longest that we'd been apart; I was there for 10 days. But about half an hour from landing in Vancouver, I looked out of the plane window and thought: "Where on Earth is this place? It's incredible." There were mountains and brilliant turquoise glacial lakes and ribbons of rivers.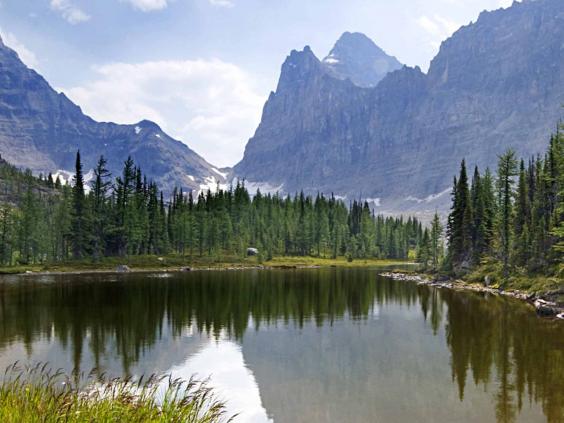 Meeting a bear took my breath away.
I was staying in a beautiful village called Pemberton, which is north of Whistler. While I was there I went on a 12km hike by myself to find these three glacial lakes. As I walked back, at around 7pm, this black bear just ambled across the road. And it stopped, and I stopped, and it looked at me and I looked at it, and then it just went on its way. I wasn't scared; it was unexpected. But what I will tell you is that when you see a bear, even from about 15 metres away, you see how every single hair in its coat moves independently.
Don't go to Santa Barbara during spring break ....
I was expecting to love it but unfortunately everybody was drunk and slightly aggressive. So, this place that I'd thought was going to be a genteel, slightly Spanish-looking haven turned out to be somewhere that we had to cut our stay short so as to avoid all the drunk students.
Saltburn-by-the-Sea has the most extraordinary beach.
It's on the North-east coast about half an hour from Middlesbrough. It's got the northern-most pier in Britain and it's in an area of the world where industry and natural beauty coexist. It's a quirky seaside town that was basically built as a Victorian play area when the North-east was at the cutting-edge of industry during the Industrial Revolution.
There are some really fabulous places just outside London.
Hop on the train and go to Hertford, which in the Civil War was the seat of Government, and then go to Hatfield House. You'll be amazed at how quickly you can get there; it's 40 minutes on the train from central London.
Sir David Attenborough would be great fun to travel with.
When I'm abroad, I often marvel at tiny bugs or interesting plant life or wonderful rock formations or unusual trees or huge birds, so he'd be a good travelling companion. He always seems so at ease in whatever landscape and climate he visits – and the wildlife flocks to him. I could just be really present wherever we were – not worry about map reading or digging around for my nature guidebook. Sir David would regale me with fascinating info to enrich my journey.
Freya North's new novel, "The Turning Point", is published by Harper Collins
Reuse content