As winter starts fading, thoughts turn from hunkering down at home to heading out into the world. A short-haul city break is a great way to put a spring in your step, but if you've ticked off the traditional destinations, there are alternatives that can offer a similar experience. Berlin's not the only city where you can dance all night, nor is Prague the only place packed with history... Here's some inspiration.
Swap Paris for Lyon
Paris is the City of Love, but it's also a city of incessant bustle. Lyon is far less crowded, but still packs a punch. There's great food at the city's bouchons, stunning views from the hilltop Basilica of Notre-Dame de Fourvière (0033 478251301; fourviere.org; free), the new museum of anthropology and science, Musée des Confluences (0428 381190; €9) and La Sucrière (0033 427826940; lasucriere-lyon.com; €19.90), a great gallery in a former sugar refinery by the old docks.
Eurostar (03432 186 186; eurostar.com) launches a direct London-Lyon service in May. Return tickets, departing 8 May and returning 11 May, cost from £139pp. Three nights in a double (room only) at the Collège Hôtel for the same dates cost £147 through Eurostar.
Done Berlin? Try Frankfurt
If you're drawn to Berlin's clubbing, culture and history, Frankfurt will be right up your strasse. Noted nocturnal hang-out spot Robert Johnson (robert-johnson.de) is renowned for its underground techno, much like Berlin's Berghain nightclub.
Eco-friendly cities: in pictures
Eco-friendly cities: in pictures
1/10 1. Copenhagen, Denmark

55% of residents in the Danish capital cycle to work or school, and over 30% of public transport uses renewable fuel. The city is also aiming to be carbon-neutral by 2025.

Getty Images

2/10 2. Stockholm, Sweden

All trains in the Swedish capital run on renewable fuels, and buses run on a hybrid of ethanol and electricity. The city also has seven nature reserves which improve air quality.

Getty

3/10 3. Hamburg, Germany

The German city, which was the European Green Capital in 2011, uses 200,000 low-energy lamps across 400 public buildings. 3,000 hectares of state-owned parkland are also available for the million people who use them every week.

Getty Images

4/10 4. Vitoria-Gasteiz, Spain

There are over 130,000 trees and 90km of bicycle lanes in this northern city of Spain. Citizens also have access to 210 organic farming plots, and there is a public green space within 300 metres of every house.

5/10 5. Nantes, France

As the first city in France to re-introduce electric tramways, Nantes has set itself targets to reduce air pollution and carbon dioxide emissions. 15% of daily travels are undertaken on public transport, and only 11% of rubbish goes to landfill.

6/10 6. Bristol, UK

The birthplace of Banksy and this year's European Green Capital, Bristol employs around 9000 people in its low carbon economy initiative. Additionally, 34% of the city is made up of green and blue open spaces and homes have become 25% more efficient over the last decade.

Getty Images

7/10 7. Ljubljana, Slovenia

The Slovenian capital has a pedestrian-only city-centre and 94% of residents take part in the organic waste collection system. With over 190km of cycle paths and almost all residents living less than 300m from public transport, the city has promoted environmentally-friendly ways of travelling.

8/10 8. Oslo, Norway

The Norweigan capital has the world's most electric cars per capita, reducing emissions by 50% since 1991. With the aim to make public transport fossil fuel-free by 2020, the city's authority is making sure residents are as eco-friendly as possible.

Getty Images

9/10 9. Brussels, Belgium

Best known for its beer and chocolate, the city which is home to the European Parliament, reduced CO2 emissions by 13,000 tonnes between 2007 and 2009. By 2018, it hopes to have reduced car traffic by 20% from its 2001 level.

10/10 10. Nijmegen, Netherlands

Located on the River Waal, this lesser-known Dutch city fuels its buses with biogas and citizen participation is encouraged through multiple green initiatives. Around 14,000 homes are heated using a network of waste heat, and the city aims to be energy neutral by 2040.
At the other end of the entertainment scale is a string of respected museums lining the southern bank of the Main – among them the Städel fine art gallery (0049 696050980; staedelmuseum.de; €12 weekdays, €14 weekends) and MAK, the museum of applied art (0049 6921234037; museumangewandtekunst.de; €9). And at the old Eastern River Docks, the Grossmarkthalle houses a new memorial to the victims of the Holocaust who were transported through the building.
Boutique hotel chain 25Hours, which also has an outpost in Berlin, offers two nights in a double room at Frankfurt's 25Hours The Goldman (0049 6940586890; 25hours- hotels.com) for €128 room only in March. Ryanair (0871 2460000; ryanair.com) has return flights from £36 from Stansted.
Forgo Barcelona for Lisbon
Barcelona is like Britain-on-Sea in spring. For a less touristy coastal city, try Portugal's capital, with its fading imperial grandeur and dramatic topography. Take the quaint yellow trams and funiculars up the hills to the Bairro Alto's hip dive bars and the Castelo de Sao Jorge (00351 218800620; castelodesaojorge.pt; €8.50). Eat custard tarts in their spiritual home, Belem, and explore the vintage stores and designer boutiques of the Baixa.
Two nights at the Memmo Alfama (00 351 210495 660; memmohotels.com/alfama) hotel cost from €394 with breakfast in April. easyJet (0330 3655000; easyJet.com) has return flights from Bristol starting at £97pp in April.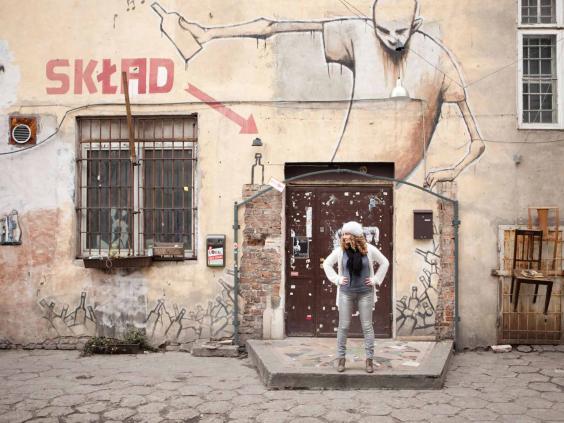 Exchange Prague for Sarajevo
Prague has baroque beauty but Bosnia and Herzegovina's plucky capital has plenty of historic delights, too. Many of Sarajevo's oldest buildings, such as the Turkish delights of the minarets and markets of the Old Town, have been beautifully restored since the war. The memorials outside the Markale market hall are sobering reminders of that bloody period.
More of the past can be glimpsed at the Latin Bridge, where Franz Ferdinand was shot and the First World War began. But Sarajevo also has a modern side: café and bar life throbs along Zelehni Beretki and cool youngsters hang out on the "loop-the-loop" Festina Lente bridge.
There are no direct flights from the UK, but a well-timed indirect option can get you there in under four and a half hours. Ebookers (ebookers.com) has two nights in Sarajevo, with room-only at the Residence Inn and Lufthansa flights from Manchester via Munich for £280pp in April.
Instead of Krakow try Warsaw
Krakow is the place to go for old buildings and chocolate box squares, but Poland's capital gives it a run for its money. Warsaw's Old Town may not be original – it was painstakingly reconstructed in the post-war years – but it is very handsome, with plenty of stories to tell. The city's trump card, however, is Praga – a hip area of modern galleries, dive bars and breath-taking restaurants in old industrial buildings.
Lastminute.com (0800 083 4000; lastminute.com) has two nights in Warsaw from £114pp, based on two sharing. The price includes Ryanair flights from Stansted in March with room-only accommodation at the boutique H15 hotel.
Reuse content