No go
While many places have opened up, some places are tougher to reach than they were in 1986. Many of those on the "no-go" list are simply the victims of business decisions because of changed circumstances. Anchorage used to be a necessary stop en route to Japan and Korea, but as aircraft gained longer legs it fell off the map of destinations from Britain. And if you want a gander at Gander, note that transatlantic jets no longer routinely touch down at the Newfoundland Nato base to refuel.
Trinidad is not regarded as a viable route for UK airlines any more. The top line of Foreign Office travel advice doesn't help: "There are high levels of violent crime in Trinidad, including murder, especially in parts of the capital Port of Spain." In 1986, the neighbouring nation, Venezuela, was first stop for many British visitors to South America, thanks to the tempting fares offered by the national airline, Viasa, to and through its hub in Caracas. Evidently the fares were too low, and the carrier went bust in 1997. Even with the competition eliminated, BA could not make money on the route, and closed it down. With the Foreign Office warning of "a high threat from violent crime and kidnapping throughout Venezuela," it may not be back on the airline map any time soon. 
Baghdad, Damascus and Tripoli had obnoxious regimes in 1986, but the rare visitor would feel safe. Today, all three capitals are on the Foreign Office no-go list, along with Tunis, even though the Arab Spring began there and helped create a fragile democracy in Tunisia.
In the UK, plucky Ongar in Essex fell off the Tube map when the semi-detached stretch of the Central Line from Epping was closed; and you can no longer fly to or from Plymouth, Manston or Blackpool airports.
Now go
The east, from the western frontier of the Soviet bloc to the Pacific, has been comprehensively unlocked from a travel perspective. Many nations from the Czech Republic (created 1993) to China (expanded 1997, with the addition of Hong Kong and Macau) are now populardestinations.
A glance at the back cover of the Travellers' Survival Kit: Soviet Union & Eastern Europe tells you all you need to know about travel in the Eighties behind the Iron Curtain: "How to avoid arrest in Prague … Why you should avoid top floors in Albanian hotels … How to check out at Checkpoint Charlie." The preface advised: "If you anticipate things 'working' the way they do in the West, you will be frustrated and miserable."
The book came out on May Day, 1989. The following day, Hungary announced it would no longer maintain the Iron Curtain's hermetic seal. The Eastern bloc dominoes began to tumble.
Neil Taylor, author of guidebooks to Estonia, Latvia and Lithuania, recalls: "Within days of declaring their restored independence, the three Baltic nations allowed completely free entry for British subjects so tourists could explore areas last visited by outsiders in the 1930s." Normal inter-personal relations became possible. "In due course I married an Estonian, an unthinkable prospect in 1986," he says. Mr Taylor, in his previous role as a tour operator to hard-to-reach parts of the world, started to open up China a decade before The Independent arrived. For anyone curious to know what the People's Republic was like in the early days of tourism, he recommends North Korea.
"There can be few destinations/holiday descriptions where a talk given in 1986 could be given word-for-word today," he says. "The country's leader is perfect and no hint of criticism is allowed, just as much under grandson Kim Jong-un as under grandfather Kim Il-sung. The Korean War was fought solely by Koreans against American imperialists, no other country being involved on either side."
During the Eighties, Cuba basked in the benevolence of the Kremlin, which subsidised Fidel Castro's regime to the tune of $10 per person per day. The collapse of the USSR forced the tropical island to come in from the cold and start welcoming Western tourists – with the exception of Americans, barred by their own government from crossing the Florida strait until the entente between President Obama and Fidel's brother, Raul.
In 1986, much of the rest of Latin America was in turmoil. Today, the region looks positively sane compared with other parts of the planet. Former war zones, notably Nicaragua and Colombia, are the rising stars.
Africa remains a vast land of unfulfilled promise. The exception is South Africa. When, in the early 1990s, Nelson Mandela was released and the insane ideology of Apartheid was ousted, the "rainbow nation" became a dream destination, with Zimbabwe travelling in the opposite direction as Robert Mugabe turned up the tyranny.
Further north, gains in Morocco and Egypt are ebbing away, while in 2016 Tunisia will receive far fewer British visitors than it did 30 years ago.
Trains, boats and planes
Travel has been transformed by the low-fares revolution, which has doubled passenger numbers – but not only in the skies. Sure, budget airlines have done wonders for the traveller, but Britain's railways tell an equal success story. Weary commuters may insist the surge in rail travel simply reflects house prices in big cities forcing people to live further away, and the even greater misery of rush-hour driving. Yet "discretionary" journeys have soared thanks to the train operators picking up ideas from no-frills airlines. Book ahead, travel at unpopular times and you benefit from some of the lowest train fares in Europe.
Trains between Kent and London are much faster, thanks to High Speed One, while services from the capital to Birmingham, Manchester and Glasgow have accelerated by 15-30 minutes. But the vast majority of rail travellers will notice little difference in speed compared with 1996.
Eurostar has joined the fare-cutting revolution, reducing its original lowest fare of £95 to Paris and Brussels to just £58 – a sound incentive to show solidarity with the citizens of those scarred cities. Or continue south to Spain, which had no fast trains 30 years ago but now boasts Europe's greatest high-speed network.
When the Channel Tunnel opened in 1994, everyone imagined the cross-Channel ferries would sail off into the sunset as motorists switched en masse to Le Shuttle from Folkestone. Yet while Boulogne was a casualty of the Channel Tunnel opening in 1994, ferries from Dover to both Calais and Dunkerque have flourished.
There's a kind of hush all over west London these days, thanks to the grounding of Concorde. The current generation of planes are far quieter and more efficient than their predecessors, which is just as well given concerns about the environmental impact of aviation. In 1986, 747s and DC10s were the backbones of long-haul flying, with high fares sustaining some curious route networks: Manchester-Munich-Dubai-Bangkok-Hong Kong, anyone? These days most destinations to the east or the south are accessible with a non-stop from a nearby airport to a Gulf hub and one more hop onwards, for a lower fare than in 1986.
Heathrow and Gatwick have the same number of runways between them as they did in 1946, let alone 1986. For a classic British airport fudge, look no further than Heathrow Terminal 4 – opened in 1986 as an overflow measure, south of the main airport. It demanded an implausibly tricky journey for passengers connecting to long-haul flights from BA's short-haul hub in Terminal 1. Even today, aircraft have to cross the active southern runway. Calls for more capacity in south-east England will not be answered for a decade. At least.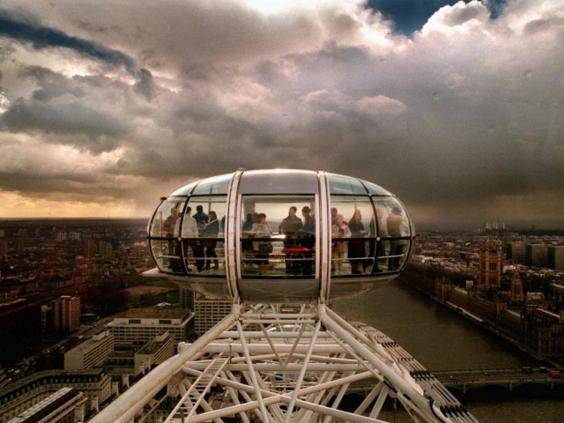 Attractions
Driven by some premier-league new attractions and fuelled by the no-frills revolution, London has become absurdly popular. Ironically, the "Millennium Wheel" that British Airways bankrolled (now the Coca-Cola London Eye) helped spur interest in the capital, much to the benefit of easyJet and Ryanair. A few weeks after it started revolving in 2000, Tate Modern opened. And a third London wonder opened in that millennial year. Not the disastrous Millennium Dome, but the Great Court of the British Museum – helping to humanise possibly the world's finest repository of antiquity.
The Tate dynasty also revitalised Cornwall, with the 1993 opening of Tate St Ives, helping to make the resort a year-round destination (though you face waiting for a year before visiting it again, since it's closed for refurbishment until April 2017). A decade later, the Eden Project transformed industrial dereliction into a venue for a vibrant encounter with nature. And in Liverpool, the sugar empire contributed an important element to Albert Dock in Liverpool – the largest group of Grade I listed buildings in the UK.
Across the Irish Sea, nearly two decades after the Good Friday agreement ushered in an uneasy peace in Northern Ireland, Ulster is gaining ground as a tourist destination. Titanic Belfast, the Giant's Causeway Visitor Centre and the Gobbins Cliff Path add up to a compelling proposition.
Bilbao's Guggenheim has become the titanium-grade case study for academics wanting to show how a single dramatic attraction can transform a city's tourist appeal. Two of the greatest collections of art in Europe were given facelifts: the Louvre was reborn with I M Pei's Pyramid in 1989, while the Rijksmuseum endured a lost decade before re-opening triumphantly in 2013. 
Sydney Harbour Bridge stayed the same, but thousands of tourists saw it in a different light, wearing grey jumpsuits and clambering over the symbolic structure. And appropriately for the world capital of bling, Dubai became the first location to acquire an icon that is a luxury hotel: the sail-shaped, seven-star, £1,600-a-night Burj Al Arab.
Whatever your budget, choice of destinations and style of travel, I will do my best to help. It is a privilege to report on the industry of human happiness, and I hope to do so for the next three decades – though my excellent travel desk colleagues may have other ideas about that particular journey.
Love 30: three decades of travel writing with The Independent
Hamish Mykura spent the summer of 1986 hitch-hiking around the Pacific Rim, in a kilt. In New Zealand
A car rounded the corner, headlamps spotlighting the raindrops, and me. It passed, braked sharply, and came whining back. The door opened. "Not many kilts on the Franz Josef road" said a woman's voice.
I got in, book on my lap, and we raced off. She had a big face, strong smile, something about the cheeks were slightly Maori.
She nodded at the book "The Bone People?"
"Yes," I said. "Have you read it?"
"Actually," she said, "I wrote it"
Also in 1986, Frank Barrett revealed "the last unspoilt place on the Mediterranean"
He wrote: "Turkey looks as though it will not remain unspoilt for long. Horizon, Britain's third-largest holiday company, last week published its first special Turkey brochure with package deals starting at £199 for seven nights."
Harriet O'Brien visited France in November 1995 when the pound was particularl poorly
It's enough to make you wince. There's Paris - galleries, tree-lined boulevards, great curvy buildings, enticing shops transforming your purchases into exciting-looking packages - now a simple, three-hour train ride away from London. PBut then there's the franc: the exchange rate, just a shade over Fr7 to the pound [about €1.05], brings you down to earth with a bump.
Stephen Wood travelled to the Italian island of Lampedusa before it became synonymous with refugees arriving from Libya
"A minute from the plane and you know that you are in North Africa: sleeping dogs don't lie, and the wide, dusty streets are full of them. The surrounding landscape, too, is as dry and scrubby as Tunisia, which lies only 80 miles to the west. However, a tile embedded in the pavement just past the piazza Garibaldi on the via Roma carried an important message: alongside a map of the island were the words 'La mia Africa'. This is Italian Africa."
John Walsh sailed aboard Celebrity Solstice in November 2008
It's excessive to call cruise ships "floating cities" – they're more like floating villages where you greet the same faces day after day, explore little nooks and crannies from bow to poop, and stroll endlessly around the same village square. One of the Solstice's features is the Lawn Club – half an acre of actual real-life grass, grown not from soil but from an "engineered porous lightweight growing media" that's apparently just as good. Cruisers can wiggle their toes on the grass as if they were standing in a Kent meadow rather than floating on several thousand fathoms of ocean.
Sophie Lam visited Sri Lanka in 2009
A distant rumble cut through the chatter of birds as I lay by the pool of the serene Park Street Hotel in Colombo, prompting a hasty avian exodus from the trees above. My companion looked up from his book; we exchanged uncertain glances then returned to our lounging. The notion that it could have been a bomb felt so incongruous in the gracious surroundings of the 250-year-old mansion-turned-boutique hotel that we swiftly dismissed the idea, until an hour or so later when the crackle of what sounded like gunfire again rattled us from our repose.
Ben Ross explored Bhutan in 2011
There are many ways to achieve enlightenment. For Yarab, my Bhutanese guide, the two-hour hike up to Tiger's Nest was one of them. "The more I go," he called down to me as I sweated up a series of steep steps, "the more I get a benefit for my karma. The present is what you are doing; the future is a gift." Practising Buddhists have a habit of saying things like that while smiling serenely at you. Frankly, the only gifts I wanted at that particular point were a more capacious pair of lungs and a set of reupholstered kneecaps. Yarab paused, waiting for me to catch up. This was the 708th time he'd made this journey, he said. There was no rush. I should take my time.
Reuse content