Amid the congratulations and commiserations of A-Level results day, thoughts may have turned to the big question: what next? For those not going straight into higher education or a career, the options are endless – as long as you can afford it. You could spend 12 months being a butterfly counter, jungle trekker, dance instructor, or expeditioner ... you could learn Arabic or how to sail a yacht – or do all of the above.
With high tuition fees, and maintenance grants due to be scrapped from September 2016, many students are expected to abandon their gap year plans in favour of a place at university this autumn. But if you haven't made your mind up about the future, or are looking for added experience, a year out can still be a good option.
"A gap year is a chance to take a break, experience something different and reflect on who you are, who you want to be, and how to get there," says Stefan Wathan, CEO of the Year Out Group (yearoutgroup.org), an association of leading gap-year organisations. "It's doing something for yourself, and it's a chance to build on an interest or career ambition."
Abta, the travel association (abta.com), reports that Australia is this year's most popular destination for gap-year travellers, followed by New Zealand and the US. And the most popular trips are work experience placements abroad, according to Abta's gap-year-specialist members. Alternatives include teaching English as a foreign language (tefl.org.uk), working on an organic farm (wwoofinternational. org), and helping rural communities (020 7183 1270; raleighinternational .org).
Whatever you do, a gap year can be a daunting prospect (probably more so for parents). One way to ease the anxiety is to get more travel savvy before you go. Lost Earth Adventures runs a Gap Year Planning and Travelling Safely Course (01904 500094; bit.ly/GapPlan; £89; available dates in early 2016 in Leeds and Sheffield), which offers tips on evaluating sticky situations, avoiding cultural faux pas and saving money. Objective runs regular one-day Gap Safety courses in London (01788 899 029; objectivegapyear.com; £160).
A popular gap-year option is buying a round-the-world flight ticket and simply hopping about the globe. The permutations are almost endless, though there are few "rules" such as having to pick a direction, east or westwards (flitting back and forth is far more expensive); however, consider paying a little extra for a more flexible ticket, in case you decide to change plans. A solid choice for first-time travellers is the Walkabout route from Gapyear.com, part of Flight Centre (0333 333 9923; gapyear.com): London, Dubai, Kuala Lumpur, Melbourne, Sydney, Los Angeles, New York, London (from £1,355pp). Or try its World Explorer route: London, Rio, Buenos Aires, Lima, Santiago, Auckland, Sydney, Perth, Tokyo, Bangkok, Singapore, London (from £2,999pp).
STA Travel (0333 321 0099; statravel.co.uk), which has seen round-the-world airfare sales rise by 20 per cent from this time last year, offers interesting regional loops as well as circumnavigatory itineraries. For instance, gappers keen on Africa could try its Biltong to The Big Five route (from £999), which links Dubai, Cape Town, Johannesburg, Zanzibar and Nairobi.
Better together
An arranged small-group trip can provide the perfect toe-in-the-water for those nervous of travelling solo. Contiki (0845 075 0990; contiki.com) offers a range of group trips of up to 55 days for 18- to 35-year-olds; its 24-day Australian Big Walkabout (pictured right; from £2,829pp, excluding flights) includes camping in the Outback, sailing the Whitsunday Islands and a chance to make new friends – a good warm-up for university.
Overlanding has long been a popular choice for time-rich gappers, but the trend is increasingly for "snap gaps", as financial hard times and impending tuition fees tighten gappers' budgets.
"Young people still want to boost their CVs with long-haul travel, but are limiting the time they do it in," says Charlie Hopkinson, MD of  Dragoman (01728 861133; dragoman.com).
Snap gappers might like Dragoman's short and sweet 14-day Kathmandu-Delhi overland trip (from £935pp, excluding flights) while those with bigger budgets can go for the  82-day Kathmandu to Kathmandu circuit of the whole subcontinent  (from £4,360pp, excluding flights).
Volunteer travel
Volunteering can offer a great experience for the CV, as well as the chance to help a community or contribute to conservation. Before signing up to a specific project, potential volunteers should ask where their money is going (placements can be costly) and how past volunteers have made a difference.
GVI (01727 250 250; gvi.co.uk) handpicks a range of projects, across 12 countries, from animal care to construction. It is transparent about how it operates, and opportunities include a Marine Conservation Expedition in Fiji (four to 24 weeks; from £2,000, excluding flights). Volunteers gain a Padi dive qualification (above) and assist with the management of protected habitats; participants on GVI's marine programmes have aided more than 40 scientific papers and articles.
Africa & Asia Venture (01380 729009;  adventure.co.uk) offers gap-year programmes for 17- to 25-year-olds, and has been involved with communities near Jinja in Uganda for nearly 20 years. Its Uganda Gap Year Program (12 or 16 weeks; from £2,985pp, excluding flights) takes you to work with local children; tasks might include sports coaching or teaching. AV has an optional independent extension, enabling you to travel after the programme with continued 24/7 support.
Alternatively, you could arrange your own placement. Websites such as  timebank.org.uk,  volunteerglobal.com and workingabroad.com connect volunteers with projects that need them.
Earn your keep
If your budget is an issue, you could work during your gap year. UK residents aged 18-30 can apply for 12-month working holiday visas for Australia (bit.ly/OzWork) and New Zealand  (bit.ly/NZwork).
Bunac's (033 3999 7516; bunac.org/uk) new Work Australia Ultimate Plus (£599pp) and Work New Zealand (£359pp) programmes can help visa-holders settle in; its service includes in-country orientation, access to job-seeking resources and advice on tax and banking.
Another option is to pursue your hobby for money. Snoworks Gap (0844 543 0503;  snoworksgap.co.uk) runs courses to train ski instructors (right), then helps them secure jobs on the slopes from Austria to Japan; successful students gain a British Association of Snowsports Instructors Level-2 qualification (the next course runs from 24 October to 19 December in France; £7,495pp, excluding flights).
Ticket To Ride (020 8788 8668; tickettoridegroup.com) also has ski and surf instructor programmes. Its next surf course, in South Africa, runs from  11 September to 20 November (£5,045pp, excluding flights).
Grown-up gaps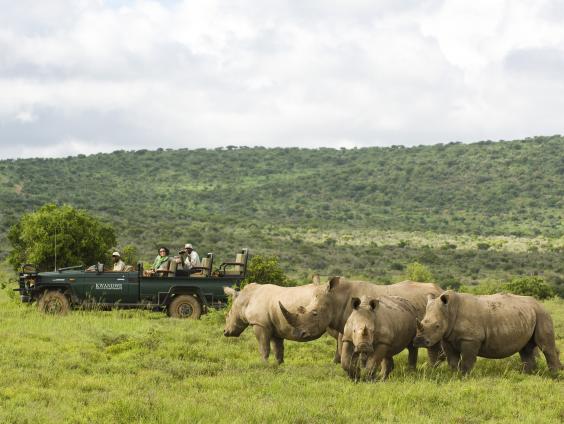 Recession-forced redundancies, and laws that allow 25 per cent tax-free pension withdrawals for the over-55s, have led to a rise in older gappers.
One option for these time-rich, cash-medium travellers is to plan a longer, affordable trip that includes a few once-in-a-lifetime treats. For instance, Aardvark Safaris (01980 849160;  aardvarksafaris.co.uk)  has a South Africa self-drive that largely costs £70pp per day, but could incorporate a unique budget-stretching stay  at Kwandwe Reserve (£270 a day plus £650pp for a specialist conservation safari, pictured below). In total, a one-month trip costs around £3,170pp (with accommodation and car, but excluding flights).
Overlanding trips aren't the preserve of 18-year-olds either. While its frills-free Budget Expeditions suit 18-30s, Tucan Travel (0800 804 8435; tucantravel.com) has introduced Adventure Tours, incorporating more flights, with grown-up gappers in mind. Its 32-day Lima-Rio South America Highlights Adventure Tour (from £4,519pp excluding international flights) packs in everything from the Amazon to the Atacama.
Older gappers could put their greater experience to good use by volunteering for VSO (020 8780 7500; vso.org.uk). VSO places professionals in projects for periods of six to 24 months. Current vacancies include a primary education advisor in Bangladesh and a biomechanical engineer in Ethiopia.
Face a challenge
Adding an element of challenge may make your gap year more memorable. On a trip with World Challenge (01494 857266;  world-challenge.co.uk), which organises trekking and community-focused expeditions through schools, the pre-trip fitness training and fundraising is as testing as the expedition itself. The company has launched Project Independence, which allows students to sign up individually; a two-week Morocco trip, including participation in a local community project and a High Atlas hike, costs from £1,695pp, including flights.
Another World Adventures (0207 097 1734; anotherworldadventures.com) specialises in extraordinary escapades. Its Transatlantic Voyage (above) crosses the ocean by tall ship, twice: from Canada to the Canaries and back again (from C$10,800/£5,343pp one way, excluding flights). Non-sailors will be taught everything they need to know to become a working crew member.
The challenge could also involve learning a language. Cactus (01273 830 960; cactuslanguage.com) arranges a wealth of linguistic courses. A  10-week Beginner's Mandarin course in Beijing, including 20 lessons a week, costs from £964pp course only, or £2,347 including half-board accommodation with a host family.
Looking for more inspiration? Read our writers' gap year tales.
Reuse content