For decades, Britain's busiest airport has had more international passengers than any other in the world. But in 2014, Heathrow surrendered that title to Dubai.
The UAE's leading airport handled 70.5m international travellers last year, an increase of 6.1 per cent. Heathrow saw more passengers in total - 73.4m - but 5.3m were domestic travellers. The international component was 68.1m.
The Gulf airport's chairman, Sheikh Ahmed Bin Saeed Al Maktoum, said: "This historic milestone is the culmination of over five decades of double-digit average growth."
Dubai handled one-fifth fewer flights than Heathrow last year. But the average load on each plane landing or taking off from Dubai was 196, compared with just 145 on the typical flight to or from Heathrow. Dubai's main airline, Emirates, has far more Airbus A380 "Superjumbo" jets than any other airline.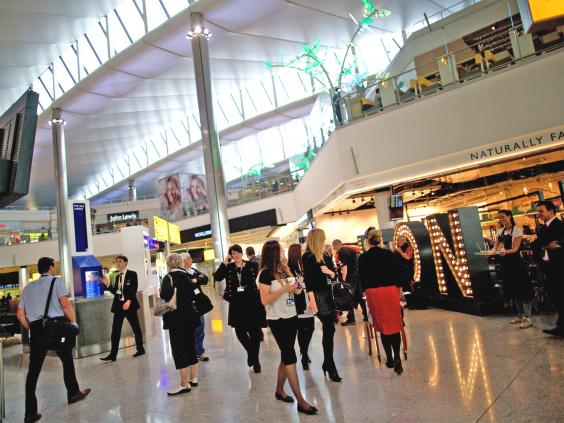 In 2014, Dubai's growth was hampered by an 11-week runway-refurbishment programme. Paul Griffiths, chief executive of Dubai Airports, said the international airport would easily overtake Heathrow's passenger total this year, with a forecast of 79m passengers: "We will have more flights connecting more people to more destinations."
A spokesman for Heathrow said: "Britain has benefited from being home to the world's largest port or airport for the last 350 years. But lack of capacity at Heathrow means we have inevitably lost our crown to Dubai. This highlights the pressing need to get on and expand our own hub so that we can connect the whole of the UK to global growth."
Best airports for a layover
Best airports for a layover
1/9 Singapore Changi Airport

Banish the travel stress by strolling through one of the five airport gardens, taking in the 27-foot waterfall and Koi carp pond. The building itself is flooded with natural light. It's all very calming, and not like an airport at all. The four-storey tall slide is sure to delight and amuse the children, and you'd be forgiven for wondering if they actually want you to leave at all. Stopover highlight: The Butterfly Garden in Terminal 3 with over 1,000 live butterflies

2/9 Munich Airport

Munich Airport is great for German culture and aeroplanes. Who'd have thought it? Munich's outdoor Viewing Hall gives you the perfect vantage point to enjoy watching the other planes take off. Historic aircraft on display outside will keep true aviation enthusiasts happy. Plus, if you're stranded at Christmas, you'll be able to peruse the traditional market, complete with spiced wine, bratwursts and an ice rink. Stopover highlight: A Bavarian tavern complete with beer garden and on-site brewery

3/9 Incheon International Airport, Seoul

Incheon Airport offers you a complete Korean experience. The building contains a museum and often features classical concerts. You can get hands-on with traditional Korean handicrafts, and also try on some traditional costumes. There's a 24 hour casino, too, in case you want to try and win back all that money you spent on duty-free. Stopover highlight: An 18-hole golf course and driving range

4/9 San Francisco International Airport

San Francisco International Airport is all about feeding the body and the mind. The yoga room offers a chance to stretch away the stress of a delayed flight. The onsite cafes and restaurants offer healthy Californian fare to complete your nourished soul, including local wines and organic dishes. A museum centred on the history of aviation – and of the airport itself – and 40 individual rotating cultural, historical and artistic exhibits dotted around the airport will further stimulate the mind. Stopover highlight: The first airport to have a dedicated yoga room

5/9 Hong Kong International Airport

Hong Kong's futuristic airport boasts an array of entertainment. If IMAX isn't your thing, how about playing 9 holes of golf on an island in the middle of an artificial lake? This one is a brilliant place for families to be stuck at, as the Dream Come True Education Park will keep children occupied for hours. This interactive play centre offers the chance to dress up and role-play different professions. Stopover highlight: The largest IMAX cinema in Hong Kong, showing 2D and 3D movies

6/9 Zurich Airport

If you want to feel close to nature, an airport is probably the last place you would think to go. Zurich Airport, however, is surrounded by a nature reserve, with 12 miles of footpaths. It even has its own park ranger, and you can hire bikes and inline skates so you don't have to be stuck in the terminal. Even when you are inside, you won't feel like it, as the sound of the Alps – complete with mooing cows – is played throughout the airport. Stopover highlight: Natural ambience

7/9 Amsterdam Airport Schiphol

You don't often find Rembrandt or the other Dutch masters in an airport. Their paintings sit alongside contemporary offerings in the museum, and the library contains works by Dutch authors, translated into 27 different languages. If looking at art and reading books gets you worked up, unwind again in the meditation room. If you get stranded for a very long time, you could make use of the airport's own wedding planner and have a ceremony at one of several aviation-themed locations. Stopover highlight: An extension of the Rijksmuseum housing paintings by Dutch masters

8/9 Vancouver International Airport

The 30,000 gallon aquarium you'll find in Vancouver IA, stocked with sea creatures native to the Pacific North West will keep you mesmerised for hours. You can also get married here if you really want to, although we don't recommend it as a way to pass the time. Perhaps another look around the native art displays first? Keep the kids quiet in summer with a trip to the Take-Off Fridays circus, complete with local musicians, acrobats, live DJs and face painting. Stopover highlight: The unique maritime vibe, complete with aquarium

9/9 Dubai International Airport

Dubai International Airport is as extravagant as you would imagine. Duty free covers 58,000 square feet, and you can enter one of the famous raffles to win a sports car or a million dollars. If that's not over-the-top enough, you can even buy gold bars in the airport, which is probably what you thought WHSmiths in Heathrow has always lacked. For those with less of a materialistic bent, there's a Zen garden where lush ferns and mist machines will help to relax and refresh. Stopover highlight: Luxury. Just luxury.
Sir Howard Davies' Airports Commission has said a new runway should built at either Heathrow or Gatwick. It is currently taking evidence, and will recommend where the runway should be when it reports in the summer.
As The Independent revealed on Saturday, London remains well ahead of the rest of the world when all its airports are taken into account. The capital handled a record 144.7m passengers through its five airports in 2014, increasing its lead on second-placed New York with 117.8m.
Two other airports, Atlanta and Beijing, handle more passengers than Dubai and Heathrow, but both have a much higher proportion of domestic travellers.
Reuse content