No-one over about 5ft6 tall needs to be told that there's not enough legroom for comfort in economy class these days. The standard "seat pitch" — the distance between the front of one seat and the front of the next — in economy class is settling at 31 inches in Europe and going long-haul. The airlines appreciate the value of additional personal space too, which is why they mostly charge extra for it. 
In the olden days of air travel, tall travellers could simply turn up early at the airport and be first in the queue when check-in opened. Emergency exit rows (which need to have more space to allow people egress to the escape hatches) tended to be populated by those with greatest need. But there are still some ways to increase your personal space...
Get an empty seat next to you
Not only does a space to your left or right improve your elbow room, it also gives you an option for extending your legs diagonally. You don't need to be a Pythagorean genius to work out that it's typically four extra inches. So how do you ensure there's room to spread out? It's getting trickier. Ryanair is now flying with an average "load factor" of 95 per cent, which means only nine or 10 empty seats on the typical flight.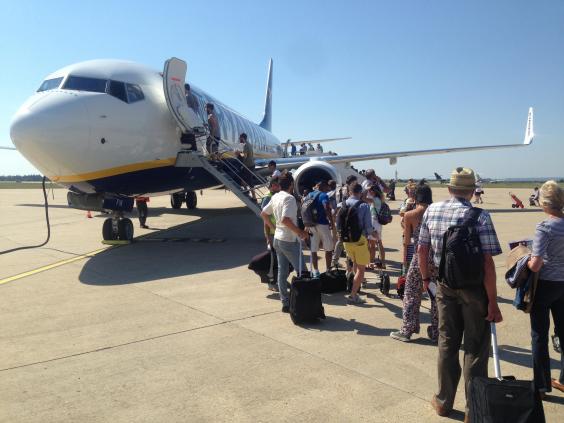 I've come up couple of tricks that can work. On airlines that assign seats to anyone who (like me) is too mean to pay to choose one, be among the last to board the flight. You can then see if there are two empty seats together, and nab one of them.
On airlines that allow you to select your own seat for free within a certain timeframe (e.g. British Airways 24 hours before departure), pick a row where someone has already selected a window or aisle, and choose an aisle or window. That leaves the unpopular middle seat, and someone will sit there only if they really have to.
To certain destinations, fly British Airways
Choose your departure carefully, and check in as soon as the free seat selection service opens, 24 hours before take-off. 
While BA mostly deploys modern narrow-bodied Airbuses on European routes, it has some old Boeing 767s which it uses on high-demand routes from Heathrow. These include Athens, Rome and Istanbul. At times they are also used to Amsterdam, Frankfurt, Larnaca, Madrid and Stockholm.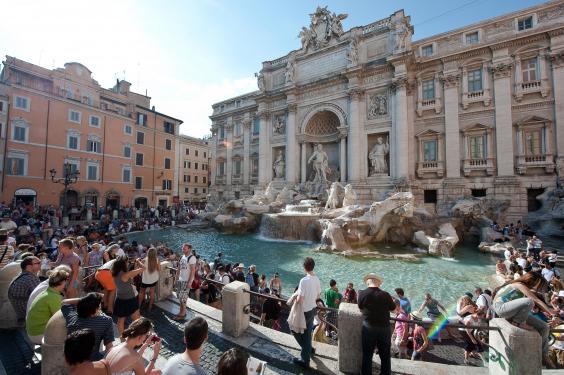 These jets are fitted with Club Europe seats with a couple of extra inches of legroom in the first 17 rows. Only rarely are all these seats taken by business travellers; the rest of the time, the curtain signifying the posh bit is moved forward, and any seats behind it are assigned to economy passengers. 
You need to book on a flight operated by the 767. Then, exactly 24 hours before departure, check in online and bag a seat in row 17 or further forward.
However, it may not work for one of three reasons: the aircraft for your flight is changed to an Airbus; all the seats are devoted to business travellers (most likely at the start or end of the working week); or people who are faster than you bag all the posh seats.
Short-haul route, long-haul plane
You can no longer fly from Heathrow to Paris in style, spreading out comfortably aboard an Aerolineas Argentinas Jumbo jet on the first leg of its journey to Buenos Aires. But there are still some short hops where you can take advantage of long-haul standards, space and amenities. 
Until the end of the month, Manchester to Munich is best covered by a South-East Asian airline. Singapore Airlines flies between north-west England and Bavaria using Boeing 777 jets equipped for 12-hour journeys — which you can enjoy for just two hours. But when the winter schedules begin, the Manchester-Singapore stretch goes non-stop.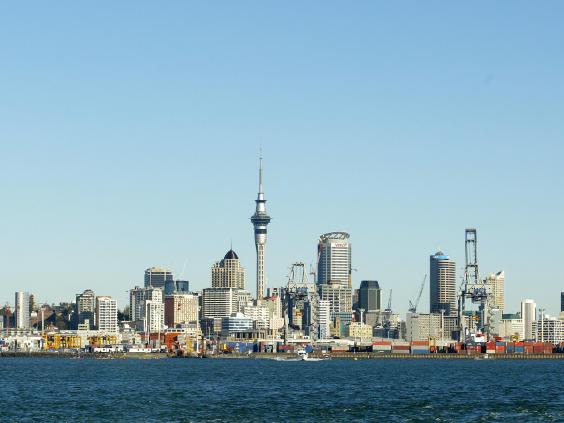 The Tasman Sea between Australia and New Zealand is prime territory, with Emirates and Latam competing between Sydney and Auckland. The first airline operates Airbus A380s on the three-hour hop as an extension of its flights from Dubai, while the second deploys Boeing 787s at the start of the long trans-Pacific journey to Santiago. As a bonus, fares are generally cheaper than Qantas, Air New Zealand and Virgin. Pay less, get more.
To Ireland, go Russian
Most of the planes that shuttle between the UK and Ireland are Boeing 737s or Airbus A320s, with knee-crushing seating arrangements. But the brand-new Sukhoi Superjets of CityJet, flying between London City and Dublin, have a 32-inch seat pitch as well as a roomy interior in a 2-3 configuration. 
I also like the Embraer 190s that British Airways flies from the Docklands airport: although it appears the seat pitch is a meagre 30 inches, in practice the 2-2 seating arrangement feels far more spacious than a 737 or narrow-bodied Airbus.
Nine is better than 10
The standard long-haul conveyance these days is the Boeing 777, a trusty workhorse of the skies. But not all 777s are equal.
When Boeing or Airbus design a plane, they suggest how airlines might want to configure the seats. But the final decision rests with the airline. When the 777 was introduced in 1994, almost every schedule airline fitted each economy row with nine seats abreast. Current exceptions, with 10 abreast, include Emirates, Air New Zealand and some Air France planes. Other airlines, such as Air Canada and Qatar Airways, are moving towards that configuration. For more elbow room, check the airline's seat map before you book; it that looks opaque or unhelpful, Seatguru.com is a usually reliable source.
Reuse content