Jonathan Scott is a zoologist, wildlife photographer, and presenter of BBC television's 'Big Cat Diary'
First holiday memory?
Taking the caravan to Bognor Regis. I grew up on a farm in Berkshire. My dad died when I was very little, but my mum was pretty adventurous, so the Morris Minor was attached to the caravan and we would drive down to the coast.
Favourite place in the British Isles?
I used to live between Cookham and Maidenhead on a 40-acre smallholding and I loved it. We had a view of the fields, filled with hay and a little woodland. I was always into natural history so I loved looking for squirrels and foxes and badgers. It was an idyllic upbringing. Sadly, mum sold it when I was 15.
Best holiday?
I've spent so much of my life in Africa and it's all been a bit of a holiday. People ask: "When are you going to get a real job?" My biggest adventure was an overland trip from London to Johannesburg, more than 6,000 miles, the length and breadth of Africa. During four months, I got malaria, I got dysentery, and I just didn't care. It's also when I first saw the Maasai Mara – I've since been married there and it's the place I'd go if I only had one day left in my life.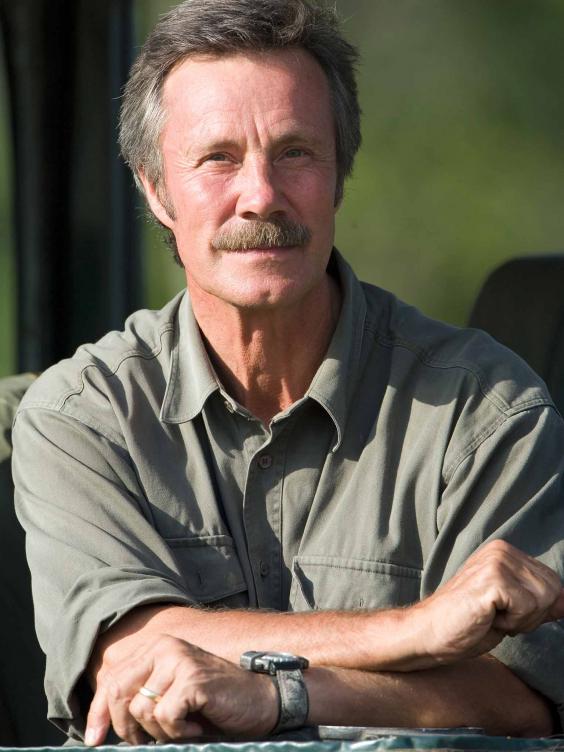 What have you learnt from your travels?
To be adventurous and break free of what fear can do to you. You have to learn to understand acceptable risk. Most places you go, people mean you no harm. They will reach out to you and help you, whether you're short of directions or being invited in for a meal. You have to be optimistic.
Ideal travelling companion?
My wife, Angie. I'm noisy and talkative, but Angie is the opposite. She is beautiful and serene, quiet and the most wonderful listener. She has added some kindness to my wild and manic life.
Greatest travel luxury?
I have some very nice things, some beautiful artwork that we've collected, but the most important thing is Angie and the kids. I couldn't travel without is my camera though, and where possible, I love to take a pair of Swarovski binoculars.
Holiday reading?
I love reading autobiographies and books that explore the way we see things, such as Pathways to Bliss by a philosopher called Joseph Campbell. The key to life is understanding what your dream is and following it. You might not make a career of it, as I've been lucky enough to do, but certainly you've got to identify what it is.
Where has seduced you?
The Maasai Mara. Our main house is in Nairobi, a beautiful place with an Out of Africa view, that Karen Blixen talked about. We live in Langata and look out on to the landscape of the Ngong Hills. But we also have a little stone cottage in the Maasai Mara, which is where we get away to. It's where the Marsh pride of lions from Big Cat Diary lives.
Biggest adventure?
Antarctica. I've been about 17 times now and it is just the most unreal place, there's no other destination like it. If you have money and time, you would have to include South Georgia, home to tens of thousands of king penguins and elephant seals. On a sunny day, you're in paradise.
Best hotel?
The Oberoi group. We've stayed in so many of their hotels. Each of them has a different feel and yet, when you walk through the door, there's always someone waiting to help you. My favourite is Vanyavilas on the outskirts of Ranthambore National Park. It's a tented lodge and and it's unbelievable.
Favourite swim?
We were just in Egypt, where Angie was born, on the Red Sea. She's hasn't been back since her family moved to Tanzania. The snorkelling is almost indescribable. The underwater world and the clarity of the ocean was mind-boggling.
Best meal?
We love seafood and the coast. If for any reason, we couldn't get our kids down to have a holiday by the sea, we would all go instead to the Tamarind Restaurant in Nairobi. We would start with crab claws, which you have to pre-order, because they're so popular, then move on to lobster and end with an outrageous brownie.
Favourite city?
San Francisco, where our son lives. I like the trams and the friendliness. I always think it's probably one of the best places in America to be hard up, because people are bound to be nice to you. There are lovely places to eat, good walks, the Golden Gate Bridge and you're in California!
Where next?
Angie's got a big interest in Buddhism, so we've been to Nepal and Bhutan before, but in December we are going to Burma. For us, as photographers, there are temples, monks and riverboats, so it should be incredible.
Reuse content