Travel essentials
Why go now?
Canada's second- largest city (after Toronto) may shiver in winter but it shines in summer. The warm temperatures bring al fresco life to the lively harbour and a carnival-like atmosphere that sweeps the cobbled streets of the historic quarter.
The cultural calendar is full to the brim, too. Just For Laughs (hahaha.com), the world's largest comedy gathering with 1,700 performers, kicks off on 9 July for two weeks, followed by the three-day Osheaga Music and Arts Festival (osheaga.com) on 1 August. This year's performers include the Arctic Monkeys.
Touch down
British Airways (0843 493 0787; ba.com) and Air Canada (0871 220 1111; aircanada.com) each fly once a day from Heathrow to Montreal's Pierre Elliott Trudeau airport, 21km west of the city centre. Air Transat (020 7616 9187; airtransat.co.uk) flies once a week from Gatwick. I travelled with Travelbag (0845 543 6615; travelbag.co.uk), which offers flights from Heathrow and four nights' accommodation from £839pp.
Airport bus 747 departs from outside the terminal every 15 minutes or so to Berri-Uqam station (1) on Rue Berri. The fare for the 45-60-minute journey is C$10 (£5.70), which also grants free public transport for 24 hours; or buy a 48-hour ticket for C$13 (£7). Tickets can be purchased on board or at one of the machines in the arrivals hall. A taxi to Old Montreal will cost around C$40 (£23) and takes an average of 30 minutes.
Get your bearings
Montreal, the largest city in the French-speaking province of Quebec, sits on the banks of the St Lawrence River in eastern Canada. It was founded by the French in 1642. The most historic part of the city remains the cobbled harbourside area known as Vieux-Montreal (Old Montreal) to the south.
To the north-west, on the other side of the modern Downtown district and dominating the city, is Mont Royal (Mount Royal) (2), the 233m peak after which Montreal was named. The central tourist information office (3) is located at 1255 Peel Street (open 10am-6pm daily). For information in advance, call 0800 051 7055 in the UK or visit: quebecoriginal.com.
Check in
With a strong design focus, the Hotel St Paul (4) at 355 Rue McGill (001 514 380 2222; hotelstpaul.com) has 120 rooms themed around the Earth and the sky, housed in a historic building. Doubles start from C$219 (£125), room only.
Le Place d'Armes Hotel (5) at 55 St-Jacques West (001 514 842 1887; hotelplacedarmes.com) is a good choice in the heart of Vieux Montreal, located just across the road from the Notre-Dame Basilica (6). There's a spa, rooftop terrace and stylish rooms with exposed brick and leather armchairs. Doubles start from C$169 (£97), room only.
Budget travellers can go with the well-located Kutuma Hotel (7) at 3708 Rue St-Denis (001 514 844 0111; kutuma.com). Rooms are tastefully decorated with kitchenettes. Doubles start from C$99 (£57).
Click here to see a bigger image of the map
Day one
Take a view
Perched at the top of Mont Royal (2) is the sacred dome of St Joseph's (8) at 3800 Chemin Queen Mary (001 514 733 8211; saint-joseph.org; 6am-9.30pm; free), the highest point in the city. The view encompasses old and new – gleaming skyscrapers and old buildings with fairy-tale turrets – as well as the St Lawrence River. Pilgrims believe their prayers will be answered by climbing the 101 steps on their knees. Alternatively, there's a shuttle.
Take a hike
… back to the bottom of Mont Royal. The parkland of oak, maple, and poplar trees that clings to its slopes was designed in the 1840s by Frederick Law Olmsted, the same chap responsible for Central Park in New York. Follow the zig-zagging pathway until you emerge on to Avenue des Pins (9) and walk south along Rue Peel (10), passing a cluster of mansions built in the 1850s. Finish on the corner of Rue Sherbrooke, close to the McGill University campus (11).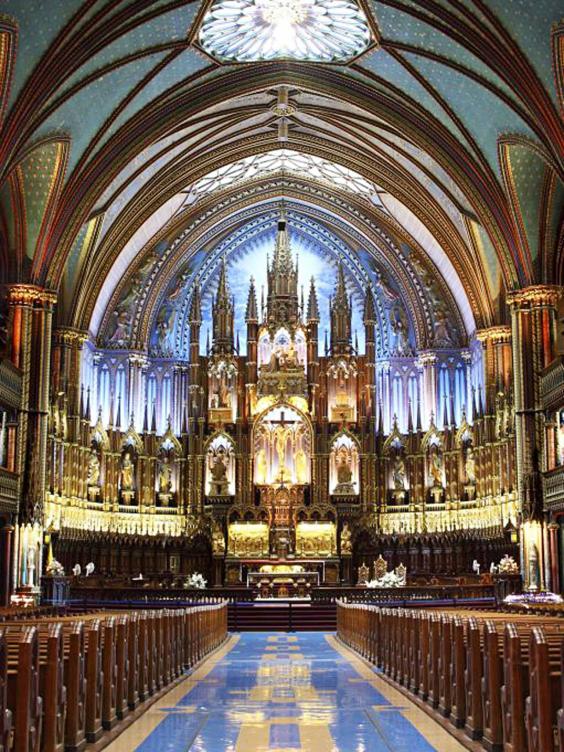 Lunch on the run
Grab a booth and dine on an old-fashioned sandwich of thinly-sliced smoked beef at Dunns (12) at 1249 Metcalfe Street (001 514 395 1927; dunnsfamous.com; open 24 hours). It was opened in 1927 by Myer Dunn, whose grandfather's recipes soon won quite a following. Sandwiches with fries and coleslaw cost from C$14 (£8).
Window shopping
The main shopping street is Rue Ste-Catherine (13), with its glossy stores stocked with high-end goods, but there's also retail therapy to discover in the depths beneath. A vast network of underground shops and tunnels – exceeding 32km, making it the largest of its kind in the world – covers much of the Downtown area. They can be accessed via most buildings along Rue Ste-Catherine.
Elsewhere, don't miss the indoor market of Bonsecours (14) at 350 St-Paul St East (001 514 872 7730; marchebonsecours.qc.ca; 10am-9pm daily), which offers a mix of handicrafts and trendy local fashion designers boutiques. Visit Ricchi at number 220 for skillfully-crafted Inuit art made of rock from Baffin Island. Further along the street you'll find a number of reasonably priced souvenir shops.
An aperitif
There are more than 800 beers – many from local microbreweries – to choose from at Saint Bock (15) at 1749 Rue St-Denis (001 514 680 8052; www.saintbock.com; 11.30am-3am daily). The sweet Mackroken Flower, made with wildflowers and honey, is popular. Pints from C$7/£4.
Dining with the locals
Communion (16) at 351 Place Royale (001 514 937 6555; restaurantcommunion.com; 10am-10pm daily) is a trendy new addition to Vieux-Montreal with bare brick walls and modern fixtures. Choices include bison bresaola with pickled mustard seeds. Mains from C$12 (£7).
Soul food is on the menu at Garde Manger (17) at 408 St-François Xavier (001 514 678 5044; crownsalts.com; 5.30pm-11pm; closed Monday), where dishes such as lobster risotto are scrawled up on blackboards. Mains from C$32 (£18).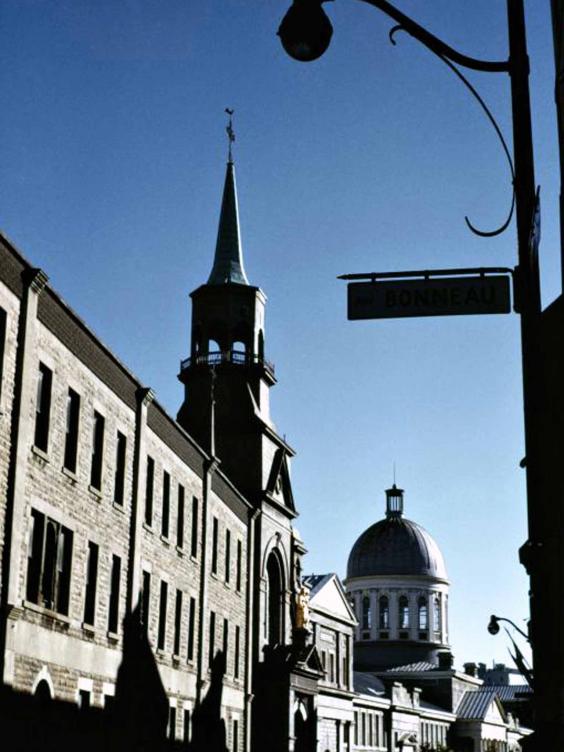 Day two
Sunday morning: go to church
Take part in Sunday mass (at 8am, 9.30am or 11am) at the Notre-Dame Basilica (6) at 110 Rue Notre-Dame Ouest (001 514 842 2925; basiliquenddm.org; tourist visits 12.30-4pm on Sundays, 9am-4pm other days; C$5/£2.85). The imposing structure with twin towers took shape in the 1820s upon a site previously occupied by a 17th-century chapel.
Out to brunch
The inviting smell of freshly-baked cupcakes welcomes you to Maison Christian Faure (18) at 355 Place Royal (001 514 508 6453; maisonchristianfaure.ca; 8am-7pm daily), where the pastries are almost too pretty to eat. Brunch costs C$14 (£8).
A walk in the park
Stroll along the parkland that runs the length of Promenade du Vieux-Port (19). Beyond the river views are rugged derelict warehouses and all manner of ships docked in the harbour. Pack your swimsuit and visit the Bota Spa boat (20) on the corner of McGill and De La Commune West (001 514 284 0333; botabota.ca; 10.30am-10pm daily; from C$35/£20). This old 1967 transport vessel has been given a new lease of life as a holistic retreat with outdoor hot tubs and massage rooms.
Cultural afternoon
Pointe-à-Callière (21) at 350 Place Royale (001 514 872 9150; pacmusee.qc.ca; 11am-5pm except Mondays; C$20/£11) looks at Montreal's archaeological history, including the remains of the city's original 17th-century cemetery, rediscovered in 1989.
Montreal's past can also be traced at the Château Ramezay Museum (22) at 280 Notre-Dame Street (001 514 861 3709; chateauramezay.qc.ca; 10am-4.30pm except Mondays; C$10/£5.70), which examines the lives of early settlers.
Icing on the cake
End with a bagel at legendary St Viateur Café (23) at 263 Rue St-Viateur Ouest (001 514 276 8044; viateurbagel.com; open 24 hours), which started baking in 1957.
Reuse content