Glamping's moved on from the days when it was all chilly yurts in a windswept field; today, the UK's thriving glamping scene means it's a viable year-round option, with some really unique places to stay. Here are some of our top picks for 2017 – all either launch this spring or gave their new sites a test-drive last season.
Bedroam, Yorkshire
This converted double-decker bus is rolling into town in York from March – though by "town" we mean "woodland" outside the city. It sleeps 18 in 14 Japanese-style sleep pods (complete with foam mattresses and blackout screens) upstairs, with a lounge area that converts into a sleeping space downstairs. However, this is one for groups – it's only rentable as a whole. Not into woods? They'll deliver it to other locations of your choosing, preferably within Yorkshire, but further afield for a price. From £599 per night.
Hoot's Treehouse, Sussex 
If you're looking for solitude, this is it: a treehouse perched in the middle of the woods of the Rother Valley, named for the neighbouring owls that often pop over for a visit. Clad in cedar and accessed via an elevated boardwalk (there's a mile-long track from the nearest road before that), inside there's a wood-burner, kitchenette, bathroom and hand-crafted, king-size bed. From the deck, you'll see badgers, foxes and deer which roam the Weald. From £183 per night, minimum stay two nights.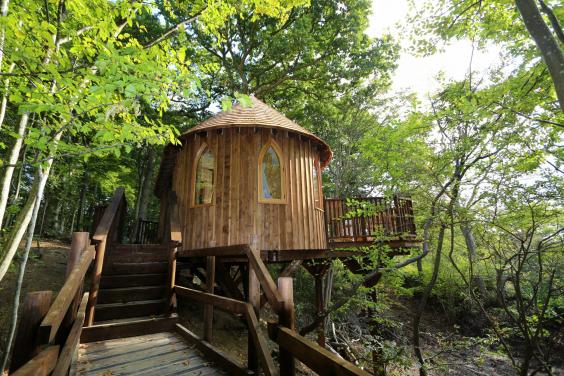 Mission Bay Campers, Dorset 
Like the idea of a camper van but less keen on the faff? Mission Bay will deliver a fully equipped van – think bedding, kitchen equipment, fairy lights and bunting – to any campsite of your choice in Dorset, meaning you don't have to bother with driving or set up. They'll also deliver to select festivals, including Camp Bestival and End of the Road. From £100 per night plus campsite fees.
Dundas Castle, Edinburgh
Its test season last summer was so successful that Dundas Castle outside Edinburgh is not only reopening its glampsite for 2017, but is also doubling its five tents to 10. Not that "tents" is quite the right word for these, complete with king-size beds and memory foam mattresses, kitchenettes, en-suite showers and compost toilets, plus lighting and USB ports for all your charging needs. They sit in woodland on the edge of the estate's private loch; beyond that are 400 acres, all yours to explore. From £159 per night.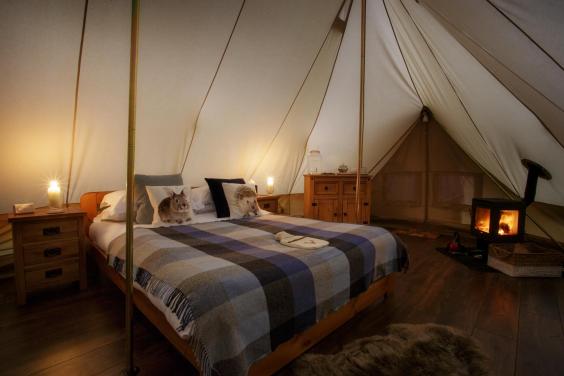 Bluegrass, Northumberland
Shepherd's huts tend to be glorified corrugated iron boxes – not so here. This hut is 30ft long and has its own wi-fi and en-suite shower. You get the best of both worlds: oodles of privacy and outstanding views over the Cheviot Hills, plus access to a pool, spa, gym and even an astronomy observatory (at the farm on which the shepherd's hut sits). Bluegrass is already open; another hut, Ryegrass, opens in May. From £135 per night.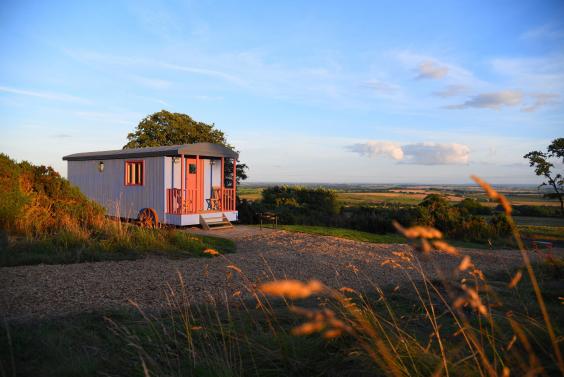 The Chalet on the Beach, Dorset 
Beach huts may be two-a-penny but beach huts that you can sleep in? Slightly more special. This revamped chalet (opening March) is right on Monmouth Beach, part of Dorset's Jurassic coastline where ammonites appear on the shore at low tide. It's a tight fit but there's everything you need – a kitchen, tiny bedroom, wet room, sitting area and even underfloor heating. From £61 per night.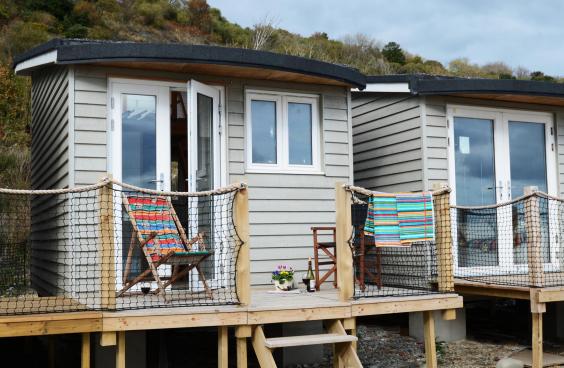 Campden Yurts, Cotswolds 
Not your average Cotswolds experience, these two 18ft yurts each sleep five, and share a field on a small holding near Chipping Camden. Each has a private bathroom outside, solar panels provide lighting and phone charging, and there's a communal utility room with a fridge and microwave, though to really get into the spirit of things, you'll need to cook outside with the kotlich pan or wood-fired pizza oven. From £71 per night, minimum stay three nights.
Reuse content