Travelling alone is great.
I do it quite a lot because no one will come with me. I did Brazil on my own, which was wonderful. I like the freedom. I did a Mongolian road trip on my own too, which was very peaceful and quite a spiritual trip.
Finding time to travel is the hardest bit.
I've got a book on Japan and I've got the map and I'm just trying to find the time to do it. The idea was to go to the Philippines, go island-hopping, and up to Japan. I'm looking at the world map on my wall and I'd love to do it. But I may have left it too late this summer. I think you'd need to take a couple of months.
I'm very happy to rough it.
I can sleep in the car in the strangest of places. I've stayed in truck stops in the middle of the desert. I can sleep anywhere.
When I was a child it was quite an adventure to travel to the South of France.
We drove down with my uncle and his children when I was about eight – me and my two brothers and my three boy cousins. We were charging all around the place, out of control. It was all very exciting. I remember driving late at night and helping my father ... Well, I thought I was helping him, he must have been fed up with me saying "there's a corner coming now".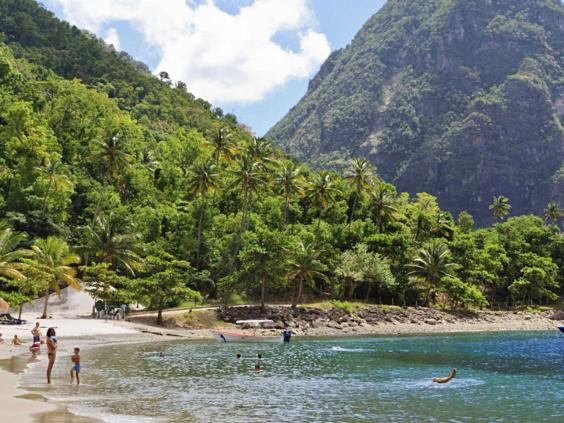 Sugar Beach in St Lucia is a really flashy place.
It's the sort of place where the loungers are perfect and the fluffy towels are changed every 10 minutes and you can order food and have it delivered by charming, uniformed waitresses.
I also stayed at the Jade Mountain hotel nearby and it was amazing. I had my own suite, with an infinity pool overlooking the ocean. St Lucia has developed a lot since I was there 30 years ago. The roads were just awful, now it's got a pretty sophisticated road system – I thought it had come on a storm. Back then, many of the houses weren't painted and often there wasn't glass in the windows. There's evidently greater prosperity now. I'm not saying its Hollywood, but I thought it was remarkably different.
I once charmed a Russian train ticket collector.
On Russian trains, each carriage has a hatchet-faced woman in uniform who really isn't interested. I broke the ice because this one woman was wearing cowboy boots with rhinestones. I admired her boots and she just melted.
The West Country is real England.
So many cities and towns bleed one into the next. There are all sorts of bypasses, ring roads and god-awful stuff, but if you go into the West Country – Hereford and Wiltshire too – that's my favourite sort of England.
London's my favourite city. Crossing Waterloo Bridge makes me feel proud; that cityscape at night is fantastic. London's got everything that you could want, except affordable house prices.
I met an Apprentice fan in Kigali.
I was in a queue inside a bank and a guy came rushing out and said ''You're off The Apprentice, aren't you?'' and I said "How did you know?" and he said "We watch it on the internet!" That was a surprise.
I've bought some lovely things abroad.
I'm not interested in a carved elephants or anything, but I bought some fabulous wooden fruit bowls in Rwanda. When I was in Argentina the only thing I could buy was a gaucho knife. I bought a silver- and gold-handled one, which I treasure.
A sheep's lip in Kazakhstan was the worst meal I've ever had.
The people I was with produced a sheep's head for me as a treat and I thought ''for Christ's sake I'm not doing it'' so I had a bit of the lip. The eye crunches when you eat it so I couldn't bring myself to do that.
Nick Hewer presents Countdown and was Lord Sugar's adviser on The Apprentice from 2005 to 2014.
Reuse content