When Olga Polizzi, daughter of hospitality tycoon Lord Forte, turned a tatty yacht club in St Mawes into the chic Hotel Tresanton, guests who flocked there included Prince Charles, the Blairs and Kate Winslet. A quiet, end-of-the-road Cornish fishing village of the sort your mother used to visit as a kid in the Sixties (well, mine did) became a bolt-hole for holidaymakers and second-homers. The Tresanton was the place to stay. But, 15 years after she shook things up, Olga has a rival.
David Richards, a motor-racing supremo turned chairman of Aston Martin, pulled in here 10 years ago with his wife, Karen. For years they walked along the waterfront with (grand) designs on The Idle Rocks, an imposing, moth-eaten hotel established by the new owner of "real-life Fawlty Towers", the Grosvenor Hotel in Torquay. Eventually, big money changed hands and, in June, it was re-opened after a total transformation.
It's clear as you drive into St Mawes why the Richards wanted the place to sing. The Idle Rocks has the best spot in the village, bang on the harbour where fishermen land their morning catches; in fact my double-aspect room felt at times as if it were at the prow of a very well-appointed yacht.
The informal reception – a desk with a giant iMac, no more – sets the low-key, high-class tone (think young weekend-breakers from London clutching Mulberry holdalls) and leads to a vast space running the length of the ground floor, each section opening out on to one long terrace with tables overlooking the water. A cosy sitting room with open fire and superior textiles leads to the bar, with its recessed oyster station. The dining room beyond is terraced to give every table a sea view, and decor introduces the luxe-nautical theme, dropping anchor well short of cliché (salvaged rope and shells are used sparingly). The food is more inspired by the outside; delicious mussels and mackerel abound on a pricey, if not extortionate menu, that, with its smears and foams, could perhaps do with relaxing a bit.
Apart from 20 bedrooms and a charming children's room to which locally sourced babysitters can be dispatched during dinner, that's it. No spa, no frills. And that's good. Who needs a poky steam room when there is the sea and miles of Cornish countryside to be walked over before a cup of tea (or a "Cornish" mojito) by the fire?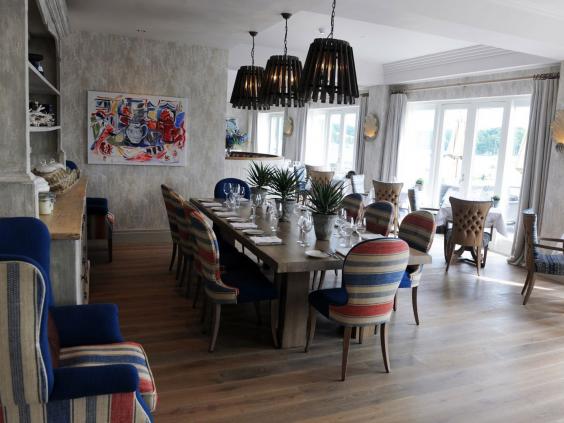 Location
Teeny St Mawes sits at the head of the Roseland Peninsula on Cornwall's south coast, about a 45-minute drive from both St Austell railway station and Newquay's airport. Recent changes aside, it remains out-of-the-way enough to have been spared the braying Jack Wills deck-shoe army that has conquered so many other seaside outposts in the region. Quaint galleries and Fudge & Moore, a fine ice cream and fudge shop, still do the best trade on the harbour road.
Eat a pasty at the ferry landing before getting a boat across the Fal (falriver.co.uk) to Falmouth for fish and chips and antique hunting, or catch the Place ferry for a walk around St Anthony Head. Upriver, boats head to Truro via Trelissick (01872 862090; nationaltrust.org.uk/trelissick- garden), one of several delightful gardens here.
For a walk, head along the harbour to the 16th-century St Mawes Castle (01326 270526; english-heritage.org.uk), stopping at the Tresanton (01326 270055; tresanton.com) for a crab salad on its stunning terrace. Keep going up the Fal to the creekside church at St Just in Roseland, with its yard described by Sir John Betjeman as the most beautiful in the world. Back in St Mawes, don't leave without having a meal at the understated Watch House – and hope the fish pie is on the menu (01326 270038; watchhousestmawes.co.uk).
And if fish is your thing, ask Sid, concierge at The Idle Rocks, to get you out with a local fisherman. The hotel's chef will happily cook your catch.
Comfort
Individually decorated rooms, with unbelievably comfortable Hypnos beds, start with a canvas of brilliant white and then spare no expense. "Village" rooms are the most basic, relatively, with jaunty gingham bedspreads, while some of the pricier "sea" suites incorporate in-room tubs and space to swing a robe in. It's worth investing in a sea view and, if it's available, snap up my delightful corner room (No 8).
Travel Essentials
The Idle Rocks, Harbourside, St Mawes, Cornwall TR2 5AN (01326 270 270; idlerocks.com).
Rooms ****
Value ****
Service *****
Doubles start at £180, including breakfast.
Reuse content