Michael O'Leary, the controversial chief executive of Ryanair, claims that his airline now dominates Europe – and has outperformed all other organisations in unifying the Continent.
The Ryanair boss was speaking exclusively to The Independent about the two decades since he took over in 1994. Today the airline carries more passengers than any other European airline, with a quarter-million people flying each day. Ryanair stock has surged by 58 per cent in a year, valuing the airline at three times its nearest "legacy" rival, Lufthansa. And besides making prodigious returns for investors, including himself, Mr O'Leary believes his airline has broken down barriers across Europe.
"No company has done more in the last 20 or 30 years to boost the process of European integration than Ryanair," he said.
Tony Anderson, easyJet's first marketing manager, said: "Twenty years ago we set up shop at Luton airport alongside a loss-making Irish carrier called Ryanair then struggling to reinvent itself as a low cost airline. We didn't give them much thought at the time, as all our energies were focussed on our battles with BA."
The aviation consultant, John Strickland, concurred that the airline had brought about social and economic changes: "Ryanair has revolutionised the airline business in Europe with its simple price-led model that has allowed millions of people across Europe to travel in a way which could not have been imagined before."
The airline's changes to the flying experience have not been universally welcomed. Six years ago Ryanair pioneered mandatory online check-in as one of its many cost-cutting measures. The no-compromise policy included punitive charges for failing to check in or print a boarding pass in advance. Staff at departure lounges measured and weighed passengers' cabin baggage, with transgressions penalised with a "gate bag" charge that often exceeded the air fare.
Michael O'Leary denied that the brand became toxic: "You can't dominate the European air travel industry if we were some kind of a toxic brand."
But after issuing a profits warning last year, he instituted radical changes, including allocated seating and a second cabin bag. In addition, Ryanair courts business travellers with benefits such as free airport check-in, fast-track security and changing flights. It is also flying for the first time on the key business route from Scotland's largest city, Glasgow, to London Stansted.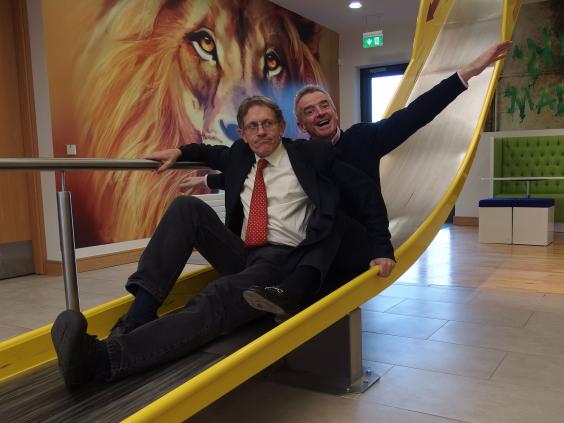 Tony Anderson, easyJet's first marketing manager, said: "Ryanair, having defied the laws of customer service for so long are repositioning themselves as an customer-friendly airline."
The airline's new headquarters north of Dublin airport also represents a transformation. Ryanair has moved from a scruffy 1960s office block to a 21st-century corporate HQ straight out of Silicon Valley - complete with an "emergency" slide from the first floor to reception, a giant chess set and table football. Has the airline taken its eye off the cost-cutting ball? The market thinks not.
Investors have pushed Ryanair's market capitalisation to nearly £15bn, compared with less than £1bn for Ireland's national carrier, Aer Lingus. Ten days ago, British Airways' parent, IAG, tried to buy the Irish airline but was rebuffed for a bid that "fundamentally undervalues" Aer Lingus.
Ryanair owns 29.9 per cent of Aer Lingus and has previously attempted to take over the whole airline. "We did send out a strategy about five years ago where we would use Aer Lingus to be kind of a Ryanair at the main airports," said Mr O'Leary. "We've moved beyond that strategy now because Ryanair's moving into the main airports itself. So, we no longer have a role for Aer Lingus."
The airline is thinking globally. Yesterday, Ryanair launched a new US website aimed at boosting its bookings from Americans travelling to Europe. Plans for a transatlantic airline are on ice until plenty of wide-bodied jets are available on the cheap, but Ryanair is dipping a toe deep into the Atlantic with a new link from Stansted to the Azores, starting at Easter 2015. Children flying on that route, or any other from the UK in April, will get £13 Air Passenger Duty back. "We've decided to go further than George Osborne, who's waiving APD from 1 May, which means British children get stung for the Easter holidays," said Mr O'Leary. "We're going to pay the APD for under-12s." His yuletide gesture means a refund for 150,000 children.
The chief executive has signed up for a further five years at Ryanair. He said: "The only industry I could have succeeded in is the airline industry because it's a fundamentally dysfunctional industry, it doesn't make any money.  And I've been very fortunate to find a job in a dysfunctional industry, full of dysfunctional people like myself."
Reuse content