Since my late teens I've been a wanderer. To fund my studies I worked as a model. Nothing too exciting I'm afraid – I certainly didn't reach the heights of a Yasmin or a Kate – but it did win me a few passport stamps. At first, I worked in Europe, then Japan. In Osaka and Tokyo, in the early 1990s, there weren't any recognisable signs for tourists and people rarely spoke English. I felt as though I had landed on another planet – but my time in Japan certainly helped broaden my horizons.
This time last year my horizons were broadened much, much more. I was about to start my first year as the BBC's anchor for Formula 1 – and the itinerary looked amazing. Until that point I had never been to India or Canada, never visited Spa or Sao Paulo. But on the other hand, I was struggling to imagine the countdown to the first show in Melbourne, with Fleetwood Mac's "The Chain" booming in my eardrums.
By and large, the BBC's F1 gang travels as a team – and we generally stay as close to the track as we can. Our days are long, especially for highlight shows, because we have to await any stewards' inquiries – and there are always inquiries – before we can put together the programme. The home of the Melbourne Grand Prix is Albert Park – a worthy curtain-raiser for the start of the season on Friday – that hugs the shore of Albert Park Lake.
There's never very much time around work days to plan travel adventures, but a late Monday flight home last year gave me the chance to take in a few sights and sounds for a day. I've always adored Chapel Street and its surroundings: tailors, baristas, fashionistas ... all jostling for position on their pavement stages. Last year, I managed a mooch around the boutiques. (Buying clothes that I think no one else will have still makes my heart beat a little faster.) Alannah Hill is always my first stop. A couple of bags later I hooked up with a friend for a flat white and bumped into half of the paddock, who seemingly all had the same idea.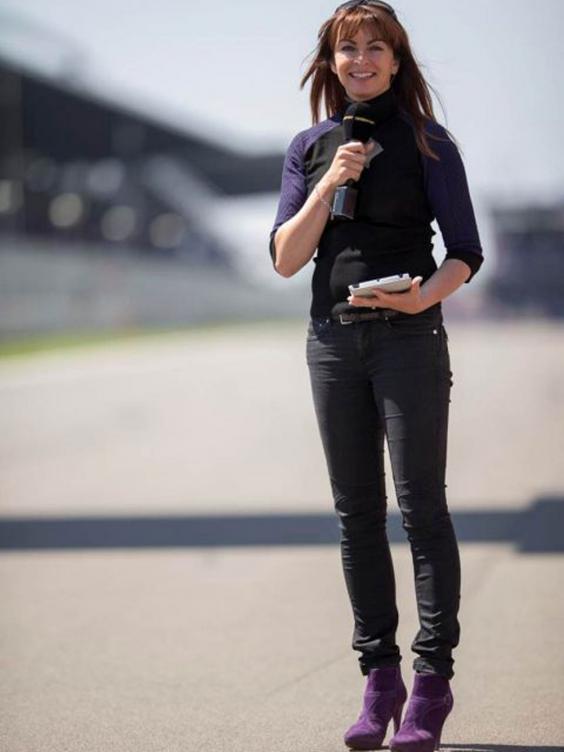 From then on, we were in the rhythm of the F1 season. I'd been warned about our hotel in Malaysia – it was described to me as a jaded Disneyland eyesore. It turned out to be a sort of clunky 1960s Vegas haunt, without the monotonous burr of the slot machines. There's a strict budget for accommodation which means that occasionally we sleep in strange places. In South Korea, we ended up in a "love hotel", more often booked by the hour than the night. My room came complete with lotions, sprays and – oddly – dual gaming consoles, which is a different kind of love in my book. Since then, I've always packed a silk sleeping-bag liner, just in case.
In fact, I find it a little tricky to pack for F1, especially if we have back-to-back races in different climates. It rained and was cold last year in Australia, but the next stop, Malaysia, greeted us with sweltering humidity and a series of tropical downpours.
Then we were off to Bahrain. I had an initial feeling of unease with this race. We had to have security due to the protests which had been taking place since the cancellation of the 2011 event and weren't allowed to go wandering off (we had the same treatment for Brazil's Sao Paulo GP). It all went off well, though, and I'm looking forward to the ambience of this year's inaugural night race.
Barcelona offered a more familiar feeling for me: a city where I always feel at ease. As a teenager I'd spent time hanging out with Catalan friends on La Rambla. The Spanish GP is a great choice for British race fans; the combination of high-octane track action followed by tapas and a glass of cava is far too tempting to miss. The track lies just 30 minutes outside the city so it's easy to get to and from (particularly in comparison with the Korean track – a five-hour bus ride from Seoul). The restaurants are fabulous, but you have to get away from La Rambla, both because of the pickpockets and because the food is so expensive.
I always head for La Boqueria market. The explosive colours of the food are dazzling and it's also home to the best fried aubergines I've ever had. We filmed an opening for the show sauntering around the stalls; David Coulthard and Eddie Jordan were mobbed – and I experienced a surprising marriage proposal. All in a day's work.
By that stage in the season, I was grateful that the next few races were local so that I could attempt to defy the effects of jet lag. Time zones are my enemy. Despite trying everything to combat that woolly-headed feeling, I've never really got to grips with a solution. These days, I just sleep when I can, add moisturiser and wait for my system to reboot.
There were no such issues in Monaco . It was odd to be on the working side of this race last year, as I've been to the event so many times as a fan and a guest. In fact, that weekend seemed to get the paddock party started. Monaco is how many people sum up the F1 season: glamorous, a playground for Hollywood A-listers and a party rocking every boat. Cameron Diaz breezed by on her way to the grid. Chris Evans and Jeremy Clarkson seemed to be enjoying the ambience and even Leonardo DiCaprio was in town. After Daft Punk (who looked remarkably like the Lotus pit crew) took their positions, the largest crowd seemed to be mobbing a nine-times Motorcycle World Champion, Valentino Rossi.
After the race, the streets that snake back from the ingenious circuit ignite with passion and piscine (a local drink comprising champagne and sparkling water) and the tiny principality becomes a huge street party. I met my friends at a local place called Slammers – and realised that I had some catching up to do. The next morning I was off to the UK early to guest on The One Show. My fragility really couldn't be blamed on jet lag that time around.
The time between races seemed to disappear as the season wore on. The Montreal's Circuit Gilles Villeneuve is set in a beautiful park out in the St Lawrence River. I was lucky enough to see the complete layout from a seaplane as we filmed the opening sequence for the show. It's a wonderful way to spend a morning: talking about F1 while hovering over the circuit. After the race, I spent a few extra days discovering Montreal with my husband, then after rounds in the UK, Germany and Hungary, it was time to down microphones for the three-week summer break.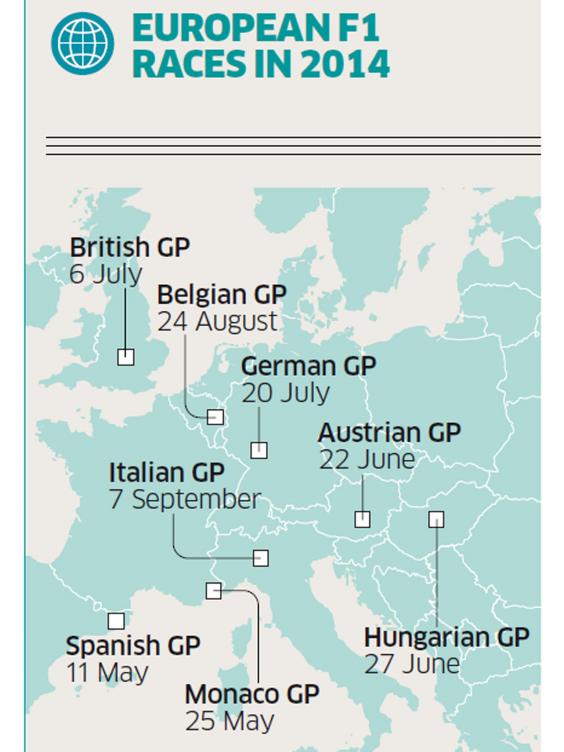 It seemed to pass in seconds. Monza and Spa were next, ticking the "real-racers track" and "best pizza and waffles" boxes, respectively. But Singapore was a completely different experience. It's a twilight street race. The track looks spectacular and F1 fans love it. I took a ride on Singapore's big wheel to take it all in. As the sun goes down, the floodlights come up. The F1 carbon-fibre speed machines hurtle beneath raised roads where common cars are made to look like sleepy beetles.
We worked late, so had to adapt accordingly, rising around noon to go to work. We would wrap filming and planning at around midnight for dinner, then head to a hawkers market where tiny fast food bars circled rows of stone benches and tables. We would run into familiar faces from the race paddock, all eating potato cakes, curry and various noodle concoctions. Despite being in the middle of a metropolis, it all felt calm, perhaps due to the lateness of the hour. The hawkers' markets remain open all night; we'd usually get to bed at around 6am.
Japan still holds a place in my heart. I grabbed a few tranquil days in Kyoto before the Suzuka event. I always feel quite starstruck when I see a real geisha. Wandering around, drinking tea and kneeling quietly in a temple provided a welcome break at this stage of the calendar.
Last year, though, the place that dazzled me most was the trip to India to the Buddh International Circuit near Delhi. It's a dreadful shame that it's not in this season's line up, as I think it has great potential for fans. As part of the show for what turned out to be the championship winning race, David Coulthard, Eddie Jordan and I sampled some local flavour.
First we took a train ride, the carriage heaving with passengers jammed on to the bed-like shelving above us and babies in cobbled-together hammocks. The sun was fierce but a little hazy through all the smog. The carriage chatter was relentless and alive. We filmed for a while and thanked everyone in the carriage. Next up? A rickshaw. Driving in India is not for the fainthearted, whether you're on an F1 track or not. We surged forward trying to film while being flung from side to side, then headed to a local market to witness a vast assemblage of goats, food, clothing and trinkets. We finished our filming in the grounds of Humayun's Tomb, a wonderfully spiritual and evocative haven hidden within the frenzy of Delhi.
India saw Red Bull Racing's Sebastian Vettel retaining the Drivers' Championship by winning and opening up an unbeatable 115 point lead. But although the championship was over, we still had three rounds to go: Abu Dhabi, the US and Brazil. The Texas capital, Austin, was great fun: a wonderful hotchpotch of live-music venues and burger joints amid all the F1 glamour. My key memory of Brazil is that it is no place for a vegetarian.
This year will see Formula 1 head to Austria and there will be a race in Russia for the very first time, as the competitors visit the Sochi International Street Circuit, back where the Winter Olympics took place and Paralympics have just begun. I'm sure that the latter will generate plenty of news – and I'm certain it will make for an intriguing date in my 2014 calendar.
Suzi Perry presents the BBC's coverage of the Formula 1 season, which starts in Melbourne from 14-16 March.
Travel essentials
Getting there
Tour operators including Thomas Cook Sport (0844 800 9900, thomascooksport.com), Thomson Sport (0845 527 0803; thomsonsport.com), and Grandstand Motor Sports (0116 231 1222; grandstandmotorsports.co.uk), offer holiday packages to F1 races around the world.
More information
Reuse content