Traditional clichés around surfing holidays still tend to focus on their basic nature: long-serving camper vans, beachside burger bars and a tacit understanding that all that really matters are the waves. Times, however, have moved on. For surfers looking to combine time on the water with a luxury break, there are some extremely stylish options out there.
You'll find upscale surf resorts everywhere from Cornwall to California, but plenty of viable posh pads have become established in less obvious parts of the world too. And one of the sport's greatest selling points for travellers? No matter what time of year it is, surf's up somewhere.
Short hop
Open since January, Surfers Lodge Peniche (surferslodgepeniche.com) is in a low-key fishing village halfway down Portugal's coastline. It has gone for a vintage, California-inspired design, while also factoring in a fireplace and a local, largely organic restaurant menu. Perhaps more importantly, the lodge also grants access to some of Portugal's best breaks; hire a board, take lessons or make use of the in-house "surf guide", who will lead the way to top local surf spots. A seven-day stay in January 2015 costs €1,015 per person, based on two sharing the Beatles suite (a Fab Four-themed room) and including breakfasts, two-course dinners and 12 surf lessons. Excludes flights.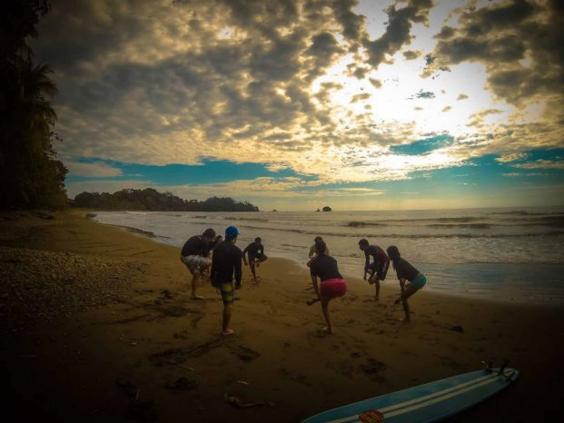 Totally tropical
The jungle-backed beaches around the laid-back town of Dominical, on Costa Rica's west coast, offer some of the region's best surf. They make an apt setting for Kalon Surf School (kalonsurf.com),a high-end resort run by a couple who dropped out of the corporate world to open this hilltop mansion – infinity pool, massage treatments and all.
It offers year-round Saturday-to-Saturday packages from $2,520 (£1,575) per person – rising to $2,740 (£1,713) per person in 2015. Includes accommodation, transfers, five days of coaching with video analysis and all meals and drinks. Excludes flights.
Escape to Asia
Despite boasting what has been called one of the best left-hand breaks in the world, Sumba isn't among Indonesia's best known islands. It makes the all-villa resort of Nihiwatu (nihiwatu.com) that much more of a find.
Guests have access to a 1.5-mile private beach – home to that famous break – and can expect five-star trimmings. Scott Dunn (020 8682 5020; scottdunn.com) has seven nights here from £5,250 per person, based on two sharing a villa on a full-board basis in December, flights from Heathrow and transfers. Get in there soon, though; the resort is closed from 6 January to 1 March for a refurbishment over the rainy season.
Down Under
Who needs Bondi? Some of Australia's most remarkable surf locations are found well away from the crowds, and beautiful Lord Howe Island – part of a volcanic, Unesco-listed archipelago some 370 miles off the New South Wales coast – is a case in point.
There are 10 different surf breaks around the island, and Slater's Hire (00 61 2 6563 2419) rents surfboards for AU$25 (£13.30) a day.
Bridge & Wickers (020 3627 4885; bridgeandwickers.co.uk) has a week in January at the luxury Capella Lodge for £4,650 per person, based on two sharing a suite and including return flights from Sydney, and all breakfasts and dinners. International flights extra.
Board and bend
Essaouira may be Morocco's best-known surf town, but the fishing village of Taghazout, with its gentle waves and increasing stock of surf schools, is not far behind. The stylish Villa Mandala, which has large terraces overlooking the Atlantic, specialises in holidays that combine surfing and yoga.
Surf Maroc (01794 322 709; surfmaroc.com) has a seven-night Yoga Surf Retreat from £700 per person in December or January, including full-board accommodation, airport transfers, twice-daily yoga classes, daily surf lessons and board hire.
Reuse content