Millions of Britons will take to the roads, railways and skies as the Easter getaway begins – but many may find their holiday spoiled by lengthy delays.
The West Coast Main Line will be badly affected by engineering work in the Watford area, while roads are expected to be particularly busy, with an estimated 16 million cars choking the network.
The last direct train from Manchester to London for five days left Piccadilly station at 9.15pm last night – leaving the London-based party leaders who took part in ITV's televised debate unable to return by rail. The first option after the debate ended at 10pm proposed by National Rail Enquiries involved a journey of more than eight hours – because Euston, the terminus for the West Coast Main Line, is closed for the Easter weekend.
The Transport Secretary, Patrick McLoughlin, said train travellers would face "frustrations" but said the work was "essential".
But Michael Dugher, his Labour shadow, accused ministers of being "out of touch" with ordinary people by failing to understand the chaos the rail shutdown will cause. He said football fans hoping to follow their team would be particularly badly affected – and warned of a repeat of the angry scenes witnessed at train stations over Christmas.
Passengers to Birmingham, Manchester, Liverpool and Glasgow are being offered alternative routes, some of which take twice as long. Passengers on CrossCountry trains that pass through Reading will be carried on bus replacement services.
The main line west from London Paddington to Bristol, South Wales, Devon and Cornwall is also closed. Passengers to Bath, Bristol and Cardiff will be diverted via Banbury, while services to the South-west will run from London Waterloo.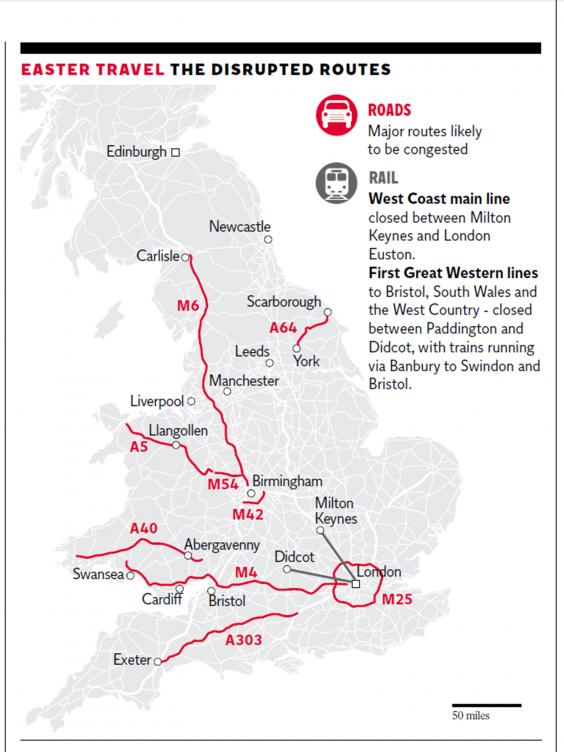 Network Rail has contingency plans in place to try to avoid a repeat of the problems at Christmas. One aspect fiercely criticised was the lack of replacement buses; this time, hundreds of coaches are on standby in case work overruns. A spokesman for the campaign group Railfuture said Network Rail had been "very badly stung" and "should be better prepared" now .
David Sidebottom, the director of Transport Focus, said: "This is going to be a major inconvenience over the Easter period. It is vital that the rail industry does all it can to ensure that the work is completed by the promised time."
Reuse content