The only thing that I've ever won was a family pass to Pleasurewood Hills, at the 1987 Spixworth Village Hall raffle. Put this on my tombstone – life will never get sweeter. For a child living in East Anglia in the 1980s, it was the equivalent of a golden ticket to the Chocolate Factory. For anyone who isn't au fait with the charms of Pleasurewood Hills, it's a few scrappy acres on the fringes of Lowestoft that is, forever, a homage to an idealised version of Midwestern America – with miniature Amtrak trains, barbecues, and a rotund bear mascot called Woody. Reminiscing about Pleasurewood Hills makes me think of childhood, of picnics and rain and excitement tinged with apprehension.
It was no place for the woes of adulthood: the tax returns and ruinous relationships and bathrooms that need grouting. Is this feeling of escapism the reason why so many people go ape at theme parks? Because recent figures show that 24 million Britons head to one each year, with theme parks contributing around £850m to the UK economy. They certainly rely on adult spending power, with the average adult ticket costing £25. Of course, many parents go to give their children the same thrills, spills and candyfloss rushes that they had (and to fill the long days of the, thankfully now nearly finished, summer holidays). Theme parks today are a multibillion-pound globalised industry, and we're addicted. From Chengdu to Chicago, theme parks rule the roost – and theme-park culture has spread beyond the confines of the fairground. But is there something more complex, something darker, about our relationship with rollercoasters, funfairs and people dressed as cartoon animals? Some people are asking questions of the happy-family fantasies these parks peddle – including Banksy, whose Dismaland ("a festival of arts, amusements and entry-level anarchism", as its website reads), in Weston-super-Mare, which opened last month, is a great big satire of great big theme parks.
Inside Banksy's Dismaland
Inside Banksy's Dismaland
1/13 A Look Inside Dismaland Bemusement Park

"Seagull Attack" by Banksy sits near the entrance, proved to be a bit of a photo opportunity, a taxidermied seagull perches on the other side of the bench

Reuters

2/13 A Look Inside Dismaland Bemusement Park

The Bill Barminski - Cardboard security entrance, visitors must first get through security to enter the park. This can include being searched, emptying bags and even being instructed to touch your toes.

Reuters

3/13 A Look Inside Dismaland Bemusement Park

Dismaland opened to the general public this weekend and everyone seems to be talking about it. Many have speculated whether long queues and website crashing issues are purposeful in order to make Dismaland that little bit more dismal.

Reuters

4/13

The Bill Barminski - Cardboard security entrance, visitors must first get through security to enter the park. This can include being searched, emptying bags and even being instructed to touch your toes.

Reuters

5/13 A Look Inside Dismaland Bemusement Park

Visitors are handed their very own guide to the park inside, featuring the names of the installations and show-times. On the front it brands Dismaland "the UK's most disappointing visitor attraction".

Reuters

6/13 A Look Inside Dismaland Bemusement Park

An overview of the park, set on the former site of Tropicana. Tropicana was closed in the 1990's and since then has had rumours of regeneration. The exhibition will be the first major event on site since its heyday as a seaside attraction.

Reuters

7/13 A Look Inside Dismaland Bemusement Park

"Topple the anvil and win the anvil" - just one of the many disappointing games visitors can try their hand at.

Reuters

8/13 A Look Inside Dismaland Bemusement Park

"What its really like to be a princess" the scene of Cinderella hanging lifeless outside her pumpkin carriage as paparazzi surround it inside the castle in the center of the park. A dark reference to the death of Princess Diana.

Reuters

9/13 A Look Inside Dismaland Bemusement Park

Mushroom Cloud made of Cotton by Artist Dietrich Wegner

Reuters

10/13 A Look Inside Dismaland Bemusement Park

A twist on theme park boating games the white cliffs of dover provide a backdrop to boats of migrants and faceless bodies float in the black water.

Reuters

11/13 A Look Inside Dismaland Bemusement Park

"Killer Whale jumping from a toilet" a piece by Banksy as a reference to the treatment of orca's in seaworld parks.

Reuters

12/13 A Look Inside Dismaland Bemusement Park

In classic Banksy style he applies his stencilling technique to a mural named "woman showering" when talking about the exhibition Banksy declared that he was aiming for something very different to street art.

Reuters

13/13 A Look Inside Dismaland Bemusement Park

Another piece by banksy looms above a lake referencing Jeffrey Archer

Reuters
Despite the fact that the first theme park opened 120 years ago – Sea Lion Park in 1895 in Coney Island, New York, followed by Blackpool Pleasure Beach in 1896 – they have been firmly on 2015's news agenda. There have been the good, the bad and the conceptual: from the reopening of Margate's Dreamland in June after an £18m restoration to the unveiling of Banksy's dystopian "Bemusement Park", via the horrific crash at Alton Towers that left 16 people injured – five seriously, including two young women who lost limbs.
Dismaland and the Alton Towers crash have both confounded the jolly expectations we have of a day out. "Theme parks are unique places in that they reflect both the good and the bad, the joyful and the dark, the pleasure and the pain of human existence. We often don't consider theme parks in an existential sense, but we should," says Scott Lukas, a Californian academic based in South Lake Tahoe who wrote the book Theme Park (Objekt). "Theme-park accidents, such as those at Alton Towers, and the recent efforts of Banksy in producing a theme-park parody, are all reminders of the ways in which theme parks reflect a dark and disturbing side of our existence."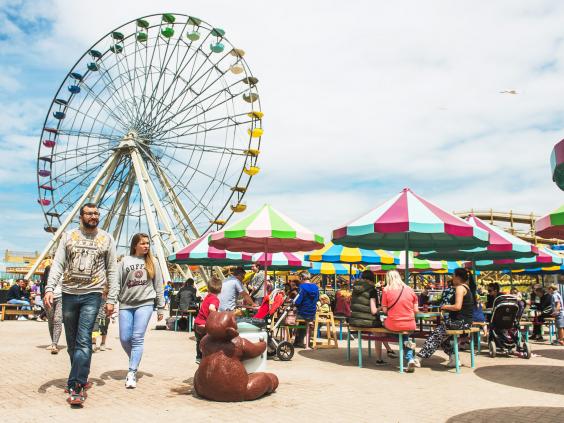 When Walt Disney came up with the idea of a children's amusement park, times were less sophisticated. The most famous of the American amusement parks celebrated its 60th anniversary this year. Disneyland changed the perception of Disney, from cartoon studio to a far-reaching tourist machine. It was Walt Disney's personal goal to establish the park near Los Angeles, as a wholesome place for families to have fun – and a way to make money. Communism was Walt Disney's bête noire, and Disneyland was supposed to celebrate the best of the capitalist dream at a time when post-war America was ascendant. More than 650 million people have visited Disneyland, making it the world's most popular theme park, but one of the world's biggest is Disney World, in Florida, which is more like a city. Disney World's monorails and modernist hotels, its Buckminster Fuller-aping Epcot Centre globe and fake world monuments made me giddy as child. Only later did I realise that this was partly a pastiche of the progressive World's Fairs. Disney World was supposed to be a utopia, but it's a place where control is everywhere. Theme parks are by their very nature stage-managed: out-of-work actors smile on cue, lawns are clipped, paths are cleaned, themed zones are laid out by the hand of far-off architects and designers, and the maps made it all look, I realise now, like Milton Keynes on steroids.
"Theme parks are the all-encompassing product of a singular intelligence and intention, and as such they also resemble utopias," says Will Wiles, an architecture journalist who took a crowbar to the cookie-cutter motel, motorway and conference-centre landscape found on the periphery of so many cities in his novel The Way Inn. "And as with any utopia they are also a dystopia, because a utopia, involves the foreclosure of alternatives."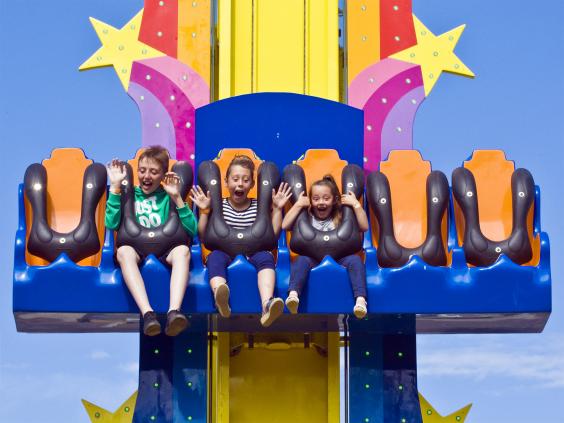 Theme parks are totally artificial; surreal and puzzling places where gravity is defied and time stands still, where unnatural landscapes sprout bizarre buildings. It's the architecture of pleasure, but also of terror. Places where we go to sate our most base desires and to scare ourselves stiff. "Theme parks are what Michel Foucault and Erving Goffman would call 'total institutions', such as asylums, prisons, concentration camps," Wiles says. "They are a wholly controlled, wholly designed, unspontaneous environment intended to produce particular effects in the 'inmates', who have their liberty at least partially rescinded for the duration of their stay."
But many of us feel uplifted by theme parks, and by the sheer escapism of it all. Can't they be places where we leave our cynicism at the door? "The Magic Kingdom is where I go when I need a bit of cheering up, or a reminder that dreams do come true. No, really!" says the author Catherine Ryan Howard, who wrote a memoir, Mousetrapped, about her year working in Orlando. "I've seen the night-time fireworks display over Cinderella's Castle more times than I can count, and I always shed a tear. Yes, it's manufactured, but your feelings, your reactions, that tear escaping down your cheek as 'When You Wish upon a Star' soars – those are real."
I find myself questioning the relationship between art and theme parks after an afternoon in Weston-super-Mare. Dismaland is Banksy's grand installation, intended to satirise the disposable consumer culture that the entire tourism industry (and by definition theme parks) is predicated on. There's a crumbling castle and, parked in front of it, a little mermaid and a tree-shaped swing. Inside, a princess has come rather unstuck, but I won't spoil that surprise. It's all a playful demolition of how squalid capitalism has made our towns, with a Pocket Money Loans caravan and grumpy staff who look like they might poke you in the eye.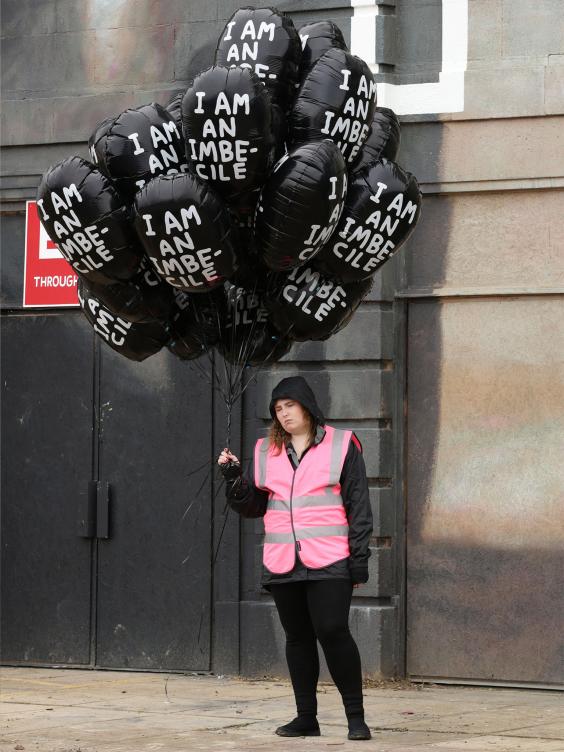 "A theme park is a fantasy world. You enter it, it chews you up and spits you out the other end," says Caroline McCarthy, one of the artists who are exhibiting alongside Banksy at Dismaland – which is inside Weston's derelict Tropicana lido. Her cardboard plants are made from the containers of junk food that supermarkets and theme-park kiosks tout. "If the real world looks completely weird afterwards, then it's a good theme park. If it doesn't, then it's a waste of time. Same goes for galleries." Dismaland is actually a lot of fun, and packs more laughs than many theme parks. Some of the art has an impish charm, too. The Andalusian painter Paco Pomet's work made me smile with a childlike glee. When I spotted Cookie Monster sequestered amid a group of Janjaweed brandishing AK-47s in a Toyota Land Cruiser in his painting Internacional, I laughed out loud.
Dismaland plays with the very 2015 notion of hype, of "cultural events" that Instagram oversharers can show off to their friends about having attended; but it also rips apart the soporific small-town attractions – the Cat Pottery Worlds and Hand Grenade Lands – and the sinister funfairs that smell like petrol stations and appear for a week and then vanish in the middle of the night. On the way back to the train station I pause at a plastic table in a chip shop within earshot of the rides on Weston's pier and unfold a map with a list of Somerset attractions and theme parks. I suddenly wonder whether any of them are real.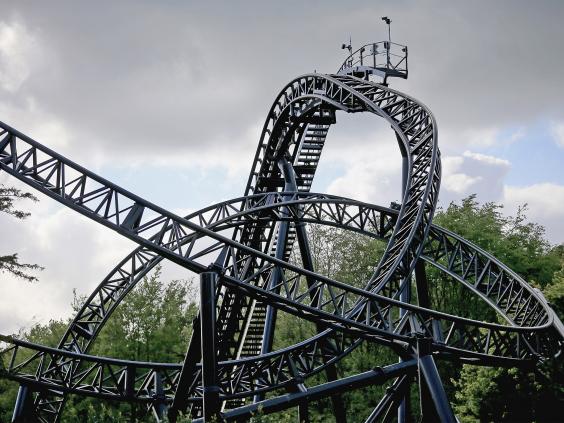 In making art out of an amusement park, Banksy is perhaps mocking the trend that sees cultural life turned into rollercoaster ride – whether it's Secret Cinema or The Drowned Man's warehouse world of "participatory theatre". Art galleries have become like theme parks, too: Tate Modern and now the Hayward have both rolled over and let Carsten Höller install his slides. But if these cultural events are pastiches of the theme-park experience, what then to make of the rebirth of Dreamland, the Kentish seaside resort that has looked backwards to a vintage past in order to establish, its owners no doubt hope, its future? Among the retro hook-a-duck games and the old-school pastel-coloured deckchairs, is there a sense that pleasures were simpler in the past? Have we become obsessed with the past because we don't believe that we can make the future better? Disney's Main Street, USA, and its frankly Stepford Wives-esque planned township of Celebration certainly feel that way. At least Epcot was modern and forward-looking. Theme parks used to prophesy the future, but many of them now exalt the past.
Still, in many ways, parks such as Six Flags – which Scott Lukas used to work for and of which there are now 18 across North America – continue this tradition of forward thrust with their no-nonsense layout and quest to build the fastest, highest, most priapic, most goddam American rides (the biggest coaster is currently the 456ft Kingda Ka at Six Flags Great Adventure in Jackson, New Jersey – but a 570ft one will open in Orlando next year). Many of the best rollercoasters are designed by crack engineers in Switzerland and Austria, where the cable-car industry is also based. There isn't quite the appetite for such huge coasters in Britain, with our biggest one – Blackpool's 213ft-high Big One – being dwarfed by its American cousins.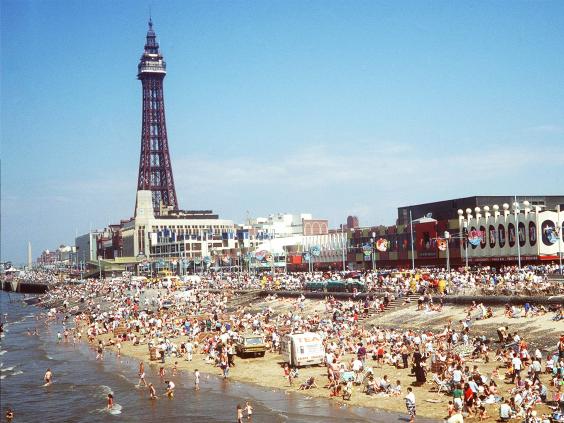 But what about the children? Today, they have more choices than ever before. As well as the call of Pleasurewood Hills (which I'm happy to report is still going strong) and its bigger rivals, the Altons, the Chessingtons et al, many of them are glued to computer games, which are increasingly as visceral as anything a theme park has to offer. I remember the 1990s PC game Theme Park (the best bit was deliberately speeding up the rollercoasters to make punters vomit). But some children's theme parks sound, to me, far less thrilling even than that.
Take KidZania, which opened its first British branch in west London's Westfield White City shopping centre earlier this year. This park allows tomorrow's social-media managers and content-creation drones to act out today's real-life scenarios, such as scanning oven chips on a supermarket checkout, or working as chefs, journalists or pilots. KidZania began in Mexico, the brainchild of entrepreneur Xavier Lopez Ancona, and now has 18 branches around the world, the latest of which, the London centre – which takes up 75,000 sq ft – cost £20m to build and perhaps proves that kids crave the mundane as much as they crave vertigo-induced panic attacks. And as the KidZania concept has seen 38 million children pass through its doors since 1999, its rollercoaster success must be down to something other than, well, rollercoasters.
Or perhaps they're bored by the nostalgia-fest that some parks offer. Maybe Dismaland is just as much for them – it's free for under-fives – as it is for the supposed grown-ups. "We need more projects like that of Banksy to alter the narratives that are common in theme parks and to get our consumer society to consider the disturbing things," Scott Lukas says. "It's a wake-up call for a society of complacency. High time to take a journey on a more disturbing theme-park ride."
Reuse content