Egypt's battered tourism industry has suffered another blow after Britain's second-biggest holiday firm cancelled all holidays to Sharm el Sheikh for the next two seasons.
Thomas Cook first took holidaymakers to Egypt in 1859. In common with other tour operators, the firm has been practising so-called "rolling cancellations" to Sharm el Sheikh over the past 18 months: putting holidays and flights on sale in the hope that the UK flight ban will be lifted, then cancelling them well ahead of departure when it has remained in place.
The ban was brought in five days after a crash in October 2015: 224 people died when their Metrojet charter flight from Sharm el Sheikh to St Petersburg in Russia crashed in the Sinai desert. It is thought that a bomb was placed on board at the Egyptian airport. 
The UK Government took the unprecedented step of banning British airlines from flying from the Red Sea airport until a team of security experts is satisfied with the standards in place.
There is no warning against travel to Sharm el Sheikh itself, just to the airport.
The Foreign Office says: "We will continue working with the Egyptian Authorities to enable regular flights between the UK and Sharm el Sheikh to resume. 
"We are also liaising with travel companies so that they are able to resume flights and holidays in Sharm el Sheikh as soon as appropriate security arrangements are in place."
But despite tens of millions of pounds being spent on improvements at Egyptian airports, the Government is still not content with the security measures.
Airlines from Belgium, Germany and Italy are flying regularly to and from the country's main resort. But in a sign of the exasperation felt in the tourist industry, Thomas Cook has said it will stop selling holidays to Sharm el Sheikh indefinitely until the ban ends. The firm posted a statement saying: "We have removed Sharm El Sheikh in Egypt from our Winter 2017/18 and Summer 2018 holiday and flight programmes.
"The UK Foreign and Commonwealth Office continue to advise against travel to Sharm El Sheikh airport, and we have no plans to reintroduce a programme to Sharm until after that advice changes.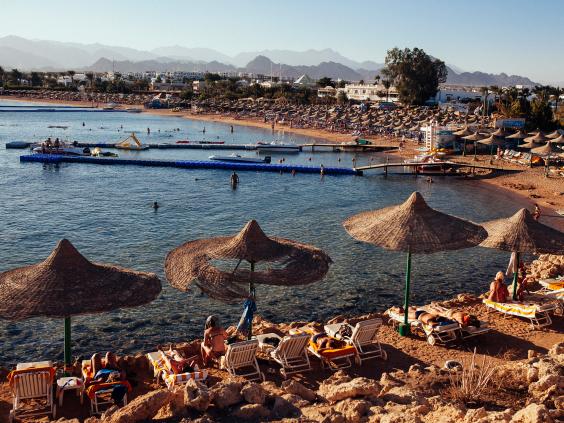 "The five flights per week which we had scheduled this winter have now been cancelled."
Thomas Cook says 200 people have forward bookings to Sharm el Sheikh, with a further 50 on flight-only deals. "We are contacting those customers who have booked with us to offer a refund or a destination change free of charge," says the firm.
A small glimmer of hope for Egypt is that the firm will launch two weekly flights to the Red Sea resort of Marsa Alam from November this year.
Carol MacKenzie, Thomas Cook's head of customer welfare, said: "Local people are friendly and welcoming, and the country offers some great value options for both winter and summer sun."
Flights on a range of airlines to Marsa Alam, as well as to Cairo, Hurghada and Luxor, have continued uninterrupted. The UK-bound legs of these flights, though, have been subject to extra security since March, with a ban on large electronic devices in the cabin. 
Reuse content