Tom Parker Bowles's new book, 'Let's Eat Meat', is published by Pavilion
First holiday memory?
Arriving on the soft, cigarette-scented Tarmac of Naples airport. That first blast of southern Italian heat, the brilliant blue sky, my cousin pretending to be the Pope and kissing the ground ... and getting a kick up the backside for his troubles.
Favourite place in the British Isles?
Somewhere in the South-West, where I grew up. I love the soft burr of the accent, and the rolling, lush landscape. There's a small copse of trees, high on a hill, just before junction 15 on the M4 – whenever I see it, I feel I'm home.
Best holiday?
It sounds trite, but any with my wife and children. Along with good friends. I travel a huge amount for my job, so to be together for 10 days is a huge treat.
What have you learnt from your travels?
First, that I quite like my own company. I love travelling alone, you can move to your own beat. And eating alone, although in places like China and Italy, it's seen as rather strange to eat on one's tod. But a good book and I'm as happy as could be, just watching other people. I tend to ignore the guidebooks and try to hook up with a local expert.
If I'm somewhere like Mexico or Laos or Thailand, I crave street food. It's the true soul of a country's cuisine, and I'd far rather eat on a wobbly plastic stool surrounded by the fag smoke and diesel fumes than some grand, air-conditioned, thick-carpeted Michelin mausoleum. I do like comfort, though.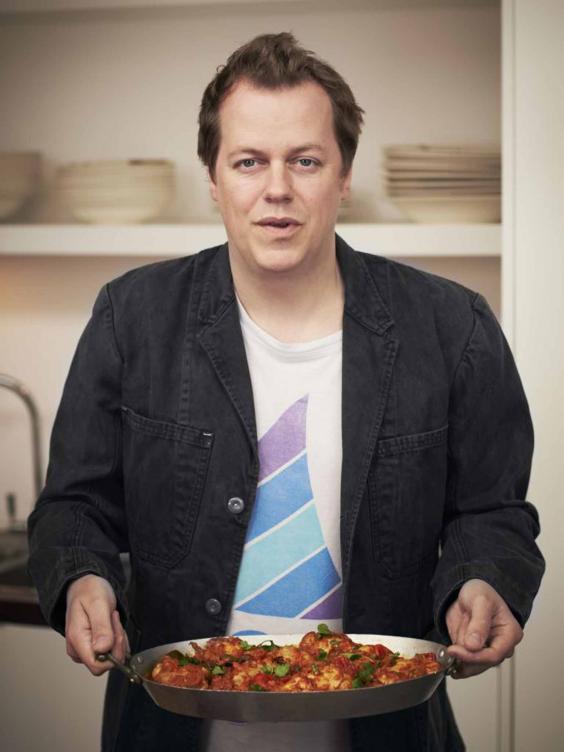 Greatest travel luxury?
Turning left on the plane, long haul. But if I'm paying, rather than going on business, it's back of the bus.
Holiday reading?
Jack Reacher has taken me through many more long plane journeys than any other hero.
Ideal travelling companion?
You're either a good traveller, or you're not. I can't bear people who moan all day long when abroad – about the "dodgy" locals or "weird" food or dirty streets. I have three or four friends who I've travelled with for years, and we can sit very comfortably in silence. To be able to talk to one another is the easy bit, it's the shutting up part that's important.
Beach bum, culture vulture or adrenalin junkie?
None of the above. I travel at the whim of my belly, and rather than churches and palaces, I spend my time in markets, street-food stalls, fields and restaurants. I get very bored lying on the beach, and had far too many cultural trips in my youth.
Favourite walk, swim, ride or drive?
A morning spent mucking about in the waves in a bay outside Acapulco. A walk with my mother in the Scottish Highlands. And that part of the train journey from London to Plymouth where you go through Dawlish – utterly beautiful.
Where has seduced you?
I tend to love the places with edge and spirit and life. So, Mexico City and Acapulco, Beirut, Lima, Bangkok and Manila. I also fell in love with Belfast and Luang Prabang.
Worst travel experience?
I'll never forget a particularly petrifying cab ride, from Bhopal to Jabalpur in India. The driver was an absolute nutter; the more we asked him to slow down, the faster he went – on the wrong side of the road, rolling a cigarette.
Best hotel?
The Mandarin Oriental in Tokyo and New York. The Greenwich in New York, Amankila in Bali and Claridge's in London.
Worst hotel?
I'm not a massive fan of boutique hotels: lots of attitude, but the service often suffers. Plus, I don't like people knowing my every move. I like the anonymity of big hotels. But God, I've stayed in some bug-infested s***holes, with blood-stained sheets and rats the size of small dogs.
Best meal abroad?
Tacos al pastor from a hole in the wall in the Historico district of Mexico City; mussels, eaten with the sand beneath my feet, at Da Adolfo, near Positano in Italy; stone crabs at Joe's Stone Crab in Miami; anything at David Thompson's Nahm, in Bangkok; sea urchins in Puglia and Sicily. The list goes on and on and on.
Favourite city?
Bangkok or Mexico City. The greatest eating cities on Earth.
Where next?
Hong Kong, for the Great Festival of Creativity; I help promote British food aboard. Then on to Queensland on a story for Esquire. And Sydney too. Plus, I'm beginning to put together a trip to Panama City. Apparently, it's a blast. Maybe a road trip to Texas too. I love Texas.
Reuse content