As the Labour Party promised to end "the expansion of driver only operation", the RMT union announced more strikes in its disputes with three train operators over new working practices.
On Tuesday 30 May, RMT members working for Northern, Southern and Merseyrail will stop work as part of what the union calls a "fight to retain safety-critical guards".
Merseyrail is accused by the RMT of a "continued point-blank refusal by the company to make any progress whatsoever" over the role of guards on a new fleet of trains. 
The union's general secretary, Mick Cash, said: "Merseyrail have repeatedly kicked all conciliatory approaches by RMT negotiators back in our faces.
"All that they are interested in is the union signing a surrender document which gives them a free hand to rip apart the safety culture on the railway."
But Jan Chaudhry-van der Velde, Merseyrail's managing director, said: "Over the last two months, we had several meetings with the RMT. In the last one, Merseyrail put forward a number of initiatives, which we were willing to explore through a series of working groups.
"These included having a second member of staff on trains after 8pm. Unfortunately, the RMT would not talk about these things unless we committed to a second safety critical person on every single train. In other words, it is not us that has turned down the working group, it's the RMT.
"Our region deserves new trains. It should not be a pawn in the RMT's national game."
The Rail Safety and Standards Board says none of its research projects on driver only operation have identified "any increased risk from dispatching a train without a guard being present –providing the correct procedures have been followed".
The board says: "In fact, the removal of any possible miscommunication, which could exist between driver and guard could, potentially, deliver some safety benefits."
The RMT says that 15 local authorities oppose plans by Arriva Trains North, which runs the Northern franchise, to axe guards. They include the city councils in Liverpool, Sheffield and Newcastle.
Northern Rail is telling passengers: "We will do our best to keep you on the move. However, we will be operating a reduced service and expect all services to be busy. Customers are advised to give themselves more time to travel and to consider whether their journey is necessary."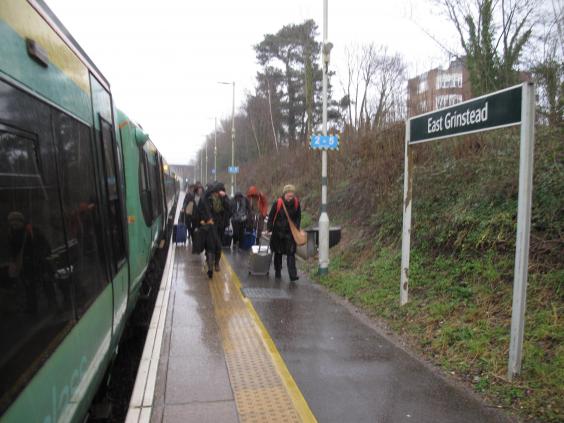 The strike on Southern will be the 32nd day of action in a dispute that has continued for over a year. In February, the general secretary of the TUC, Frances O'Grady, announced that agreement had been reached between Southern's management and the train drivers' union, ASLEF. But the deal was rejected by members in a ballot.
The union says that Govia Thameslink Railway, which operates the Southern franchise, revealed that more than 8,000 trains a year will run without an on-board supervisor on board.
Mr Cash said: "That represents a serious safety and accessibility risk and short of the guarantee of a second safety-qualified member of staff on Southern services we have no option but to confirm a further day of strike action." 
Paul Plummer, chief executive of the Rail Delivery Group, representing train companies, said: "More attempted RMT strike chaos would be bad for the economy, businesses and passengers who have already been affected by previous efforts to disrupt the Grand National and the Tour de Yorkshire.
"A stronger railway needs everyone working together for the long term as we invest to improve journeys and in a stronger, more secure, skilled workforce with more opportunities for everyone."
The Labour manifesto promises to re-nationalise the railways, cap fares and provide free Wi-Fi across the network, as well as "ensuring safe staffing levels".
The RMT General Secretary, Mick Cash, welcomed "Labour's commitment to British state ownership of our rail, power and water, as opposed to the foreign state-backed exploitation of our essential services". He said: "Jeremy Corbyn's Labour is clearly fighting to protect our national interests.
"Labour's manifesto recognises the dangers of Driver Only Operation and commits to safe and accessible railways for all.  The manifesto represents a massive boost for public transport after more than two decades of Tory privatisation.
"RMT welcomes this departure from the failed, profiteering model that has dragged Britain into the slow lane."
Since privatisation, passenger numbers on the UK's railways have doubled.
Reuse content