A video showing a man being forcibly dragged along the floor of a United Airlines aircraft has provoked anger from viewers. According to Jayse D Anspach, who uploaded the footage onto Twitter, the flight was overbooked – and when one extra passenger refused to leave, he was physically removed.
"United overbook flight 3411 and decided to force random passengers off the plane. Here's how they did it," he wrote in a tweet accompanying the video, which shows a male passenger being forcibly pulled from his seat, screaming loudly all the while. He is then hauled prostrate along the aisle of the plane by police officers. Other passengers' cries of consternation can be heard in the background, with one women shouting: "Oh my God, look at what you did to him!"
Passenger Audra D Bridges told the Courier-Journal that United asked customers to voluntarily give up their seats on the overbooked flight. When no one volunteered, the airline began randomly selecting passengers to remove from their seats. 
The man in question was selected but refused to leave, claiming he was a doctor who needed to get to work to see patients the next day. That's when the officers were called in to remove him.
Ms Bridges posted a video of the confrontation on Facebook, expressing her outrage at the event.
"Please share this video. We are on this flight," she wrote. "...This man is a doctor and has to be at the hospital in the morning. He did not want to get off. We are all shaky and so disgusted."
The incident took place on the United flight 3411 on April 9 from Chicago to Louisville. United confirmed in a tweet: "Flight 3411 from Chicago to Louisville was overbooked. After our team looked for volunteers, one customer refused to leave the aircraft voluntarily and law enforcement was asked to come to the gate." United added in a later statement: "We apologize for the overbook situation."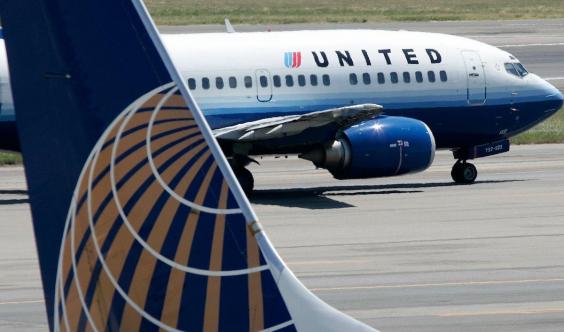 The brevity of the statement only served to fan the flames online.
"This is the worst possible response,' wrote one commenter. "What a PR nightmare for an inhuman company. United makes a mistake and then deflects. Embarrassing."
Following numerous calls for a more in-depth response, United CEO Oscar Munoz told The Independent: "This is an upsetting event to all of us here at United. I apologize for having to re-accommodate these customers. Our team is moving with a sense of urgency to work with the authorities and conduct our own detailed review of what happened. We are also reaching out to this passenger to talk directly to him and further address and resolve this situation."
Ms Bridges said passengers were initially offered $400 and a free hotel stay to volunteer to get off the plane. When no one accepted, the offer was increased to $800. 
An airline spokesman said he did not know the details of what passengers were offered to get off, but defended the company's conduct.
United spokesman Charlie Hobart said airline employees named four customers who had to leave the plane and that three of them did so. He said the police were called when the fourth person refused to get off. 
"We followed the right procedures," he said. "That plane had to depart. We wanted to get our customers to their destinations, and when one gentleman refused to get off the aircraft, we had to call the Chicago Police Department."
The videos have been shared thousands times on social media, with many appalled at the removal of the passenger.
People are using the hashtag #flight3411 to express their anger and concern at the footage, with many vowing they will not fly with United again in the future.  
More outrage was provoked by the suggestion that passengers were asked to leave in order to free up room for United staff. Anspach told WHAS11 News: "United overbooked and wanted four of us to volunteer to give up our seats for personnel that needed to be at work the next day."
United recently came under fire for making girls change out of leggings to adhere to the airline's dress code before they were allowed on a flight. There is still a dress code for employees or their families travelling for free with the airline. Stipulations include: "Pass riders' overall appearance should be well-groomed, neat, clean and in good taste," and "Form-fitting lycra/spandex tops, pants and dresses," are strictly forbidden.
Reuse content