Vancouver Park Board is banning the city's aquarium from bringing in new whales, dolphins and narwhals – even those that are injured or rescued.
Animal rights groups have applauded the move, arguing that keeping cetaceans in captivity is cruel.
"There's substantial scientific evidence that cetaceans do suffer in captivity, and that outweighs the benefit of putting them on display for our entertainment," Vancouver Humane Society spokesperson Peter Fricker told the BBC.
The decision was taken in a vote on Monday night, despite Vancouver Aquarium's claim that the move would be harmful rather than positive.
"It turns its back on some of the marine animals when they are in need," said CEO John Nightingale. He argued that the aquarium is the only one in Canada to offer a programme that provides long-term care for rescued cetaceans that can't be released back into the wild.
The programme has treated just six cetaceans in the last 50 years, but Nightingale said the research centre has attracted marine life experts to Vancouver Aquarium.
The chair of the Vancouver Park Board, Michael Wiebe, said the tide has turned when it comes to seeing whales and dolphins in aquariums. "I believe it is time to move on," he said.
The decision was prompted by an incident last year where two beluga whales died in the same week at the aquarium. An investigation found that they died from an unknown toxin, which could have been in their food.
Vancouver Park Board isn't the first organisation to take a stand about dolphins and whales being used for entertainment purposes.
In February Virgin Holidays announced it would no longer sell or promote new attractions or hotels featuring captive whales or dolphins for entertainment.
The move was part of the tour operator's five-point plan to eradicate doing business with attractions taking whales and dolphins from the wild.
It created the Virgin Pledge on Sea Mammals back in 2014, in which the company committed to only working with attractions that agreed not to take animals from the wild.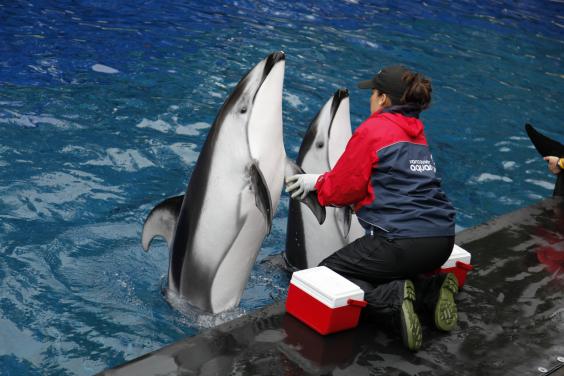 In addition to the promise not to promote or sell new attractions taking creatures from the sea, Virgin Holidays also agreed to partner with at least one leading animal welfare organisation to explore options for animals currently in captivity.
"We believe that business should be a force for positive change," said David Geer, MD of Virgin Holidays.
"Virgin Holidays is committed to a constructive, ongoing relationship with our current suppliers who care for captive cetaceans and will work closely with them to raise standards across the board. 
"However, we believe the way tourists interact with captive whales and dolphins needs to change and we want to play an active role in supporting this transition."
Reuse content