Victoria Line passengers affected by the chaos of the Tube strike have been struck another blow by the news that part of the line will be closed for three weeks.
The closure, which begins tomorrow and is set to last until Sunday 30 August, means that no services will run between Seven Sisters and Walthamstow Central, while the rest of the line will also face disruptions.
Transport for London (TfL) says the work to improve the track outside Walthamstow completed over the three-week period will ensure that trains will run more frequently on the line in the future.
My biggest fear about the Walthamstow Victoria line closure is that they're actually installing an artisan bakery and beard grooming salon.

— Stuart Reid (@the_stuart_reid) August 7, 2015
Godzilla bless LateRooms for getting me out of the logistical nightmare that was this weekend and the Victoria line closure.

— Håŷłēŷ (@Hayleyisfree) August 7, 2015
Can't wait to see how many people don't realise Victoria line not working for weeks. I expect LOADS

— JOM (@meOMalley) August 7, 2015
Which stations will be disrupted and for how long?
There will be no Victoria Line services between Seven Sisters and Walthamstow Central from Saturday 8 August until Sunday 30 August. TfL has advised against passengers using Overground services from Walthamstow at peak times, which they expect to be very busy.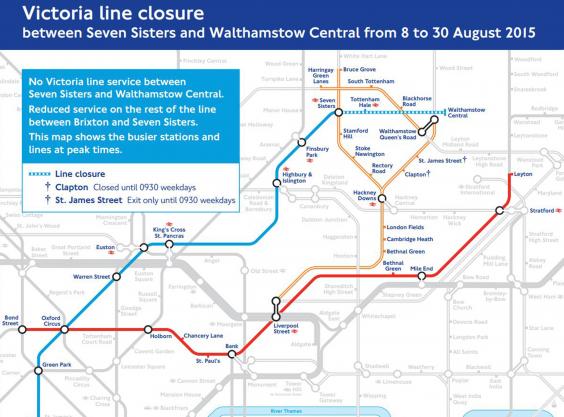 How will the rest of the Victoria Line be affected?
As a result of the work the line will be running a reduced service between Seven Sisters and Brixton – consequently, trains are expected to be much busier, especially at peak hours.
Will the rest of the Tube be busier too?
Yes. TfL have particularly warned that Central Line and Overground will be significantly more crowded due to Victoria Line customers using these as alternatives.
What alternative routes can be taken?
TfL advises that rail replacement bus services will be in operation between Walthamstow, Tottenham Hale, Blackhorse road and Seven Sisters, the stations most seriously affected by the closure. Some bus routes will be refunded, while tickets will be accepted on alternative National Rail services.
Full details on alternative travel arrangements can be found here
Why is the closure taking place?
According to TfL, the condition of the track outside Walthamstow limits the frequency of services in this part of the line. The improvement work will increase the number of trains running on the Victoria Line from 34 per hour to 36 per hour. TfL says that the scale of work necessitates a full closure of this section of the line, rather than completing the work at weekends or overnight.
For further details of the closure visit TfL's dedicated page
Reuse content